These recipes were contributed by Jackie Anderson, a Weatherford resident, and originally appeared in the WeatherfordNOW August 2016 issue.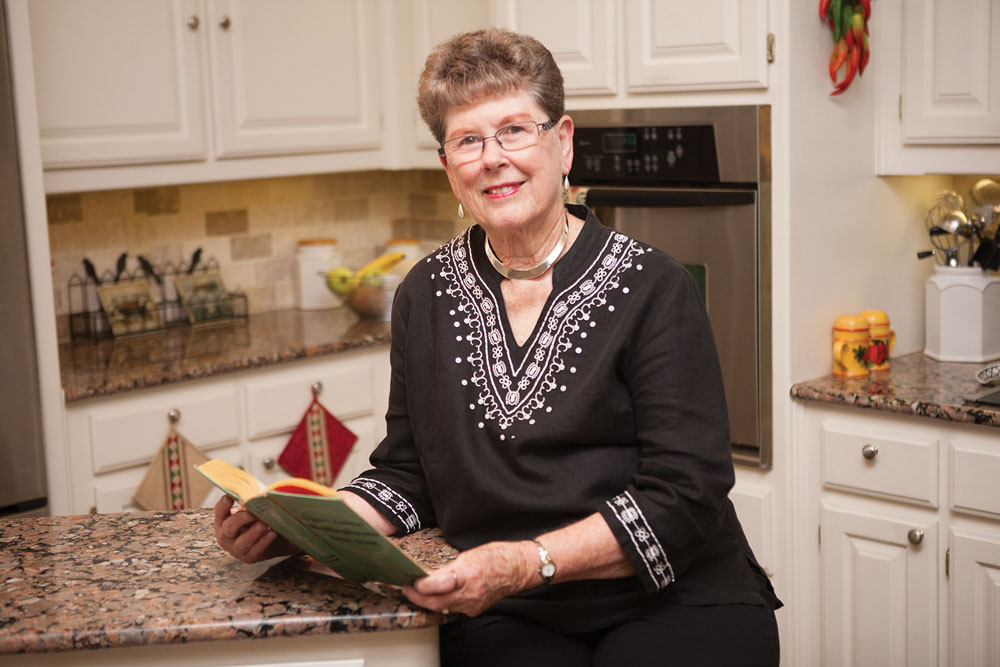 Greek Bread
Mixture:  
2 cups grated mozzarella cheese
1/2 cup butter, softened (not melted)
1/2 cup mayonnaise
1/2 cup chopped green onions
1 small can chopped black olives
1 large loaf French bread, sliced on flat side lengthwise
Mix all ingredients, except the bread, together well.
Spread mixture completely over both flat sides of bread. Place both pieces of bread side by side on a cookie sheet.
Bake at 350 F for 20 to 25 minutes, or until golden brown. Slice with serrated knife in 1 1/2-inch widths and serve.

 
Chocolate Clusters 
1 pkg. Plymonth Pantry almond bark chocolate
2 cups Cap'n Crunch Peanut Butter Crunch cereal
2 cups Rice Krispies cereal
2 cups dry-roasted, lightly-salted, peanuts
Hint of vanilla extract (optional)
Separate squares of almond bark and melt in a large Pyrex bowl (approximately 3 minutes in the microwave).
Mix Cap'n Crunch, Rice Krispies and peanuts in a large mixing bowl; stir in melted almond bark chocolate and mix well. Add vanilla, if desired.
Use a large serving spoon to scoop enough mixture to make desired size of cluster and use a tablespoon to drop mixture onto a long sheet of waxed paper or foil.
Let set until mixture hardens. If the mixture tends to harden too quickly before dropping, you may microwave to soften it.
This recipe makes a lot. Clusters may be stored in an airtight container, in the refrigerator or freezer indefinitely (or until they disappear) — enjoy!
Quick Baked Beans
Makes 5-6 servings.
3 slices bacon, chopped
1 onion, chopped

 

1 green pepper, chopped

 

1/3 cup Grandma's Original Molasses
1 Tbsp. prepared mustard
3 cans (No. 2 size) VanCamp's Pork and Beans
Fry bacon until crisp. Add onion and green pepper; cook until onions are clear.
Add remaining ingredients and place in a greased 2-qt. casserole baking dish. (Note: If there is too much liquid in the beans, drain before adding.)
Bake for 1 hour at 350 F.

 
1960s King Ranch Casserole 
Makes 8 servings.
3 large chicken breasts
Salt, to taste
1 10.5-oz. can Campbell's Cream of Mushroom Soup
1 10.5-oz. can Campbell's Cream of Chicken Soup
1/2 10-oz. can Ro-Tel Original Diced Tomatoes & Green Chilies, or more to taste
1/2 14.5-oz. can chicken broth, or more to taste
1 dozen soft corn tortillas
1 onion, chopped and sautéed in butter
2 cups Colby Jack cheese, grated
Cook chicken breasts in a small amount of lightly salted water until tender.
While chicken cooks, blend soups, Ro-Tel and broth together well.
In a 2 1/2-qt. greased casserole dish, place a layer of chicken, then layer torn tortillas, half the onion, half the cheese and half the sauce.

 

Repeat the layers, ending with grated cheese. Bake at 350 F for 1 hour.
Crustless Quiche
6 large eggs, beaten
2 cups milk
2/3 cup Bisquick
2/3 cup butter or margarine, melted
Salt and pepper, to taste
1 pkg. Jimmy Dean Reduced Fat Sausage, browned (substitute ham, bacon, etc., if desired)
Add chopped onion, green pepper, chopped tomatoes, green chilies, spinach, or whatever desired vegetables. (I like to sauté the vegetables a little.)
2 cups grated cheddar cheese (or cheese of your choice)

 
In a large mixing bowl, combine the first 4 ingredients; add salt and pepper to taste.
Beat with a mixer on low speed for 3 minutes, or until blended; transfer to a greased casserole dish.

 

Sprinkle mixture with sausage and desired amounts vegetables. Sprinkle with cheese; lightly press down into batter.
Bake, uncovered, at 350 F for 45 minutes, or until a knife inserted near the center comes out clean.
Let stand 10 minutes before serving.