These recipes were contributed by Jocelyn Smith, a Southwest resident, and originally appeared in the SouthwestNOW August 2016 issue.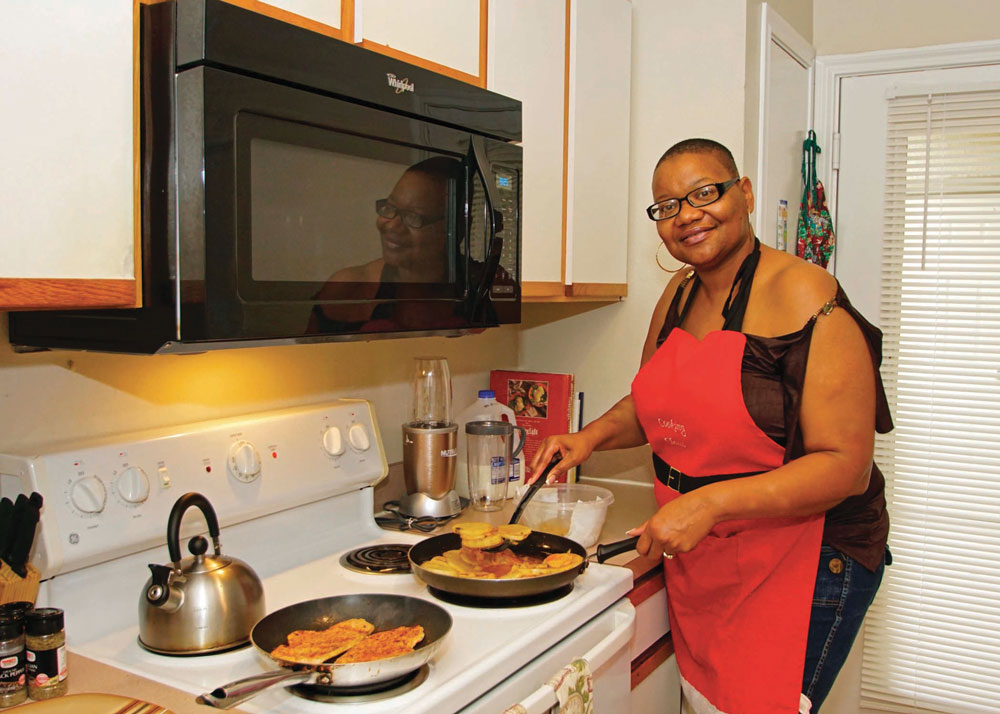 Fried Potatoes and Onions
2 Idaho potatoes
1 medium Vidalia or yellow onion (Vidalia are the best because of their sweet flavor.)
1 medium garlic clove
1/4 to 1/2 cup Canola or vegetable oil
Lawry's Seasoning Salt or Tony Chachere's Original Creole Seasoning, to taste
Pinch black pepper
Pinch paprika
Pinch Italian seasoning
1. Rinse potatoes; dry with a paper towel. Peel the skin off and cut into 1/4-inch-thick slices.
2. Peel onion and rinse; dry with a paper towel. Cut into 1/4-inch-thick slices. Slice or mince garlic.
3. Cover the bottom of a 2- to 3-inch-deep frying pan with oil. Heat until oil is hot.
4. Place vegetables into the pan slowly and carefully. (Oil can pop if the potatoes and onions are wet or dropped too fast.) Turn the potatoes every 3-5 minutes until they are soft and the onions are sautéed.
5. Season to taste with Lawry's Seasoning Salt or creole seasoning. Add remaining spices and stir.
Breakfast Pork Chops
Lemon juice (optional)
6 thin boneless pork chops
Paprika, to taste
Black pepper, to taste
1 tsp. Lawry's Seasoning Salt or Tony Chachere's Original Creole Seasoning
2 Tbsp. virgin olive oil
1 clove garlic, chopped
1. Using lemon juice or tepid water, rinse and thoroughly clean the pork chops.
2. Once well rinsed, lay pork chops flat on a cutting board; tenderize by gently stabbing with a regular table fork 12-15 times.
3. Season pork chops very lightly on each side.
4. Pour olive oil onto a flat griddle or into a large, heavy skillet. Heat to medium. 
5. Add chopped garlic. Fry pork chops and garlic for a total of 5 minutes, turning each chop halfway through the cooking time, until brown on both sides. (They are very thin, so don't overcook them or they will be dry.)
Scrambled Eggs With Cheese and Mixed Peppers
3 small sweet peppers (orange, yellow and red)
2-3 eggs per guest
1/8 cup unsweetened almond milk (Do not use sweetened milk.)

 

1/2 cup shredded cheddar cheese, or to taste
2 pinches sea salt
2 pinches black pepper
1 1/2 Tbsp. Land O'Lakes Unsalted Butter
Wash peppers and remove the tops.
Cut peppers into halves; remove seeds and slice into 1/4- to 1/2-inch cubes.
In a large mixing bowl, whisk remaining ingredients, except butter, together. Add peppers and stir.
Heat a large frying pan on medium heat. Add butter and allow to melt. Pour egg mixture into the pan. Stir continually using a spatula or wooden spoon to prevent eggs from sticking or burning.
Eggs should be done in less than 3 minutes and ready to serve.

 
Beefsteak Tomatoes 
Tomatoes are absolutely necessary to complete a Southern breakfast!
Beefsteak tomatoes
Sea salt, to taste
Black pepper, to taste
1. Thoroughly rinse tomatoes; pat dry with a paper towel.
2. Cut tomatoes into four 1/4- to 1/2-inch slices.
3. Season with sea salt and black pepper and enjoy!