These recipes were contributed by Michele Andrews, a North Ellis County resident, and originally appeared in the North Ellis CountyNOW August 2016 issue.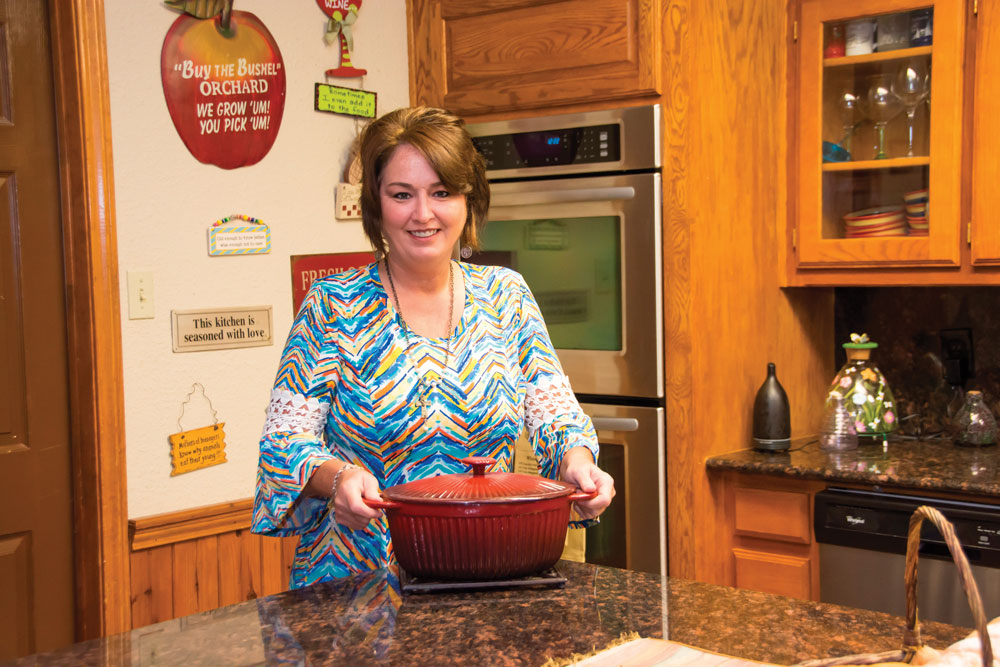 Marinated Mushrooms
2 Tbsp. pecan oil
2 Tbsp. butter
2 tsp. garlic, minced
1 Tbsp. Nature's Seasoning
1 cup brown sugar
1/4 cup Worcestershire sauce
2 large pkgs. beef broth (64-oz.)
1 bottle red wine (750 ml)
4 lbs. mushrooms
In a large pan, heat oil and butter. Add garlic; cook until brown. Add seasoning, sugar, Worcestershire, broth and wine.
Add mushrooms to garlic mixture on medium heat for 1 hour; let simmer for 4 hours.

 
Special Peanut Butter Cookies
1 cup Karo syrup
1 cup sugar
1 tsp. vanilla
1 3/4 cups crunchy Peter Pan peanut butter
4 cups Special K cereal
Blend syrup, sugar and vanilla in a 2-quart pan. Cook on high for 4 minutes, until mixture boils and sugar dissolves.

 

Stir in peanut butter; add cereal and mix well.
Drop by teaspoonfuls onto waxed paper; let cool before storing. (Can store in refrigerator in the summer.)
Hot Cheese Dip
1/2 cup mayonnaise
1 8-oz. pkg. cream cheese, softened
2 cups grated Monterrey Jack cheese
2 green onions, finely chopped
16 slices bacon, cooked and crumbled (divided use)
8 butter crackers (preferably Ritz), crushed
Your choice crackers and strawberry/jalapeño jelly (optional)
Preheat oven to 350 F. In a medium bowl, mix first 5 ingredients; set aside 8 slices worth of bacon crumbles.
Transfer mixture to a shallow baking dish, such as a 9-inch pie pan. Top mixture with cracker crumbs; bake for 15 minutes. Remove pan; top with remaining bacon.
Can serve with crackers and strawberry/jalapeño jelly, if desired.
Mulled Wine
1 bottle Sangria wine
1 pkg. Red Hots candy
4 large cinnamon sticks
1 shot amaretto (optional)
Add first three ingredients to a large stock pot; let simmer, until hot.
Serve in a coffee mug, which is great for cooler weather. Add a shot of amaretto for spicier flavor.
Flammkuchen 
This is German pizza.
1 cup sour cream
1/4 cup heavy cream
Pinch salt
Pinch pepper
Pinch nutmeg
1 large flour tortillas
1 1/2 cups packaged chopped ham (can use bacon or pancetta)
1-2 cups white sweet onions, thinly sliced
Black pepper, to taste
Preheat oven to 375 F. Mix creams together; pulse in seasonings, to taste. Heat in a saucepan on medium heat until hot. (Do not boil.)
Place tortilla on baking sheet; cook until crisp.

 

Remove from oven; add half the sauce mixture, ham, onions and top with remaining sauce.

 

Bake 10-12 minutes. Garnish with black pepper.