These recipes were contributed by Jennifer Miller, a Midlothian resident, and originally appeared in the MidlothianNOW July 2015 issue.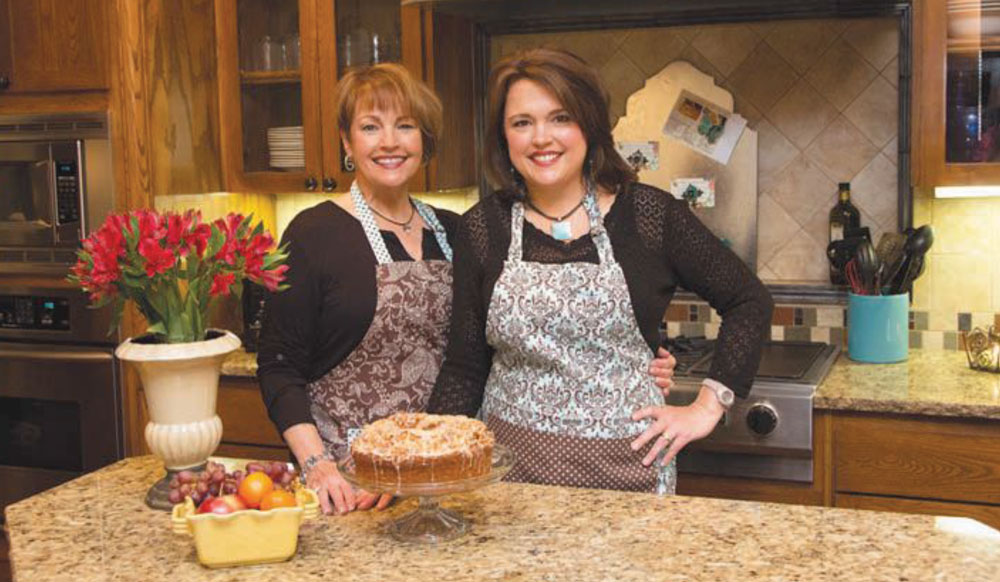 Homemade Italian Manicotti
Makes approximately 25 shells. 
Manicotti Shells:
6 eggs, room temperature
1 1/2 cups all-purpose flour, unsifted
1/4 tsp. salt
1 1/2 cups water
Cheese Filling:
1 lb. ricotta cheese
1 lb. small curd cottage cheese
1 8-oz. pkg. Italian cheese, shredded
1/3 cup Parmesan cheese, grated
2 eggs, beaten
1 tsp. salt
1/4 tsp. pepper
1 Tbsp. parsley, chopped
Heavy shake of Johnny's Garlic Spread & Seasoning
Sauce:
Red pepper flakes, to taste
Italian seasoning, to taste
3 24-oz. jars Classico Tomato & Basil Sauce, or to taste
Water
1. For shells: Using a mixer, beat eggs completely; add flour and salt; mix. Slowly add water mix on low speed. Avoid over beating or creating too many bubbles in batter.
2. Heat a small 5- to 6-inch pan. Spray with cooking spray; wipe out lightly. Pour 1 ladle of batter into pan (enough to lightly cover bottom). Heat about 30 seconds; flip to other side and heat another 30 seconds.
3. Cool shell on waxed paper. Can be made ahead and stored between waxed paper sheets in a freezer bag and frozen. To maintain freshness, do not store in refrigerator for more than 1 day.
4. For cheese filling: Combine all ingredients; mix well. Fill shells with a heaping spoon of filling; don't spill out the sides. Tightly roll.
5. For sauce: Add red pepper, Italian seasoning and a little bit of water to the sauce.
6. Place filled shells on top of a thin layer of sauce in a glass baking dish. Lightly drizzle with sauce. Do not cover completely. Bake covered for 1 hour at 350 F.
Italian Meatballs
1/2 lb. lean ground beef
1/2 lb. Italian ground turkey
2 tsp. basil
3 cloves garlic, minced
1/2 large onion, finely chopped
2 tsp. oregano
1/4 cup parsley
1/2 tsp. pepper
1/2 tsp. salt
1 cup Italian breadcrumbs
1 cup Parmesan cheese
Heavy shake of Johnny's Garlic Spread & Seasoning
1. Mix all ingredients together completely. Form meatballs to preferred size.
2. Bake at 400 F. for 20-25 minutes, turning meatballs during cooking.
Add to sauce of your choice; continue to cook approximately 1 hour or freeze for later.
Italian Green Beans
1 Tbsp. butter or olive oil
1/2 yellow onion, thinly sliced
1 lb. fresh long green beans
Johnny's Garlic Spread & Seasoning, to taste
1/4 cup water
1 tsp. minced garlic (optional)
1. Melt butter. Add onion, green beans and seasoning. In a large skillet, use medium heat and sauté for about 5 minutes while making sure to coat all beans.
2. Add water a little at a time, mixing well. Add minced garlic if desired. Continue cooking another 5 minutes or until reaching your desired tenderness. Cover to help steam.
Sour Cream Coffee Cake
1 cup chopped pecans
1 tsp. cinnamon
4 Tbsp. firmly packed brown sugar
2 cups flour, sifted
1/4 tsp. salt
1 tsp. baking powder
2 sticks butter
2 cups sugar
2 eggs
1 cup sour cream
1. Mix top 3 ingredients together by hand and set aside.
2. Combine flour, salt and baking powder and set aside.
3. Cream together butter, sugar, eggs and sour cream completely. Add the flour mixture.
4. Grease a Bundt pan and preheat oven to 325 F.
5. Sprinkle half the nut mixture on the bottom of the Bundt pan and add half the batter. Sprinkle remaining nut mixture and add remaining batter. Bake for 1 hour. Cool 5 to 10 minutes and enjoy!