"Our good works are like stones cast into the pool of time; though the stones themselves may disappear, their ripples extend to eternity." The author of this quote is unknown. However, the sentiments are familiar and in abundant supply in Midlothian. All over this community there are volunteers ready, waiting to make life better in some way for someone in need.
Kristin Foyal DeLoach, president-elect of the Midlothian Rotary Club, is just one of them. Born in Renton, Washington, Kristin earned her bachelor's degree at Washington State University. Most of her courses were in social work and in drug and alcohol studies. She began her chain of volunteering while in school. "I'm a nurturer and project driven," she noted. After graduation she became a registered counselor in the state of Washington.
It was when she was a case manager for CASA that she saw the desperateness of some of the situations. "I remember going into the home of a young girl, whom I was assisting for CASA, and feeling the hopelessness of the situation," Kristin shared. "I realized I can't change the world. It was overwhelming for me. I wondered if it was the right industry for me, but after I grew personally, I realized that I could assist without being the first responder."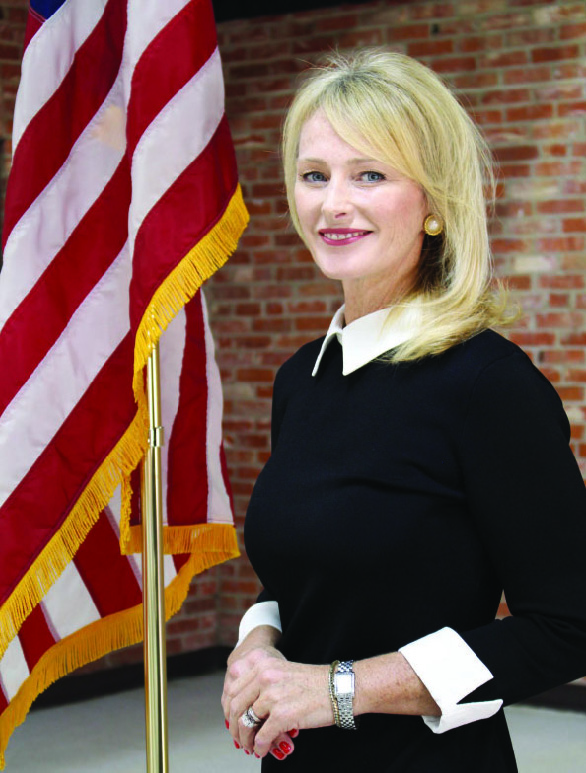 After graduation and moving to Texas, Kristin added a two-year associate degree in micro computer application from Grayson County Community College, and she also went to Texas A&M University-Commerce and earned a master's degree in information system and learning technologies. She was able to use her degree at Collin County Community College and at Mesorah High School For Girls. Her career went from computers to the cellular industry after she met and married Gordon DeLoach and became co-owner with him in his business, CommCentral, Inc.
They lived in Grand Prairie before moving to Cedar Hill. In Cedar Hill, the family made their connection to Midlothian by being in the Midlothian school district. While living in Grand Prairie, Kristin joined the board of directors for Brighter Tomorrows, a nonprofit organization for battered and abused women. She also joined the board of directors of Grand Prairie's Chamber of Commerce and was the president of the Civic Committee. Her first volunteer action in Midlothian was to become one of the charter mentors of Movement Toward a Future, an organization that mentors high-risk students at Midlothian's high schools. "At their first annual banquet, I organized and donated to the event and my husband ran the sound," she recalled. Kristin is also on the board of directors for Meals-on-Wheels of Johnson and Ellis Counties and on the Midlothian Education Foundation board.
One of Kristin's biggest impacts for the community has been made through the Midlothian Rotary Club, whose main ideal is service. "I have a legacy in Rotary. My in-laws have been members for over 35 years, and my husband for 23 years with perfect attendance," she said. "I found my place in the Midlothian Rotary Club with the youth. We chartered the Midlothian High School Interact Club in 2010, which is a service leadership group. They have their independent service projects, in addition to working alongside Rotarians. "Kids learn the value of service when they help others. When you serve others you get back more than you give."
"Rotary, for me, is a clearinghouse of community activities," Kristin described. "Because of our membership, we are able to keep up with what is happening in the community in which we live and around the world. Rotary can have members who live in a community different from the one they represent. For example, you could have a member who works in Dallas but lives in Louisiana where they spend their weekends."
Some of the services Rotary has supplied to the Midlothian community are their literacy program, where books are provided weekly to the library system; their flagship fundraising activity; scholarships to seniors; donations for various needs that are identified in the community; and helping to renovate Midlothian Civic Center. Not many people are familiar with the scope of the club's influence. This is a worldwide organization. Rotary International is the only nonprofit organization that has a nonvoting seat at the United Nations. Rotary International will celebrate its 100th birthday in 2016• 17. For this historic year of service, Rotary International's theme is Rotary Serving Humanity.
"This will be a big year for Rotary," Kristin stated. Kristin's proudest accomplishment with the organization was being appointed to a district position with the club, as district 5810 Rotary Interact chairman. As a district Interact chair, she has five select youth, who are leaders within their district, and they help govern the Interactors. "When I was asked to be district chair, it opened up the number of youth I could reach," Kristin shared. "A leadership seminar we put together at Booker T. Washington High School was a milestone in my experience in Rotary," she exclaimed.
"That was the pinnacle of me giving back to the youth." Another fun time was their luncheon at the Sheraton in Park Cities where Kristin was able to meet the Rotary International president. "Kids learn the value of service when they help others," Kristin explained. "When you serve others you get back more than you give. Once they've had the opportunity to make a difference, they will continue serving for the rest of their lives. They begin to see a need and try to meet it. They begin to actualize (represent or portray) themselves in the world they're in."
Kristin described a situation in which one of the students in the Interact Club independently did a kind deed. "The student went across the street to the senior citizens facility during Christmas to take cookies and play bingo. She didn't receive any community service hours, she just wanted to go and serve. The senior citizens just loved it!" Kristin's fulfillment in volunteering comes from a place of personal pain. When she moved to Texas all those years ago, she found herself in a divorce and facing the daunting prospect of being a single mother to her daughter, Julia.
"The term 'single mother' suggests that there is brokenness," Kristin shared. But she is inspired to help others because of her own experiences as a single mother needing assistance. From the time her daughter was in the fifth grade at Vitovsky, Kristin has been investing in Midlothian, which has a culture of people who serve one another. "What I bring to the table with all of these nonprofits and past experiences is acceptance, awareness, involvement and being approachable," she said. All of those non-tangible characteristics of servanthood are reflected in her work at the Midlothian Rotary Club. "I'm a Rotarian," Kristin declared, "and we serve."
Written by Betty Tryon.