Honored by her husband, Daniel, with beautiful homes and jewelry, Lucy Cogdell loved wearing about $25,000 in jewels daily, as she strolled the streets of Granbury in the years before and after the turn of the 20th century.
She received guests in her parlor, which was elaborately decorated in gold. This month Lucy, along with other women in Granbury's history, will be brought back to life to model in the Lake Granbury Newcomers' Club's annual style show. "You always hear about the men in history, and women are an afterthought. This time, they will be the stars," said Sharon Grindstaff, style show co-chair.
The celebration of Granbury's sesquicentennial prompted Linda Silver, fellow co-chair, to think a little more out-of-the-box. This year's style show, to be held on April 7, 2016, will feature some of the women of the past who made Granbury the great place it is today. Sharon agreed with Linda and added the idea of using Granbury Theatre Company's extensive collection of costumes and accessories. Emily Warwick, Granbury Theatre Company's costume designer and properties master, will outfit the club's models as the historic ladies might have been dressed during their time, and local boutiques will dress the models as the historic grand dames might have chosen from today's fashionable offerings.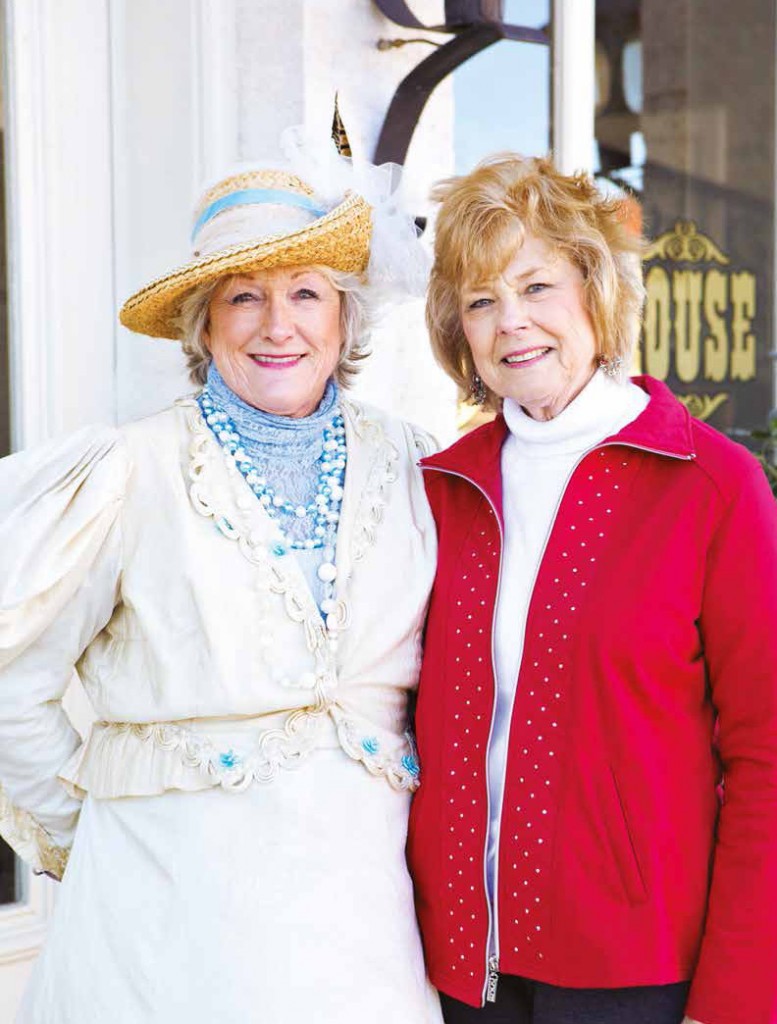 The exception will be model and local county attorney, Lori Kasper. Lori will take on the persona of Nellie Gray Robertson, who was elected Hood County attorney in 1918 — a fact that made her the first woman county attorney to serve anywhere in Texas. She went on to serve as a district judge before retiring from public office in 1926. Lori made an earlier presentation about her predecessor to the club, and she will be wearing an outfit actually owned by Nellie. Coordinating such a show meant that extensive research had to be done. "Linda is 'Miss Research.'
She's done all the research on the historical ladies and their homes," Sharon revealed. "Linda is a busy volunteer who is involved in so many things, but she has also written the script for the show and will act as the commentator." Photos of the home of each historical figure will be shown as the backdrop to each model's portrayal of that lady. "All of us models have to memorize our parts and have to be actresses fully in character, as well as models. It's going to be a unique style show," Sharon explained.
During the show, she gets to portray Lucy Cogdell, whose husband founded First National Bank of Granbury. Other women in Granbury's history that will walk the runway include Dollie Aston, Sudie and Elizabeth Nutt, Mary Lou Watkins, Fanny Granbury, Elizabeth Crockett, Asia Wilkes Booth and Carrie Nation. "Each of these women has played some part in Granbury's history," Sharon said. Curtis Slade will reprise his role as Confederate General Hiram Granbury, the town's namesake, and will escort each model. and serves on the Bentwater HOA's board of directors where she coordinates its activity center, serves as liaison to the social committee and is chairperson of the group's annual barbecue.
John now serves as project inspector for the city of Granbury. "What a giving community Granbury is! It was amazing to us how much people give to charities in time and money," Sharon said. Linda, as part of their neighborhood welcoming committee, met Sharon shortly after she and John moved into their Granbury home. "Linda invited me to the newcomers' club, and she is very hard to say no to," Sharon remembered. "I like to dress up for the monthly meetings held at Pecan Plantation, and I occasionally win a door prize or money pot." She also likes participating in the special interest groups, especially card-playing and the home-and-garden group.
"I always get ideas for my home," she said. The style show is not a fundraiser for the over 400-member Lake Granbury Newcomers' Club but will be held for the members at their regular first Thursday of every month meeting. However, the club does raise funds that help provide support for community charities and humanitarian projects. The club also gives an annual college scholarship. "We have a young lady going to school, and she's doing quite well in college," Sharon said. Oil painting and traveling occupy Sharon's time when she isn't busy volunteering. She has traveled to many states, as well as to Canada and Mexico, while either on her former job or on vacation with family.
The couple has explored much of Texas and looks forward to learning more about their adopted state. "I'm not enjoying Texas tornadoes, so I'm glad we have a safe room," she said. On the other hand, she really loves the friendly nature of Texans and feels very welcomed. The beautiful Texas landscapes are inspiration for Sharon's artistic soul. The early pioneering female leaders who are being portrayed this month by models would be very proud of the members of Lake Granbury Newcomers' Club, who are interested in their adopted home's history and the contributions made by women. They are continuing the caring and giving tradition set so long ago.
Written by Virginia Riddle.