Social media plays a significant role in the creative life of Tiffany Carlen. Every time she conquers a fear and says, "Yes!" to an opportunity taking her outside of her comfort zone, she posts for all her friends to see her step of faith.
For instance, last year she was panicked when she was invited to share her infectious, passionate country songs at the CMA Music Festival. "I don't necessarily like being the center of attention," Tiffany shared. But she's learned to embrace the role she has to play in order to achieve success in her musical endeavors. Flipping an internal switch, she's able to give people what she needs to deliver. Learning how to do that took years.
The moment the lesson settled in her heart was last summer, while recording vocals for her album, It's A Girl Thing. She had tracked vocals once before, in 2014, when she joined a host of local musicians at Fort Worth Sound with Bart Rose. After sending the album off to Richard Dodd, a Grammy Award winning producer in Nashville, his honest feedback confirmed her gut feeling that her vocals had not matched the output of her musicians: Josh Rodgers on drums, Aden Bubeck on bass, Boo Massey on guitar and Milo Deering "on every stringed instrument you can imagine." Richard encouraged her to revive the album by re-recording her vocals with coaching from him.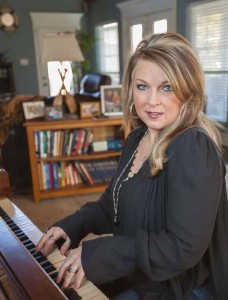 Destined for greater things, she worked her way up the corporate ladder, which brought her to Fort Worth. She then relocated to Lubbock to be with her husband, Todd Hurd. She found herself in an incredible music scene that was hard at first to break into, as Tiffany was traveling 85 percent of the time for her job. So she networked with Todd to build his law firm and weaved her way into the community.
She had also quit smoking. "That was one of the best things I did for my life, for my voice," Tiffany said. She had an opportunity to sing in one of the shows at the Cactus Theater and met Jay Lemon, who has been her vocal coach for 12 years. "And Todd started pushing me to pursue my dream." After joining a band in Lubbock, Tiffany made connections with songwriters, musicians and audiences from Lubbock to Stephenville to Fort Worth. When she moved back to this area seven years ago, she took time to find out who she was comfortable working with and who would respect her as a female artist. "It's a challenging music scene for a woman. I had to make connections. Plus, I had babies," she said. "My family is a welcome distraction, making for great mommy, wife, heartbreak and strife stories."
Tiffany had to start showing people what she could do. Her husband insisted  she finally record her single, "It's A Girl Thing," and in 2012, the first version was released. A year-and-a-half later, she re-entered Fort Worth Sound to track "Texas Song." She co-produced it with Bart Rose, and drummer Josh Rodgers convinced her to set dates for recording the album. "I had to force myself to have that 'Yes!' moment," she remembered. "Saying 'Yes!' to myself was one of my greatest challenges, because I felt selfish." At 42, Tiffany wanted her first album to reflect her ability
In a very pointed conversation, before stepping into the recording box in Nashville, Richard coached her to become an actress in front of the microphone. "You have to flip a switch. When you first write a song, all those feelings are raw," Tiffany said. "Then, you get into the studio and have to bring yourself back to the moment when you wrote it, and I struggled with that." Losing her mother gave her the deep emotion to bring her songs back to life. Roger coached her to create a fluid, fluent conversation with her lyrics. He challenged Tiffany to give him the guts of a song called "Nobody," telling the story about being tired of feeling like the invisible woman. Roger said, "It's powerful, but the impact isn't there. You need to basically punch him in the face with your words!" The rewritten chorus, "Stop looking right through me, and take a look at the new me, 'cause I'm somebody baby," now empowers every woman.
The album, It's A Girl Thing, is out on the streets because Tiffany believes she is somebody. Following her mother's entrepreneurial footsteps, she invented Tiffie Sleeves, in 2009, and operates her own business. She's a self-proclaimed "bad juggler," but makes it all work, even with her husband's hectic law practice. "I'm really fortunate to have my mother-in-law, Diane," Tiffany said, "picking up the pieces. My sister, Tamara, chips in, too." Tiffany is inspiring her children to pursue their passions, as well, showing them they can make life work and accomplish anything, with purpose. To help her fight those ubiquitous fears about money, time and energy, Tiffany reads a daily devotional called The Confident Woman by Dr. Joyce Meyer. "It's God talking to me: 'Would you quit being so afraid? It's doing nothing but freezing you. The devil works really hard trying to stop you from serving your greater purpose.'
I know God gave me a gift, and I have a responsibility to do what He wants me to do. God pushes me on." And so, she keeps saying, "Yes!"
Written by Melissa Rawlins.