In the spring of 2008, Crystal Fisher got a phone call no young wife wants to receive. A family friend said, "Brian fell on his head. I'm not sure if he's gonna make it." Brian, who was working in Kansas at a power plant at the time, had fallen 50-60 feet. Crystal was attending a conference with her co-workers. They were in a car when she received the news, and they pulled over on the side of the road to pray.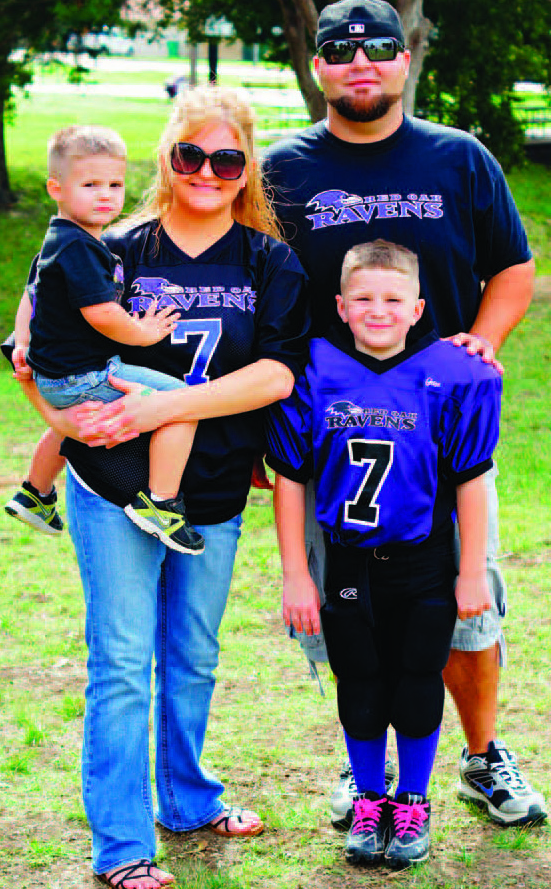 By the time they reached the airport, her boss had booked a flight for her from Dallas to Kansas. Brian remembers falling very clearly. "Took a while to hit the bottom," he said. "It was as if time slowed down — similar to what you see in The Matrix. I thought, This is it. I'm gonna die."
As Brian fell, he pleaded with God for one more chance to see his wife and child. After landing, he kept repeating, "Thank you, God," then, he tried to sit up. "My ribs hurt so bad I didn't even know my back was broken," he said. The fall broke every rib on the right side of his body, and damaged two vertebrae in his back. Miraculously, Brian survived. The neurosurgeon said, "Son, you don't understand. You're a miracle. By all medical standards, for you to even be alive and not paralyzed is beyond words."
He called Brian a walking miracle. "Thankfully, he had guardian angels around him," Crystal said. After the accident, in addition to working and caring for their young son, Crystal had to do everything for Brian. A turtle shell encased him for protection. "You do what you have to do," she said. "It was tough and scary not knowing the future. He was always the breadwinner." Although many years have passed since Brian's fall, effects still remain. "I was scared of heights before — now I'm terrified," he said. He endured lots of therapy, and eventually, he learned to walk again.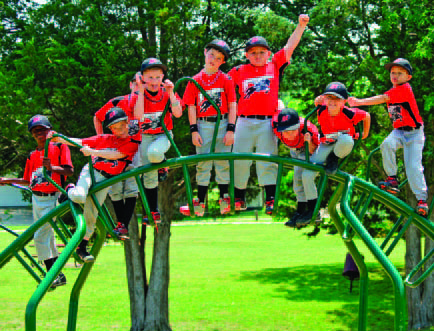 His body still hurts with weather changes, but Brian doesn't let the pain stop him. Immediately following the incident, doctors prescribed heavy-duty painkillers, but he didn't like the way the medications made him feel. He wanted to be involved with his family, not constantly asleep or in a medication fog, so he quit taking them. Brian didn't have much to do other than sit around and feel sorry for himself, but he grew tired of his pity party, so he shifted his mental focus. When his son's youth football coach left, Brian stepped in, and it changed his life. He had always loved football. He grew up playing Little League. During rough times, Brian had a coach, Coach Fred Fitts, who kept him grounded.
"We're learning life lessons," Coach Fitts told his players. And Brian adopted the same philosophy with the football and baseball teams he now coaches. "My Little League coach is one of the greatest men I've ever known. He was always there for me, and I want to be there if any of my kids ever need me," he said. In the first year of coaching football, Brian started with his son and one other player. The team grew and went further than anyone expected. By the time they were 9 years old, they had been state champions and two-time Super Bowl champs in football.
He then accepted an invitation to coach baseball, so the kids had something to do when football season ended. With most of the same players from the football team, they maintained a bond and succeeded in baseball as well. The kids have achieved an unbelievable level of success — in both sports: three-time league champions, Boys Southwest Baseball championship, World Series and state championship in baseball. Today both of Brian and Crystal's sons, Brian Jr., 10, and Brody, 5, are coached by their father.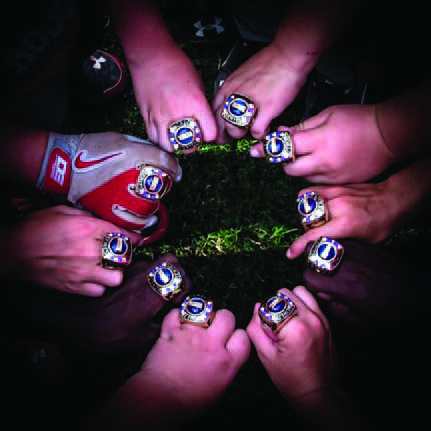 Brian puts a lot of time into coaching, but he shares credit. "It's those kids who determine their success," he said. "I can't throw or hit the ball. I can't run." His fellow coaches support him and help mold the team. BJ Edwards, James Giddens and Sean Daniels all work hard with the football team. Lydell Gaines is the glue who holds everything together. Phillip Hall backs up Brian with the baseball team. Parents sacrifice to get their kids to practice.
And, of course, they couldn't survive without their team mom, Keri Mayfield. "She's awesome. I'm very thankful for her," Crystal said. Brian agreed. He counts on his wife's support, and Crystal doesn't let him down. Brian enjoys coaching, but it isn't just about winning. He teaches the kids lessons he learned from his childhood coach, like learning to work together, to take responsibility for a specific job and to back each other up. "As long as we all do our job, we're OK. If even one person doesn't do their job, we're not OK. But it doesn't matter because we're a team.
Win together — lose together," he said. Great preparation for life and the attitude developed from his childhood are what continue to motivate him. Some days, he doesn't feel like going. Pain still haunts him. "But I get up and go because I want to, and I need to. They need me to," he said. "A ship's only as good as its captain. If the captain's not steering the ship in the right direction, it's not the crew's fault." Brian receives kudos for the success of the teams, but when he talks about the boys, his eyes pool with tears.
"Those kids have given me more than I've ever given them. Those little boys care about me as much as I care about them," he said. He attends games, watches film and volunteers countless hours making sure his teams prepare as well as possible. "They don't pay me with money. The smiles on those kids' faces are something money can't buy. And that's why I do it, I guess," he said. "No matter what happens from here on out, they can say, 'I was the best that there was. I'm a winner.' I want them to be leaders, have pride and know how to beat adversity."
After 10 years of marriage and a difficult season following the accident, the couple cherishes life. When circumstances reached a point where Brian needed to work, he simply went back. He dreams of a job coaching at the junior high or high school level. But until then, he'll keep doing what he loves most — teaching kids to get up after a fall and choose to move forward in life.
Written by Lisa Bell.