In the early morning hours before school on September 24, 2014, with some of the students still reconciling their bodies to being awake, a small team stood alert, excited and eager for the day to begin.
Three nine-year-old Mt. Peak Elementary School students, Brylee Stewart, Sloan Short and Jeremiah Cuellar had decided to make history on their campus and start a new tradition — See You At The Pole. On the fourth Wednesday in September in every time zone around the world, millions of kids gather around the flagpole at their respective schools at 7:00 a.m. to show unity for each other and unity in Christ during the annual SYATP event. Though SYATP began in 1990, Mt. Peak Elementary had never participated in this global day of student prayer.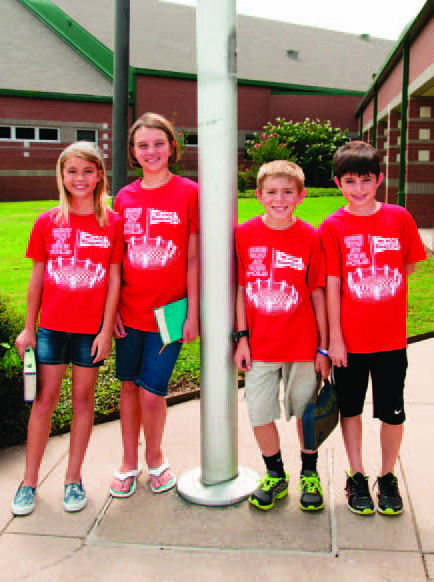 The event is student-led, but the beginning of the idea for Mt. Peak Elementary came from Donnelle Cuellar, Jeremiah's mom, who is also the nurse at the school. She spoke to her son about it, and he thought it would be a good idea to have a SYATP event at the school. In the beginning stages of planning, "Jeremiah called to set up a meeting and set up an agenda," Brylee informed. Present at the initial meeting were Jeremiah, Brylee, Sloan and their moms, Donnelle, Stephanie Stewart and Laura Short. As a student-led event, the adults only provided assistance with some insight as what to prepare.
The kids then brainstormed about which task each would be responsible for. "Sloan, Jeremiah and Brylee all know how important prayer is," Stephanie shared. "They pray, on a daily basis, with their family and on their own. For them to have the opportunity to organize an event that encouraged all of their friends and fellow classmates to join them in prayer was simply an awesome thing. Being able to step up and put their faith and leadership skills into action was a great gift." One of the items on the agenda included the idea of T-shirts for the occasion. "We sold 60-70 T-shirts," Sloan said, "and we wore them every Wednesday before SYATP."
The kids also advertised in the neighborhood to expose more kids to the event and to also alert parents of when the event would take place. "It was very encouraging to watch Sloan, Jeremiah and Brylee work side by side to put this event together," Stephanie shared. "Because of their age and this being the first time Mt. Peak Elementary participated in SYATP, as their moms, we gave them a few ideas on how to organize it. It didn't take much from us. From ways to advertise the event to organizing the schedule for the event itself, the kids did it all.
They were so excited to be able to make this their own and to work together to make SYATP a success. It really wasn't about the numbers but the glory it gives God." Even though the event was not about the numbers, the first SYATP event for their school produced about 80 participants and spectators. Beginning at 7:00 a.m., Jeremiah, Brylee and Sloan claimed the attention of everyone there with the school's bull horn. Jeremiah opened up the occasion and explained the purpose of SYATP. After informing the crowd of the designated group leaders, the kids divided up, joining the group with the leader of their choice, and voiced their prayer requests. In addition to Brylee, Sloan and Jeremiah, others who joined them as group leaders were Logan Dyer, Lindy Gaither, Hannah Hill and Neeley Robertson.
Just because they are children does not mean they are not weighed down by very heavy issues and are not searching for help. "We got prayer requests and prayed in a big group," Sloan said. "One of the girls in my group asked for prayer for her dad because he lost his job. I kept praying for him constantly after she told me." "It was impressive how seriously the kids took this at their ages. It was pretty neat," Stephanie marveled. Praying was not the only activity in
the groups.
Some sang songs and/or read Scripture. Brylee read Scripture in her group. She had consulted with her dad, Bryce Stewart, the night before to come up with an appropriate one for the occasion.
After the reading, "I asked for prayer requests going around the circle," she recalled. "It was really beautiful how everyone opened up in prayer, just like a flower." "That's what we did," Sloan described. "We shared prayer requests and went around the circle. If someone didn't want to pray, they would squeeze the hand of the person next to them as a signal to pass it along so everyone had the chance to pray if they wanted to." After prayer, the smaller subgroups came together again to form a new, larger whole group for a final closing prayer, after singing another song. And with that, the first SYATP at Mt. Peak was complete.
But, if things go as planned, this will only be the beginning for the event at their campus. The kids hope this will be something that will continue at the school and become a yearly tradition. "We will meet September 9, after school, to plan for the second SYATP this year," informed Brylee. "The meeting will be open to any fourth- or fifth-grader who wants to help lead a prayer group. More information will go out the first week of school."
"This year, we are hoping it will be bigger and better, so when we leave Mt. Peak, after sixth grade, our brothers and sisters will continue with this," Sloan said hopefully. "I think we will be group leaders again, because we now have experience doing this," Brylee added. "It was important to do this because of all the Christians around the world who gathered around the pole."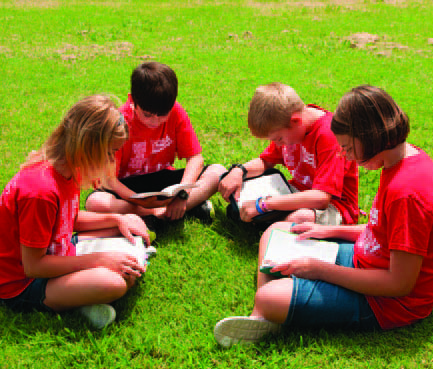 Sloan felt SYATP is important because some Christians at the school get to connect with other Christians there. "Some students who were not Christians could be involved and get to ask questions, and that could lead to more relationships with Jesus," she smiled. "This event is not just a chance to share Christ with others," Stephanie mused. "Its main focus is to simply pray. Being an event that is student-led, requires us, as parents, to step back and let the kids show the world what they can do. How awesome it was to see over 80 young people, their parents and Mt. Peak staff joining together to lift up praises and give glory and honor to the One who created us."
Written by Betty Tryon.