Young and old alike have delighted in sitting lakeside or out on the waves, casting their lines in hopes of hooking the fish that will become the subject of retold tales. The big catch is always in the back of a fisherman's mind as he or she waits patiently for a tug on the rod's line.
J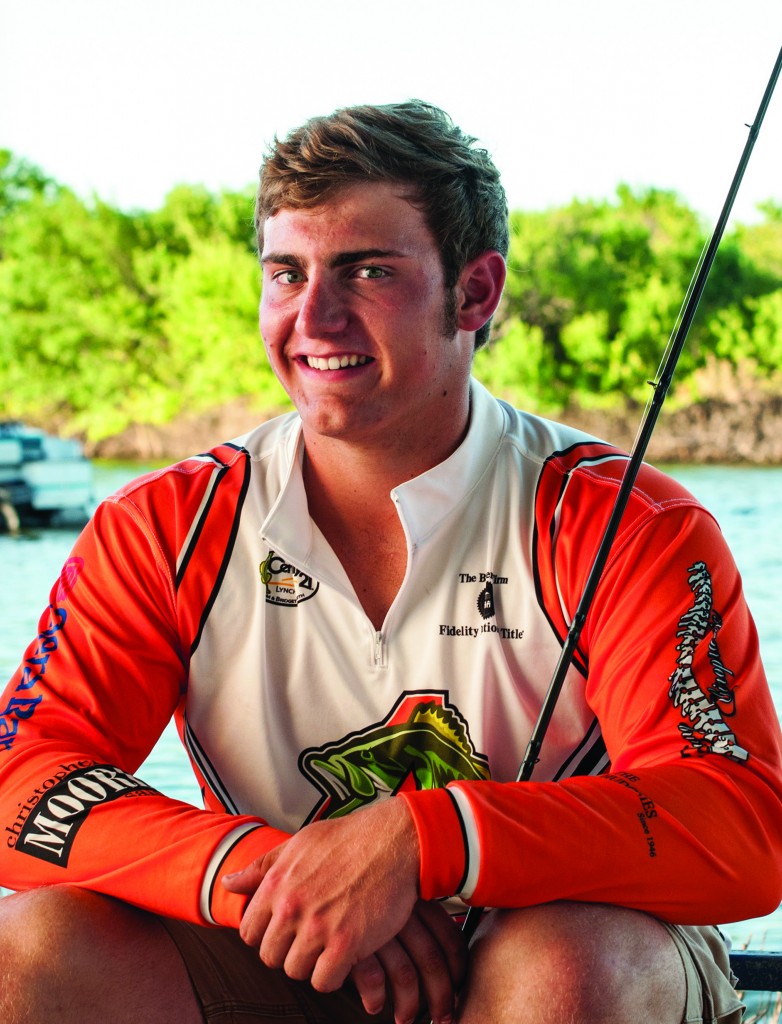 ack McAdams, a senior at Aledo High School, has been fishing since he could hold a rod, and the thrill of each cast sustains his love of the sport. He becomes animated as he speaks about hooking a big fish — any fish for that matter. "It's awesome. You never know whenever you cast if you're going to catch that fish because you can't see him." Jack wanted to share his love of fishing, and with the help of his mother, Leigh McAdams, his dream has become a reality. After a lot of legwork and research, Jack founded the Aledo Anglers' Club at Aledo High School in 2013. Coach Brad McCone signed on as the faculty advisor, and Leigh assists him with the administrative side.
"We decided to form a club and compete in these tournaments for scholarship money," Jack explained, "and maybe a chance to fish beyond the high school level." Sanctioned high school fishing tournaments have become popular in recent years. "I think it's gotten so big because there's no gender bias, there's no tryout process or certain level of athleticism involved," Leigh shared. "I call it the great equalizer." The Aledo Anglers' Club is part of the West Division of the Texas High School Bass Association, which also includes East, Central and Houston Divisions.
Five tournaments are held throughout the year in each division to qualify for the regional championship, which includes a chance to win scholarships. In the 2014 Regional Championship, Jack and his partner, Carson McCone, placed 58th and each won a $30 Bass Pro gift card. Student anglers can also win scholarships and prizes at the Lake Fork Open each July. Aledo Anglers' Club members fish in the qualifying tournaments, but they also fish recreationally. Before each tournament, members prefish the lake to determine the best spots for bass fishing and learn what the fish are biting.
Each tournament includes about 80-100 boats, which hold two club members and a boat captain from area schools. Most of the Aledo captains are fathers of student anglers and provide their personal watercraft for tournaments. "They're out there for safety reasons. They have a phone handy in case there is a problem," Jack explained. The captain is the only person authorized to operate the combustion engine, but the student anglers make the decisions as to where the captain takes them. Anglers can use electronic devices, such as radar and GPS, but they are banned from using the devices for social media or communication during a tournament. The Aledo Anglers' Club boasts nearly 60 members, with the tournament team comprised of more than 20 students.
Weekend tournaments are a commitment and require teams to check in as early as 5:00 on Saturday mornings. "The Sunday after that, you're just sleeping," Jack smiled. Leigh is at every It's been a busy road, but Leigh has enjoyed her time volunteering with the club. "It's fulfilling, as a mother, that Jack is getting to pursue something he loves," she said. Jack is looking at several universities, and one of his deciding factors is that the school is near a lake. Although Leigh will be sad to see Jack leave next year, she is encouraging him to move off to college. "It's a big world out there. He's ready. I'll miss him like crazy. I'll cook him hamburgers, so he'll come back and see me," she smiled. Jack appreciates how supportive his mother has been in founding the club and volunteering with the THSBA.
"She helps out a ton. She does a lot of behind-the-scenes work that doesn't really get noticed," he said. "Her work is very crucial to the club. It wouldn't be what it is without her." Jack's father, Gordon McAdams, is able to captain two other anglers at tournaments, occasionally. Coach McCone, a seasoned tournament fisherman, is the boat captain for Jack and his son, Carson. "Coach McCone gives great advice on fishing. He's a great coach and mentor," Jack shared.
The Aledo Anglers' Club has gained numerous local sponsors since its inception, including Jerry's GM as the primary sponsor. "They believed in us at the very beginning," Leigh shared. The anglers have also gained a few fans, including Donna Young. "She is our biggest cheerleader," Leigh grinned. "She loves fishing. She even has a necklace made of lures — without the hooks on them." Jack showcases a $30 Topwater lure in his room and has discovered $400, hand-painted lures online. "I don't know why anyone would want to throw that in a lake," he grinned. As Jack shares his fishing stories, he smiles and becomes bright-eyed. "You never know — the fish you catch might be the lake record. You won't catch that fish of a lifetime if you don't go out and fish."
Written by Amber D. Browne.