When it comes to her art, Star Marie Holdway touches the sky. This brilliant young artist is talented, driven, courageous, curious and, at just 13 years old, often wiser than her years. For her, life is not only about color and vision, technique and perspective or recognition and rewards. "I want to inspire others," she shared. "It doesn't matter if someone thinks they can't do something or believes their work isn't good enough. What matters is trying your hardest to achieve whatever you want and, most importantly, doing it for enjoyment."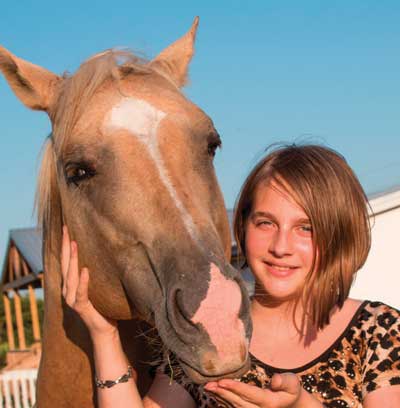 Star's passion began as soon as she could hold a crayon. "I started coloring before the age of 4 and, then, I began drawing," she smiled. In the fourth grade, a friend's gift of a book on how to draw animals set Star on the path of exploring, experimenting and refining her favorite subject. "I mostly draw animals," she said. "I drew my first dog from a picture. I was 8 years old and the dog was a Saint Bernard." She wouldn't have known it at the time, but her perspective and detail were already amazing. "I work by freehand or sometimes, especially for a larger project or portrait, I'll look at a picture, create a grid and draw square-by-square," she explained.
She has intricately and exquisitely rendered dogs, horses, cats, cockatoos, ducks, dinosaurs and all kinds of wild animals, as well as a world of imaginary dragons.
"Dragons are really cool, and sometimes I wish they were real," she grinned. On the topic of dragons, Star would very much like to paint a giant mural in her bedroom and, since teal is her favorite color, a future teal dragon is a strong possibility.
Someone who is very real in Star's life and, as of last year, her teacher and mentor, is college art instructor, Jennifer Paden. It was Star's grandmother who facilitated their connection. "My parents live in Orange County, California," Star's mother, Dana Spencer, explained. "Star usually visits them in the summer and she's very close to her grandmother." Searching for a greater artistic opportunity and education for her granddaughter, Star's grandmother found Jennifer through long-distance research and referrals.
"From Star's earlier work, I believe her abilities come from a vast reservoir of natural talent," Jennifer said. "The perception and renderings of her physical world are well-developed, and she has such an impressive imagination and work ethic. She's eager to explore, try new mediums and to question and solve the problems that invariably occur in the creative process." After talking with Star and her mother, Jennifer accepted Star as her youngest art student and, since July 2014, Star has been taking classes and private lessons.
"Ms. Paden is an amazing artist and teacher," Star said. "I'm learning so much. We've worked with pencils, oil, pastels and also experimented with ink. I love color, and working with ink is really fun."
Beyond learning, Star's self-confidence has likely benefited the most from her lessons. "On my first project, Ms. Paden wrote the word 'prodigy,'" she beamed. From a young lifetime of self-teaching, being validated by an accomplished artist and respected  instructor is the difference between "trying your hardest" and actually embracing achievement. Star is now an eighth-grader at Blooming Grove Junior High School. She and her mother moved to the Corsicana area before Star's 1st birthday, so it's really the only home Star has known. When she's at home and not drawing, doodling or reading "anything and everything" about dragons, she's outside with her three dogs and five horses. Star and her mother live in a home surrounded by 4 acres and a creek.
Star's love for animals is eagerly shared with her cattle dogs (aka Heelers) Sapphire, Daisy and Dale; her palomino/appaloosa stallion, Spirit; the two mares, Buttercup and Annie; and their foals, Blu and Spur. "I did a portrait of Spirit when I was 11, and it's the drawing that I wanted Ms. Paden to have," she smiled. According to Jennifer, Star's ever expanding portfolio goes beyond her many animals to also include a collection of creatures, characters and fashion designs that would "put many art school students to shame." Among these creatures and characters are dragons (of course), semi-realistic cats and cartoons, all influenced by Star's appreciation of anime, a style of animation made  popular in Japan. She's also a big fan of computer-generated Vocaloid Japanese music. On Instagram, she has created an account for her realistic art and another for her fantasy work and, together, they display an enormous breadth of creativity.
Clearly, art is Star's passion, yet there's room for more. A love for music prompted her to try out for band, her favorite class out of all the offerings. Seeing a need in the group led her to choose the trombone and, ultimately, to be selected to join two honor bands last year. She was third chair in the Association of Texas Bands and the only seventh-grader to make it into the Centex Honor Band.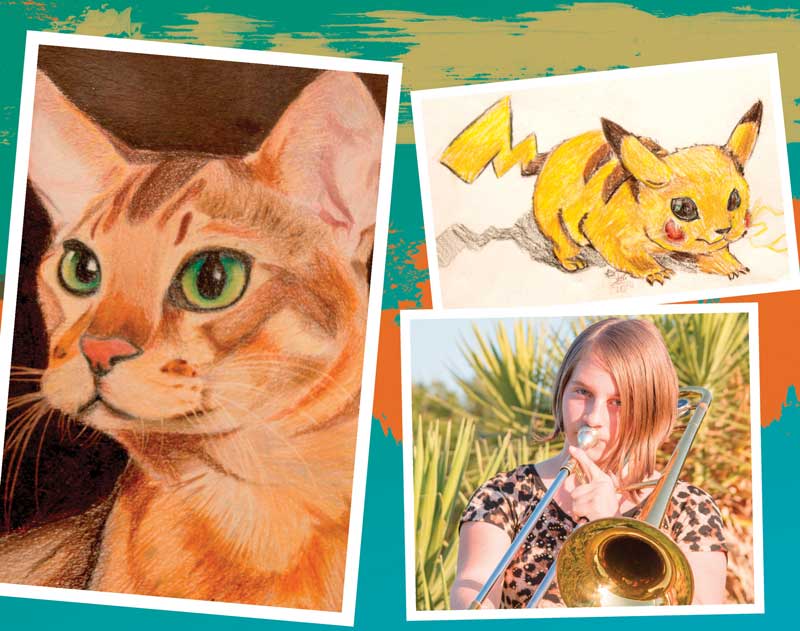 School mornings at 7:20 a.m., she boards the bus to head to band practice, iPad in hand. Creative productivity as well as the extra challenge of AP (Advanced Placement) curriculum makes for one busy schedule, yet she uses her spaces of free time to draw on her iPad. "I can work anywhere," she smiled. "I like to draw eyes, and sometimes I'll fill a page with eyes in different shapes and colors. I love the explosion of colors."
For now, this talented teen is happy to continue learning and creating art, playing the trombone, spending time with friends, family and her animals and, most importantly, inspiring others. In the future, she plans to attend college and possibly become a professional artist. She also dreams of visiting Germany, France and/or Japan and, odds are, her dreams will come true.
Through her eyes and iPad, travels may well become another favorite subject. Star is soft-spoken and beautiful with gorgeous eyes and expressive eyebrows. In another era, she might easily have been the subject of a classic oil painting. She admits to being shy and remains careful not to hurt anyone's feelings.
"She's aware of her talents and passionate about nurturing them, yet presents herself with an air of grace and modesty that is as charming as her talents are extraordinary," Jennifer affirmed. "Vocabulary.com defines prodigy as 'an unusually gifted or intelligent (young) person; someone whose talents excite wonder and admiration,'" she said. "I am one of those individuals who is excited to wonder and have admiration for Star and her many talents."
Written by Carolyn Wills.