Mike has seen so many changes in the department since hiring on. "The fire pole was gone before I got here, and Martin Luther King Boulevard had yet to be named. The pavement stopped at the fire station's parking lot driveway and continued to the Interstate service road," he explained. "More streets just mean the city's footprints have gotten larger."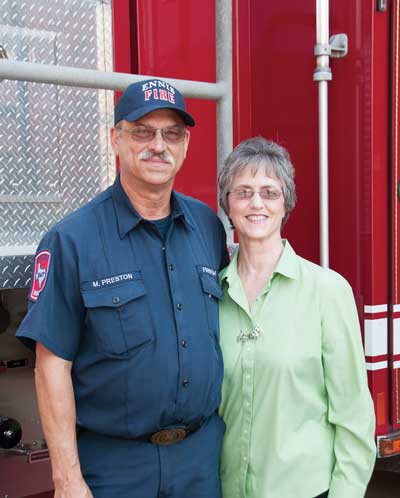 All firemen used to have to live in the city limits, and memorizing every street in town was a must, especially if you were hired or worked as a driver. Firemen used to also be the ambulance service back when Mike was first hired. October was designated as Fire Prevention Month not long after the Great Chicago Fire and the Great Peshtigo Fire, both taking place on October 8, 1871. The fire that ravaged Chicago, Illinois, burned from Sunday night until the morning hours of Tuesday, October 10. At least 300 people perished and thousands of dwellings were completely destroyed.
Well over 1,200 individuals lost their lives in the Great Peshtigo Fire in Wisconsin. The reason cited for both of these fires was severe drought conditions. "The death toll from these two fires prompted the beginning of the fire prevention program that's still shared throughout the country today," Mike stated. "Those in high positions knew they needed to do something to keep this same thing from happening again. We educate people of all ages on how to get out if they find themselves in a fire and how to get to a safe place."
Although fire safety is important all year long, October is the time when firefighters all over the country go into schools to educate the youngest students about Stop, Drop and Roll and EDITH, an "Exit Drill In The Home," providing family members with a safe escape method in case of a home fire.
The program the Ennis Fire Department has had in place for as long as Mike can remember is one that works. "In the beginning, a fireman would suit up and stand in front of the kids," Mike remembered. "We wanted to remove the scare factor for the kids. We did this by talking to them, explaining the 'stop, drop and roll' method of safety and also the importance of not playing with matches."
Over time, the fire safety program has progressed to full groups of firefighters going into the schools, teaching toward the students' grade levels and attention spans. "We must present a program that holds their attention," Mike explained further. "What we do must be working because we've had no reported structure fires caused by children who have been playing with matches."
When educating the youngest students, Mike and his fellow firefighters instruct them on the importance of staying low to the ground, so they move under the smoke. They are told to "hug the ground." Today's program also uses technology that wasn't available when fire prevention programs first began. "We operate any puppets used to pre-recorded music and voices," Mike shared. "We normally always have a time of Q and A. Some of the questions they ask will make you laugh, while others will bring tears to your eyes."
Fire prevention safety begins with students in kindergarten and continues through the junior-high level. As the students get older, the questions get more detailed, opening the door for more detailed and descriptive answers. "The older kids learn that you have to think fast in a fire," Mike stated. "We cannot stress to them enough how important fire safety is. Knowing what to do in case of a fire saves lives and protects property." When teaching adults about the importance of fire safety in the home, the EFD encourages parents to lay down the law about matches and lighters. T
hose two items are not toys, and children must understand not to use them under any circumstance. Parents will also want to explain fire safety rules to their children and include the dangers found in playing with electrical outlets and cords. The stove and oven are also "off limits," unless they are being supervised by an adult. "All it takes is talking to your kids," Mike reiterated. "Make sure they know and understand the rules, that they know and understand the exit route and to leave lighters and matches alone." Mike is a self-proclaimed jokester who knows when to be serious. Preventing fires of any kind is critical business to him and his fellow firefighters. "It's a life and death matter," he stressed. "There are no clowns or clowning around in our program. Fire safety is important business."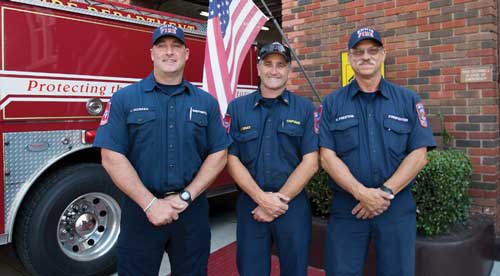 Even more changes came after 9/11, thus making continuing education very important for the entire fire department. The classes they take keep them abreast of all they need to know to keep themselves and the people they serve safe. As evidenced by the goodies received on a regular basis, it's apparent that the community loves their firefighters. "You never know," Mike added, "one day, we might get a pizza delivery, just because, and another day, the ladies from the American Legion will drop by with homemade pies and cookies."
"People really do appreciate them and all they do for the community," Evelyn said with pride in her voice. "I hear people talking all the time." When Mike isn't at the station or in the classrooms teaching others or learning new things himself, he can usually be found at home taking care of the yard or working on his "honey-do" list. He still considers himself to be a work in progress, especially when he's at the fire station.
"You're never too old to learn new things," he admitted. "And you really can teach an old dog new tricks."
Written by Sandra Strong.