When Darren Eubank and Chima Ijeh met in sixth grade, they had no idea they would eventually partner to form a successful music duo. "We met in peewee football," Chima, nicknamed "Chi," remembered. They were only acquaintances throughout school, not close friends. Darren, known to his friends simply as "D," mainly remembers Chi as the one who sang the national anthem at many of his football games.
They both graduated from Red Oak High School in 2009, but their paths crossed again at Southwestern Assemblies of God University, where they were students. From there, a partnership was born. Chi has loved music for as long as he can remember. "As soon as I started talking, I was singing," he said. "Music has always been my escape, my therapy." His love of music persisted, but he eventually grew discouraged. "When I was 8, I wanted to be a superstar, so I would practice every single day," Chi said. "By the time I got to high school, I'd pretty much given up on that dream." He eventually felt a calling from God to pursue music full time, but that meant changing his entire life. "At that point, I was pretty much into football, and I had to tell my team I couldn't do it this year because I had to join choir," he laughed. "I just poured myself fully into music."
Chi ran a worship ministry at school, helped out at church and played music at SAGU before partnering with D. Now, he considers music his full-time job. D didn't grow up dreaming to be a musician like Chi did. "I didn't touch a guitar or any kind of music until after high school," D said. "I sang my whole life, but not in front of people." The summer after he graduated from high school, D also felt a calling to pursue music. "All my favorite worship leaders play acoustic guitar," he said. "I decided I needed to do that, too, so I bought a guitar and started teaching myself how to play. I just messed around until something sounded right, and I practiced three hours a day.
That was six years ago." During their junior year of college, a small restaurant in town was looking for a house band. Chi auditioned and was selected. Later, D was working out at the gym next door and saw a sign advertising the audition. "I said I had my guitar in the car and asked if I could try out," D remembered.
It turned out that Chi had mentioned him at his own audition, so the restaurant owner asked if they would consider playing together. "We just sat down and made a set list," D remembered. "We were good at harmonies, and we played a show together." That was the first time the two performed as a duo.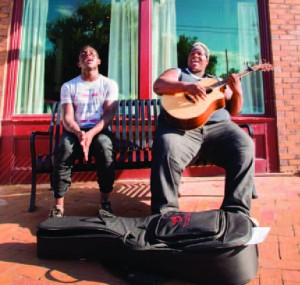 They played at the restaurant throughout the summer but got busy once school started again. The pair got their true start performing on the corner of 7th Street and Bishop Avenue in the Bishop Arts District. They originally started busking as a way to earn extra money, but the warm reception they received was worth even more. "The first night was pretty cool," D remembered. "We just opened the guitar case and made about $100. That was awesome! We wanted to do it again."
Regulars in the Bishop Arts District started watching for them and requesting more music. They realized they needed to take things to the next level, so they started working on a name. They threw around different ideas, but nothing seemed to work. "I thought it was corny, so we said we'd go with 'D and Chi' just for now," D said, "but it stuck." The two printed out business cards and planned an official show. Since then, D and Chi have broken out on the local music scene.
They've also found success online, with one of their songs earning over 16,000 hits. Ryan McCauley, a music producer, saw the video on YouTube and connected them with a studio. D and Chi recorded their first EP from September 2013 to March 2014. After that, they brought together a full band, including Courtlin Murphy, Jason Hostetler, Markwayne Kennedy and Mason Grimes. One hundred people attended the release party for their EP. "It was just a celebration of what we'd accomplished, and it was so cool to see people rallying around us," D said. "We had no clue what would come of it. That summer was a whirlwind. We ended up playing 65 shows last year — weddings, parties, shows, everything."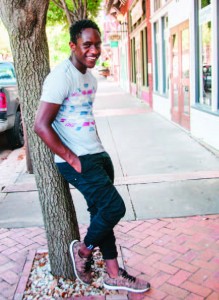 They are planning twice as many shows for this coming year and recently got a manager, Adrien Johnson of Chosen Musicians. They have played at coffee shops around DFW, the House of Blues and were on K104 radio station. Their band is firm in friendship and brotherhood. They all share a likeminded mentality. Chi believes their friendship is the key to their success as music partners. "We've known each other for a really long time," Chi said. "We started off with just two vocals and an acoustic, so we were able to focus on how our voices blended."
He also believes some of their success can be attributed to the way they write their music. "We write from personal experience," Chi said. "We're telling you a part of our lives. We're expressing what's happened to us physically, emotionally and spiritually through music. When you share a life experience on a deep level like that, people connect with it."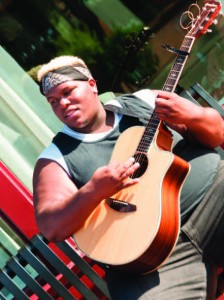 "People love being inside people's minds," D agreed. "When you let everyone see your heart, it's golden. It doesn't really matter what you say. As long as you're letting people see who you are, they'll like it." As D and Chi continue on their musical journey, they are excited by the possibilities the industry holds. "We're officially working on our full-length album, which we're planning on releasing this fall," D said. "We'll also have the chance to travel the country from college to college. We're kicking down walls and moving forward." Friendship will always be at the heart of D and Chi, no matter what their future holds. "Our music connects us in brotherhood and brings us closer together," Chi said. "This isn't just a band. This isn't just a really cool calling. This is a brotherhood, a family."
They also know how important it is to stay focused on their original intentions in a cut-throat industry like entertainment. "The mission statement of D and Chi is to shine a light in dark places, and there's darkness everywhere," Chi said. "We see our influence stretching far beyond Ellis County. Our goal is to have the world fall in love with our music and have a positive influence in every home. This is just the beginning for D and Chi."
Written by Callie Revell.