A dog's life seems pretty easy. Fetching balls and taking walks are the highlights of any dog's day. For Max, a lovable 8-year-old, tan, Labrador Retriever, living the "easy life" is a well-earned reward for his military service.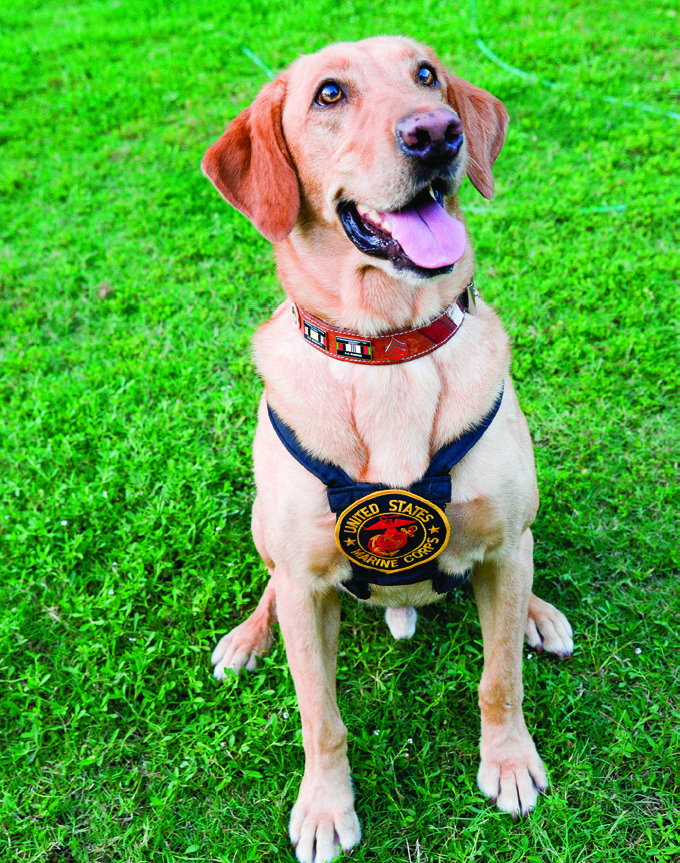 Corporal Max N242 served as an IED Detection Dog in Iraq and Afghanistan. He is credited for faithfully performing his duties and preventing the deaths of countless Marines. When Max had to be retired in November 2011 because of medical issues, Captain Jeffrey Park volunteered to adopt him, but he has had his parents, John and Julie Park, care for Max until he can complete his duty assignment overseas. "Jeff and Max had a strong bond even though Jeff was not his handler," Julie said. "We feel so blessed to have Max, because he enabled our son to return safely from combat." Special procurement officers choose puppies that show strength, intelligence and perseverance to complete training at Lackland Air Force Base in San Antonio. "Dogs that have a strong urge to perform for a reward are the best," John said.
Besides basic obedience commands, these dogs are taught to detect nine different odors in explosives. They also have to learn to tolerate a gas mask, ride in military transportation and become acclimated to gunfire.
IED Detection Dogs are taught to stay unleashed 10- to 15-feet in front of the men who are following in a Buffalo — a mine-resistant armored vehicle — while searching for IEDs and clearing the routes for soldiers. "Max was a part of the platoon as much as anyone else," Jeff shared. "You can't quantify what he did for us, because it was consistent, everyday selflessness of devotion, discipline and character."
The training is engrained into Max's behavior. "On our walks, Max stays ahead of us, too. I think he is trying to protect us from danger," Julie laughed. He seems always on the alert for anything that could be potentially hazardous. When Max suffered two heatstrokes in 2011, he could no longer serve as an IDD. Jeff took a leave of absence from Camp Pendleton to retrieve Max from Lackland AFB. "I knew it was my job to take care of one of my Marines," Jeff shared. "Perhaps I saw in Max what I saw in the other injured Marines from my platoon who were parting ways from the military service due to medical limitations.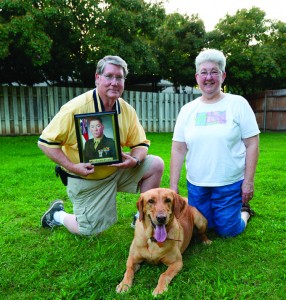 In his case, I could give him a home that he deserved and a family that knew his story firsthand." Because Jeff was soon deploying to Afghanistan, he left Max with his parents in Weatherford. Max is extremely active, and he still reverts to the training he acquired while on active duty. "I try to sleep late, but Max is used to getting up early," John said. "He constantly nudges me awake with his nose in the morning earlier than I would like to get out of bed. He can't wait to search for something."
Max also checks out every corner of a vehicle that arrives at their house. "Max goes everywhere with us. While we were waiting at Camp Pendleton to welcome Jeff home from Afghanistan, four of Max's previous handlers recognized him and wanted to tell us their experiences with him," Julie said. "It was like a reunion. John took a photo of Max and all four Marines." One day while Julie was in the library, the book Soldier Dogs, authored by Maria Goodavage, caught her attention. "I was amazed to find a chapter about Max," Julie said.
That chapter revealed the details of Max's heatstroke, which led to his honorable discharge. Julie and John later had the unexpected opportunity at Yuma Proving Ground in Arizona to meet the military veteran who had supervised Max's medical care. "When a receptionist was tracking down the veterinarian on the phone, I heard her say, 'They are in the lobby right now,'" Julie recalled.
The vet was so excited seeing Max healthy and happy. She cried and gave him the biggest hug. Max was excited, too, and seemed to hug her right back. "Max finds a way into people's hearts because he has such a love of life. He survived because he wanted to play ball," John laughed. "Max is a kid magnet and animals aren't afraid of him. When we take our walks, horses and deer follow us. I've even noticed squirrels seem to line up to watch Max play. "Activists have done a good job to raise awareness of the plight of military working dogs," John said. "People's attitudes have changed, and now they help dogs find good homes when they retire."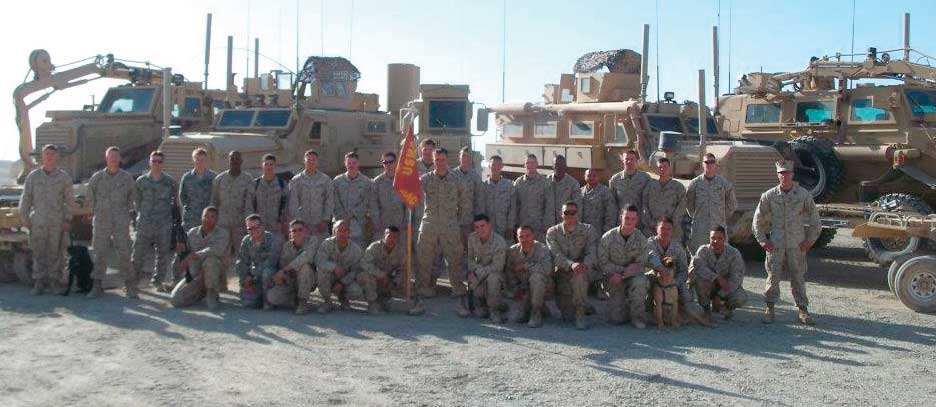 Military working dogs are still considered equipment and transported separately from the handlers, but legislation, called the Canine Members of the Armed Forces Act, has been introduced to reflect the importance of our nation's war dogs. The goal is to treat canines as fellow soldiers and allow veterans to adopt retired military dogs, so they can continue to be of service. Jeff was instrumental in reuniting a military working dog with his handler who had been severely injured. Animals can be important in the healing process. "It was critical for the man's recovery to get his dog," Julie said. "Jeff is a true dog lover and has bonded with other canine comrades he wishes he could adopt. I think he envisions our family's homes becoming havens for retired military working dogs."
To help spread awareness about military dogs and their situation, John shares Max's story with local Lion's Club groups and Boy Scouts troops. Max proudly wears his custom harness and collar adorned with insignia depicting his tours of duty. John enjoys speaking about military dogs and their adoption potential. "Max is an ambassador for raising awareness about military working dogs," John said. "I always end my speeches by saying, 'When you see a vet, thank him or her. When you see returning troops, offer up a prayer for military working dogs.'" Like many Marines, Jeff credits Max with having saved his life multiple times. "Max, to me, is a constant reminder of why I initially joined the military — to look after one another," Jeff stated. "At a time of immense loss, he rose to the occasion and performed, as you would expect of any Marine in combat, beyond reproach."
In return, Jeff is passionate about taking care of military dogs and reuniting them with their handlers or injured veterans. John and Julie are more than happy to keep Max until Jeff returns from overseas because the unbreakable bond between their son and his dog transcends time and distance. Their reunion is certain to be filled with joyful smiles and slobbery dog kisses.
Editor's Note: For information on adopting a military working dog, visit save-a-vet.org.
Written by Erin McEndree