Tim Noakes, a runner of over 70 marathons and ultra-distant events gave fellow runners this advice, "Your body will argue that there is no justifiable reason to continue. Your only recourse is to call on your spirit, which fortunately functions independently of logic." Seth Lachney, a senior at Dawson High School, is a cross-country runner who is taking aim at winning state this year.
"It's tough. It all comes down to heart and how well you've trained yourself," Seth said. Enduring the many cross-country meets leading up to qualifying for the state championships is nothing new for Seth, who has been running in competitive cross-country since the seventh grade. Last year, he qualified for state and placed 27th among 162 Class 2-A boys with a time of 17:59:96.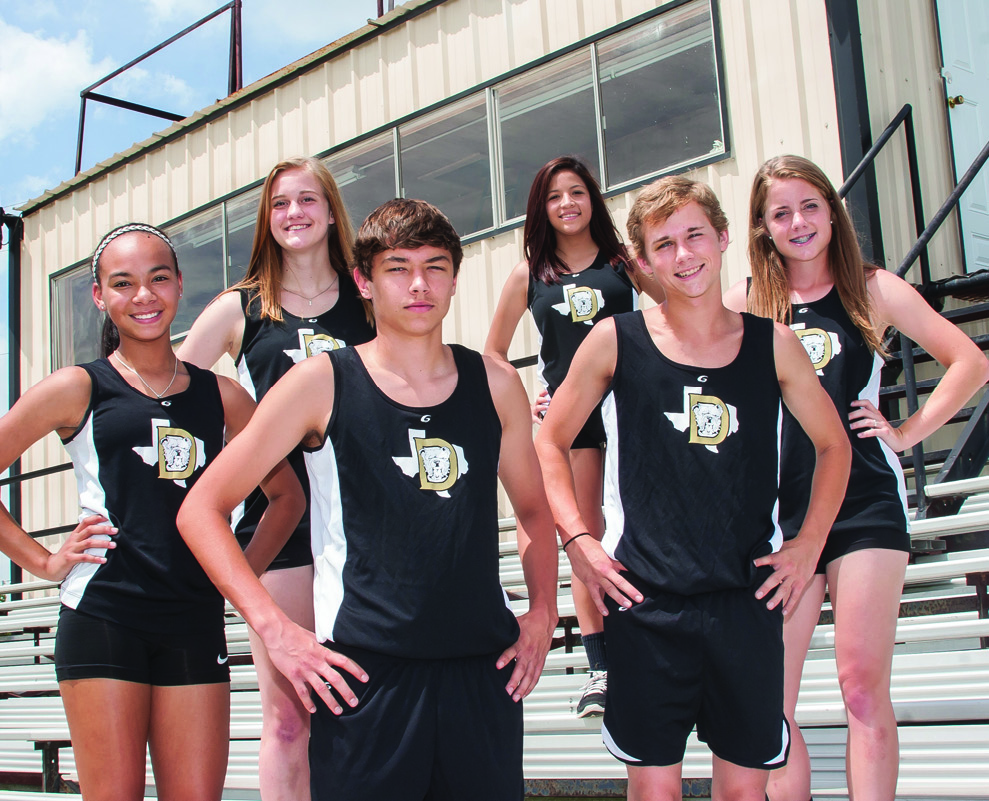 This year's state championships are scheduled for Saturday, November 7, and will once again be held at the Old Settlers Park in Round Rock, Texas. "Seth runs about seven meets each fall," cross-country coach Will Brumley stated. "We participate in some 5- and 6-A meets, so he gets to compete with the best, and we always come home with a placing. Most meets are run in circles on tracks, but the state course is quite a bit different. It is run cross country, and a stretch of it is run on the side of a hill." In cross-country competitions, the boys run a 5K, while the girls run a 3,200-meter race.
"We take kids who have never run competitively before and put them through a military-type training regimen to bring them to this level of competition," Coach Brumley said. "There are days I tell them I almost want to see them run hard enough to throw up. The kids have to enjoy and want to be there. They have to trust me and do what I say." Challenges abound in this sport.
Training begins in the heat of August, but by the end of the season, there can be some frosty mornings. The meet can start in sunshine but end in rain. "We were running in puddles at regionals last year," Coach Brumley remembered. The athletes have to be prepared to run on hills, clay, sand, asphalt, grass or just about any type of surface. "You have to be able to change your footing," Seth said. According to University Interscholastic League rules, a team must be comprised of five runners. "We don't have enough students to have a boys or girls team. Our program is Seth and usually a couple of other students, but they compete well against teams that have enough students that only the top five runners make their school's team," Coach Brumley said.
The runners supply their own shoes, and the school supplies uniforms and equipment, which helps runners recuperate between races. Seth's training is year-round since he runs in the summers to stay in shape and plays football, baseball, golf and basketball. "Running comes easy for me and helps with the other sports I play, but it's challenging balancing sports with academics," he said.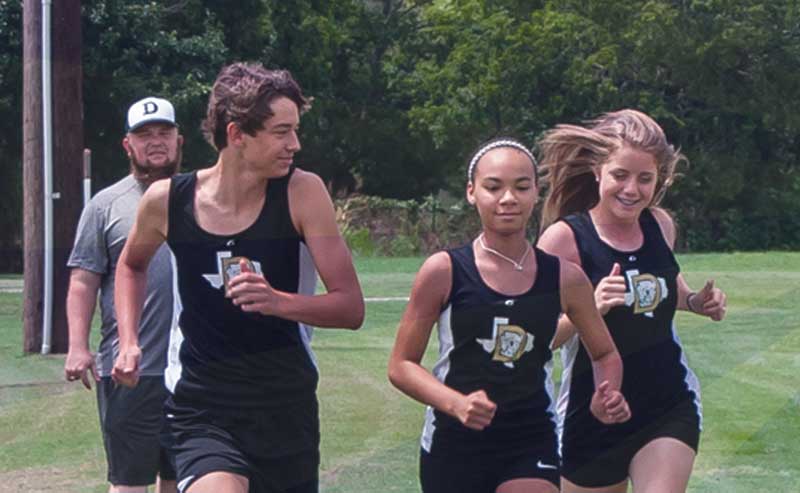 Before a meet, Seth does "a lot of thinking and talking" with a friend in Dawson who used to run. "It settles my mind," Seth said. He eats a protein bar and downs a Monster drink before a race. "I can't eat donuts!" Seth explained. At the start of each race, cross-country tends to become a contact sport. "There's a lot of pushing, shoving and elbows thrown during a race," he revealed. "You have to be tough and push yourself. It's always a challenge to run through the pain experienced either during the race or afterwards."
Seth cites shin splints, blisters, throbbing, cramping calves and knee problems as pretty common injuries along with just normal wear and tear. "I just have to keep going while staying focused on relaxing and running fast. I am always happy at the finish line if I've done well."
Pain and physical punishment are inherent to the sport. "Seth runs a race nearly every week because it doesn't take him long to recuperate. He doesn't wipe out near the end of a race," Coach Brumley observed. Coach Brumley has taught for eight years, three of which have been served in Dawson ISD, where he is a science teacher and is also the high school tennis coach and junior high girls' basketball and volleyball coach. He earned his bachelor's degree from Tarleton State University and a master's degree from Lamar University. "I had no previous experience running in or coaching cross-country. One of my major duties is recognizing when runners are hurt. We had a successful first year and have built on that experience, but I can't create success if I don't have great kids to work with," he said. "Most of our meets are held during the school week, so parents don't get to come since they are at work," Coach Brumley added.
"Cross-country is kind of a hidden sport." "The kids who participate in cross-country have to be self-motivated. There are no spectators, no stands, no referees," Dawson ISD Athletic Director and Head Football and Softball Coach Larry Prince said. "The runners must be able to adapt to the unexpected and modify their run accordingly." In his 23rd year as an educator and coach, Coach Prince has been the AD at Dawson for two years.
"It's my job to put people in the right situation, give them the tools they need, be a cheerleader after everything gets going and then get out of their way and let them do their job," Coach Prince said. Stephen F. Austin State University is Coach Prince's undergraduate alma mater, and he has earned a master's degree from Lamar University. Seth remembers that as a little kid he was always running everywhere. His mother is Jamie Lachney, and Seth has younger twin brothers, Levy and Lance with whom he runs and rides bikes.
Following his graduation this next spring, Seth plans to attend a junior college, possibly go out for a sport as a walk-on and obtain his associate degree. He is currently undecided on a major course of study, but he is open to exploring all possibilities. After all, through his running, Seth has learned that quitting is never an option, and he already knows how to run his own life's race well — even when no one is looking or cheering him onward.
Written by Virginia Riddle.