The sound of the Russian jets roaring overhead struck fear in the Nigerian villagers' hearts. They screamed as they ran for cover from the bombs. "It was incredibly scary," Princeton Abaraoha, pastor of First Presbyterian Church in Midlothian exclaimed. "The only time you heard the jets were when it was too late and the bombs were coming down. The air raids are something no human being should have to experience."
One of the bombs that landed did not explode. The bomb specialist's job was to grab it and use it against the enemy. Back in 1968, one of the specialists on explosives was 15-year-old Princeton. "This particular rocket was timed," he explained. "I was messing with it, and it exploded. It blew up my hand and my hip, and I was in the hospital for 18 months. I had six surgeries in my hand with no anesthesia." For Princeton, war was not the norm when he was growing up. As members of the Igbo tribe, he recalled Nigeria as being a peaceful country for him and his nine siblings. Defining himself as a rascal when a young boy, he recalled his father putting him in military school for discipline's sake.
When civil war broke out between the Nigerian government and the tribe of Igbo, Princeton was scripted into the army. Being a child, he could infiltrate the enemy, cause harm and then disappear. "Because I was already in military school, I was an easy catch to put into the military," he remembered. Boys in the army are still just boys, not men. When Princeton had the six surgeries on his hand, he was awake the entire time. "All I did was weep for my mom," he admitted. "It was the strangest thing. My mother later told me she dreamed that I was calling for her around the time I was hurt. She didn't know I was alive. They told her I had died, and she attributed that to the dream."
When the war ended, Princeton was even more of a troubled young man. "My mom would always say that I had a hard heart," he shared. "At the end of the war, my heart hardened even more. I came to the place where I was convinced that God did not exist because of the atrocities that I saw. To be able to live with it, I drank too much." Still a teenager, Princeton returned to school, this time attending an Episcopal Christian school. One afternoon, a white man rode into campus. "The deal was, whenever a white man came, he was bringing candy. You thought he was either a missionary or Red Cross," he revealed. The gentleman was, in fact, a missionary and spoke to the school during chapel.
One of his Scriptures got Princeton's attention. "He started talking about Jesus and about God loving us," he mused. "He gave the Scripture John 3:16, 'For God so loved the world, that he gave his only begotten Son, that whosoever believeth in him should not perish, but have everlasting life.' I'd never heard that Scripture before, and it did something to me. I started to weep." Princeton spoke to the minister and said, "If this Jesus that you talk of is real, let Him fix this (pointing to himself)." Princeton returned to his room to voraciously read the Bible and felt as if someone had taken 2,000 pounds off of him. "My mom said God changed a heart of stone to a heart of flesh," he shared.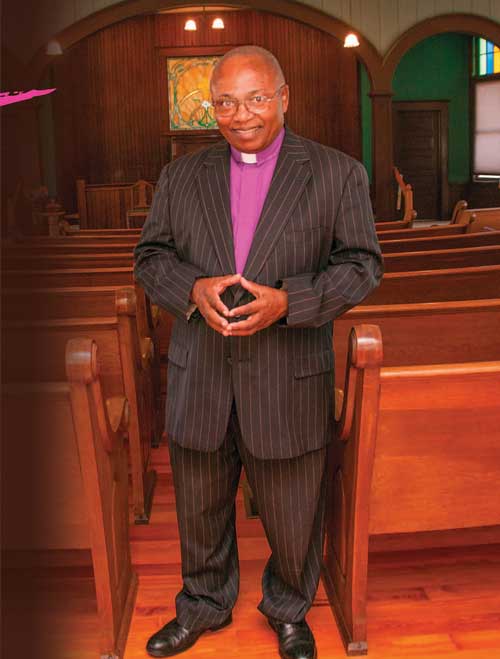 Princeton laughed as he thought about how people responded to him after his conversion. He turned his contentious ways from being destructive to being aggressive for the Gospel. "I was so aggressive that teachers would run when they saw me coming! If they were smoking, they would stop."
With the war over, 19-year-old Princeton made it to the United States with the help of a few miracles and his savings. "No one believed I could get to America. We didn't come from the class that could afford to go to America. But, I prayed by faith and truly believed God could do anything," he stated. His faith delivered him to the University of Science and Arts of Oklahoma in Chickasha, Oklahoma where he encountered countless blessings from benefactors as he earned his education.
One of Princeton's most memorable events came one night when he was leaving work. A group of high school kids deliberately struck him with their car as he walked home. After arriving at the hospital, "The police asked if I wanted to press charges, and I said, 'No, but I want to talk to them,'" he stated. "Those kids became good friends and born again Christians. I also became friends with their families."
From 2006-2011, Princeton continued his education at Perkins School of Theology at SMU in Dallas. His long and challenging journey brought him to First Presbyterian Church in Midlothian where he became pastor in 2013. "I remember first walking into the church and saying, 'I could preach here!'" he said. First Presbyterian Church is one of the oldest churches in Midlothian and loaded with history. The interior of the church reminded Princeton of his time in Chickasha. "It had a country feel to it," he shared. "I love the people and this church. I received a warm embrace when I came."
When Princeton first arrived at the church, the members were searching for a pastor. As a guest preacher in December 2012, he had no idea the church would look at him as a possible pastor. "I was invited back several times, and the church made me an offer," he remarked. And the rest, as they say, is history.
The bond he shares with the church is strong, and he recently resigned his contract for another year. Since becoming the pastor, Princeton wanted to be a part of the Midlothian community and became involved with the Ministerial Alliance and the Mayor's Prayer Breakfast. "We meet once a month for the Ministerial Alliance. Its primary goal is the Manna House. We collectively work as a group to meet the needs of the poor. I like that, and our church is involved with it. The mayor's prayer group is open, inviting everyone to cover the city with prayer. I go every Tuesday at 7:00 a.m. When you pray, good things happen."
Having lived such a turbulent life, Princeton is now focused on his ministry and his family. His 23-year-old-son, Obinna, attends Texas Tech University and will graduate in the spring with an engineering degree. Daniel, 19, attends Cornell University in New York where he is studying applied economics and finance. His daughter, Esther, is in the 11th grade. Princeton's wife, Charity, is the "pillar of the home," he said affectionately. "She stabilizes it." Because of Princeton's faith in God, his rebel-hard heart that destroyed lives has softened to one that now cares and ministers to people.
Written by Betty Tryon.