Back to school means Friday night lights, dedicated fans and high school football at its finest. In Ennis, it means the next season for the 2014 State Champions begins as they take to the field under the leadership of Head Football Coach Jack Alvarez.
The successful strategy for Coach Alvarez will remain the same. "We will take one step and one game at a time," he said, referring to his coaching style. "And we can always take one step back, if we need to, in order to fix something and get it right." This year promises a much tougher schedule than last year, but Coach Alvarez and his assistant coaches — Brandon Alvarez, Hank Hollywood, Steve Morrow, Nathan Moye, Andrew Novak, Monte Reagor, Macy Thompson and Jake Willingham — are ready for the challenge.
The full roster this season offers many opportunities for the team as a collective whole. "The numbers [of players] are better than ever," Coach Alvarez shared. There are over 200 young men signed up to play at the high school level, with another 200-plus who plan to suit up at the junior high level. "The large numbers are a recipe for success in the football program," he added. Spring ball practice came to an end in May. "This was four weeks and 18 practices," Coach Alvarez explained. "It was a good trade for one full week in the fall. It gave us a firm foundation to stand on."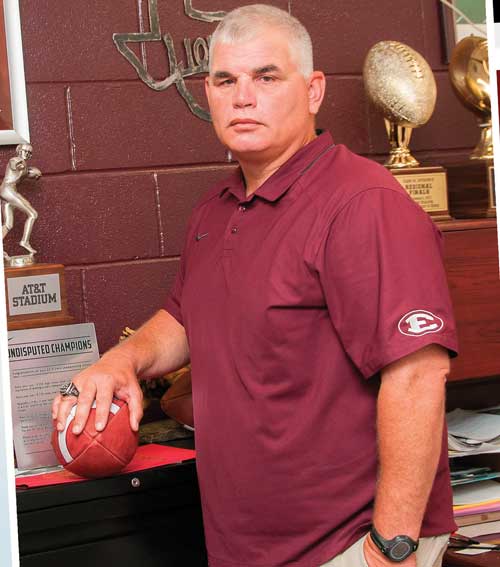 As summer began, the team participated in early morning workouts that led to the Summer Pride Weight Conditioning program. The football camp will once again be held this year from August 3-5. Coaches teach the camp, but many of the high school football team members "hang out" to help. It builds self-esteem in the camp attendees, while continuing to build Lion pride in the players. Year-round conditioning is not uncommon. It's part of most high school football programs.
On August 10, the Ennis Lions will hit the practice fields for two-a-days. The coaching staff will begin their job — teaching the young athletes the importance of success on and off the field. "Of course, we want to win every game," Coach Alvarez said, "but our main goal is to build good citizens." Coach Alvarez and his staff want to see these young men graduate with a high school education, work hard, care for their families as they grow into adulthood and be successful members of society. "It's about teaching character and work ethic," he reiterated.
The work ethic and "something more" attitude Coach Alvarez lives by were learned by a previous coach he once had in high school. "I do my best to lead by example. As long as we as coaches are willing to be real, the guys will respect us," he explained. "The kids play hard because, at the end of the day, they know we genuinely care for them." His humble nature comes to the forefront when he talks about wins and losses. "Anytime we win, the team gets full credit for that win," he admitted. "It's all on me when we lose."
Beginning his fourth year at Ennis High School, Coach Alvarez looks back on what initially brought him to this place in life. As a young athlete, he remembers participating in any sport offered. "But, I put my best effort into football," he said. After graduating from high school, Coach Alvarez earned his Bachelor of Science degree at Henderson State University in Arkadelphia, Arkansas. While in college, he was a two-year captain and a four-year letterman in football, where he continued to excel at the sport he still loves today. He went from coaching at West Sabine High School to Kirbyville High School, where for 10 years he served as the head football coach and athletic director.
When he took over the Kirbyville program, the football team had not won a game in over two years. Coach Alvarez, along with his staff and team, took the program to nine consecutive play-off runs. His record with the Ennis Lions speaks for itself. His first year, the team was named the 4A Division 2 Bi-district Finalist. It was the first playoff appearance they had made in five years. Just a short two years later, he experienced what every high school coach dreams about when they first set out on a coaching career — the State Championship. As he's getting comfortable in this, his fourth year, he vividly recalls that win. "I've coached in two other championship games and lost both," he said. "To lose is the worst feeling, but to win is the greatest feeling. It was worth the wait."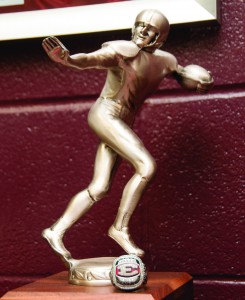 The road to the championship game last year wasn't easy, but the hard work and dedication the team showed throughout definitely paid off. Win or lose, Coach Alvarez knew the kids played with their whole hearts. "They wanted that win," he said. "All year, they had been on a relentless pursuit. All I had to do was get them to the game." As the new school year gets underway, Coach Alvarez has high hopes for the team. Key players returning on offense include: Trey Elliott, Dee Wilson, Sam Grayson, Trendon Rolen, Devin Collins, Kyle Casas and Andy Corea. Returning defensive players include: Adam Glaspy, Jaylen Hill, Logan Lipscomb, Marcus Monroe, Tori Williams and Jordan Wester. "These players have experience," he stated. "They have 'skins on the wall.'"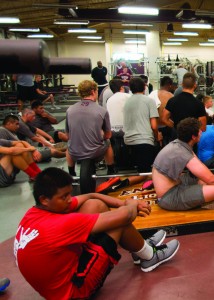 Coach Alvarez also realizes the success of the Ennis Lions football program doesn't happen with the team and its coaches alone. He understands that it also takes a village to win championship games. "We couldn't do what we do without the support of the Ennis ISD administration, the booster club, the marching band, the drill team, the cheerleaders and, of course, the fans," he said. He mentioned several who are die-hard Ennis Lions football fans — Gary Fincher; Bob Taylor; Bill Cox; Rosemary Washburn; and the team chaplain, Pastor Todd. "Each one of these groups and each one of these people is important," he continued. "They enhance the atmosphere."
The young men that take the field under the Friday night lights will have one thing in common. They are a team that helps one another, believes in one another and is supportive of one another. When one hurts, they all hurt. When one is triumphant, they all feel the thrill of victory. "We are going into the new season with a sense of urgency," Coach Alvarez said. "We are controlled in our efforts, and we are focused on the job ahead."
Written by Sandra Strong.