Nearly 30 years ago, Bryan and Kim Rogers met in church and became high school sweethearts. In 1998, they began their lives together — lives that would exceed all of their expectations. After they both graduated from Texas Tech University, Kim began her career as a teacher, a role she had always wanted. Although Bryan graduated with a degree in mechanical engineering, he began a career divided between teaching and being a youth pastor. With their three kids, Aaron, Abram and Abby along for the ride, they push forward every day by trusting God and each other.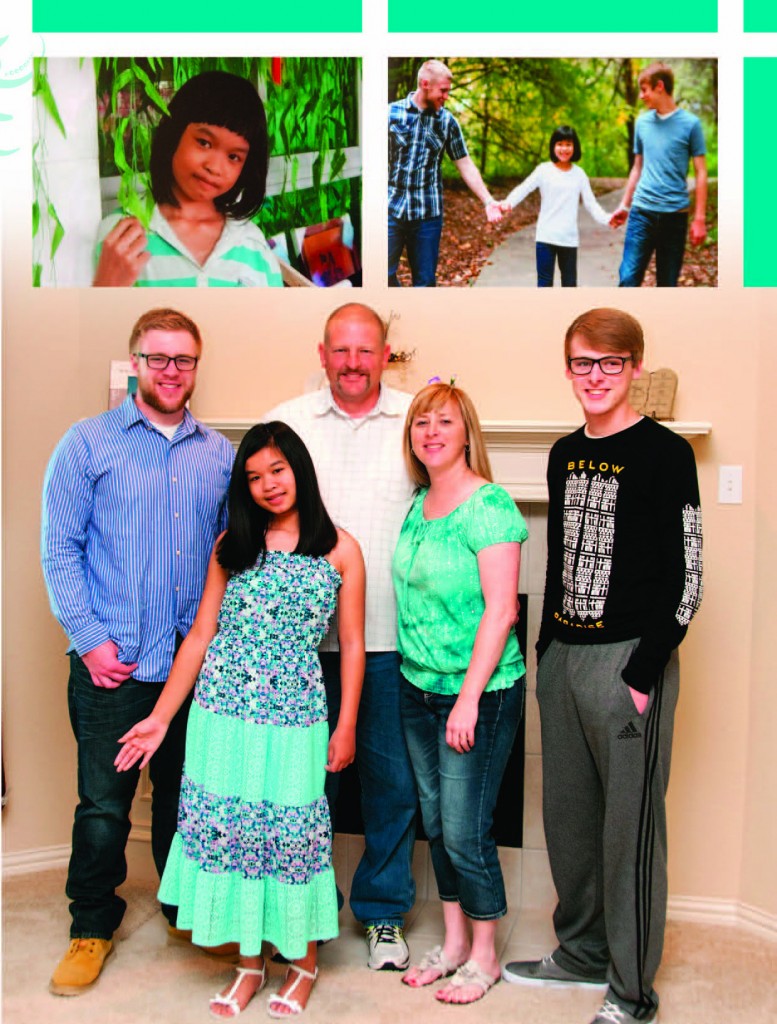 Bryan and Kim have always had a passion for helping teenagers, and Bryan felt called to become a youth pastor early in their marriage. "He started developing a heart for teenagers, and my parents were youth ministers, so that's always been sort of second nature to me," Kim said. Bryan also works as a full-time teacher at Red Oak High School. After 13 years of teaching math and/or science, he now teaches engineering classes and robotics and has helped the high school robotics team compete in international competitions.
He coaches softball and cross country, as well. Kim also works for Red Oak ISD at Eastridge Elementary School. She has 21 years of teaching experience and loves her third grade class. "I don't really have teachers in my family, but teaching is in my blood," she said. "Ever since I can remember, I've always wanted to be a teacher. I used to line my dolls up and teach them." Bryan began his ministry at age 22 and currently serves at Cedar Heights Baptist Church in Cedar Hill.
He is now working on his master's degree in intercultural studies to devote more time to missions. "I noticed that I have a gift for connecting with students and crossing cultures really easily," he said. "I love studying diversity and cultures." This gift has helped him reach students of different backgrounds, nationalities and ages. "I've dedicated my life to the development of students," Bryan said. "In ministry, you call that 'shepherding,' and in teaching, you might call it 'mentorship.'"
Being a full-time teacher and a full-time pastor can be overwhelming. According to Bryan, though, the two roles complement each other well. "There's give and take," he said. "There are times when my ministry requires me to be there and vice versa." Each role is unique in its own way. "It's a totally different mindset," Bryan said. "In school, they have to be there, but in church, they don't. It's a different atmosphere. My classes are very professional, and youth ministry is a little more laid-back." Although both jobs keep Bryan busy, he is thankful for the opportunity to be a positive role model to so many teenagers. A key factor in Bryan's success is his wife. "I've dragged her all over the world. She's always right there following me along," Bryan said. "We make an incredible team. We don't even have to say anything to each other to know what we need to do."
To Kim, teamwork has been a crucial element in the success of their marriage and their family. "It's not just us being partners, but we've made it important as a family that whatever we do, everyone comes along," Kim said. Through this idea, Aaron and Abram learned about ministry and missions firsthand, and Aaron is currently pursuing a degree in ministry. "Bryan and I are partners," Kim said, "but as a family, we're a team." Teamwork played a large role in the family's successful adoption of their fifth member, Abby, in August 2013.
Originally, adoption was never part of the plan for Kim, who felt the family was complete with their two boys. But, when Bryan brought up the subject, she decided to pray about it. "Literally, that same day, my heart just opened up, and I knew we had to do this," she said. Bryan immediately started the paperwork. "He did everything. All I had to do was keep signing papers," Kim said. After nine months, they were placed with a 13-year-old girl in China. Bryan and Kim named their new daughter Abby. "When we first got back, it was really rough," Kim admitted.
Abby arrived in the U.S. with 19 cavities, no knowledge of English and only two years of education. She also suffers from epilepsy, and a stroke in the womb made her left side weak. Instead of enrolling Abby in public school as originally planned, Bryan and Kim placed her in a private school in Glenn Heights. "It has been such an answer to prayer," Kim said. "She has come a long way. It's the perfect setting for her."
At first, Bryan and Kim needed assistance from translators and computers to communicate, but Abby's English has improved immensely over the past year. On her second night in the U.S., Abby had four seizures in one night and required immediate medical attention. "Now that we look back, that was a blessing in disguise, because they took her to Cook Children's, and they have an amazing neurology department," Kim remembered. With the help of a talented neurologist, Abby has not had a seizure for 22 months.
For Bryan, adopting Abby was about giving her a second chance. "It wasn't about adding to our family — the two boys were enough," he said. "We had an open space in our lives, and we knew a child could fit in it." If she hadn't been adopted, Abby's life would've been extremely difficult. "She had no hope of a future, and the possibilities weren't good with her epilepsy," Bryan said. "The adoption did uproot our lives in a big and major way, but I knew God had taken us in that direction. You have to love everything, even the epilepsy. If it wasn't for that, we would've never met her." Despite all of Abby's difficulties, she is a bright and positive teenager. "She is amazing," Kim said. "She never seems down or depressed about her difficulties at all. If she can't do something because of her hand, you never see her get upset. She just keeps on going."
Abby underwent surgery this spring to improve her ability to walk. "Slowly, we've gotten to work through most of her difficulties," Kim said. "It's clear that God made her for our family." "She fits our family perfectly," Bryan agreed, describing the relationship she shares with her new brothers. All of the effort it has taken for Bryan and Kim to follow their dreams, create a loving and supportive family and invest in the lives of others has been worth it. "Passion is sacrifice. The two words are synonymous," Bryan said. "If you say you have passion for something but there's no sacrifice, it's not really a passion."
Written by By Callie Revell.