True altruism comes in a shining moment, demonstrated in lives that are changed for the better.
A young soldier who served valiantly in Iraq returned home with post-traumatic stress disorder and a traumatic brain injury. He had periodic suicidal ideation and treatment was illusive. He tried going to school and to hold a job but was unsuccessful. He did not want to return to the VA for help, and his situation seemed hopeless.
That is, until he received assistance from a counselor in a unique program called Boots of Honor at Paws for Reflection Ranch. The amazing transformation in this young man's life is indicated by the fact that today he holds two jobs, is married and no longer qualifies for a diagnosis of PTSD.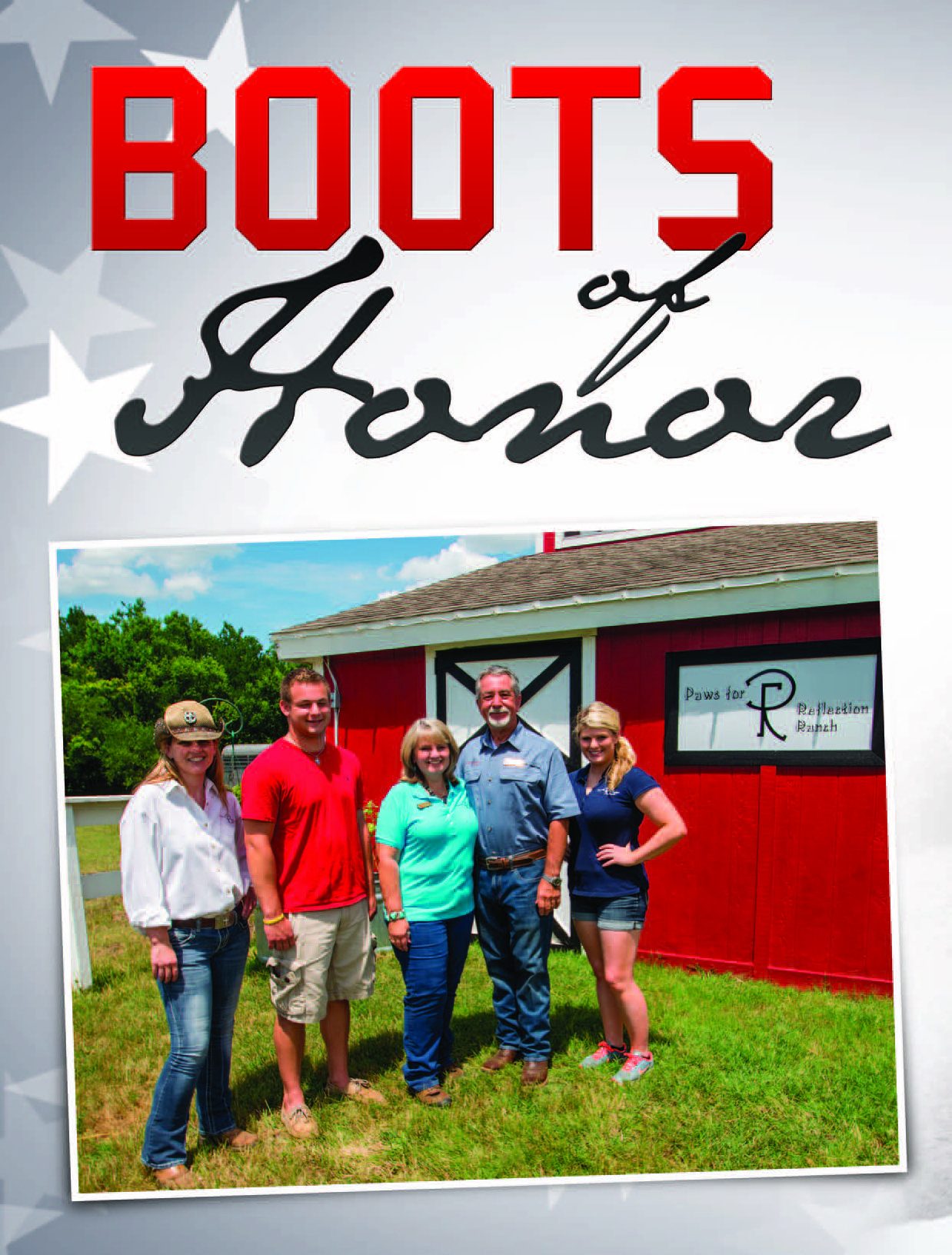 This transformation was facilitated by the support of Melode Seremet, owner of Paws for Reflection Ranch and president/executive director of the Boots of Honor program; Brooke Knox, clinical director and licensed professional counselor; and Kylie Heath, therapeutic riding director and horse specialist with a degree in therapeutic recreation. This exceptional program is designed with compassion, care and professional precision for a group of people in our population that many times do not get the best of what they need. "Boots of Honor encompasses the other programs we do," Melode explained. "It's the umbrella for the veterans' services. I wanted to do this program, because veterans are an underserved population in our area." "Military families sacrifice so much, and there are so many dark things they have to experience," Brooke said. "It's an honor to be trusted with their secrets."
Brooke, a military spouse for 10 years, at one point had a high-risk pregnancy. Because of that, her husband at the time didn't get to deploy. She praised the military for their care of her and her baby. Because her ex-husband never got to serve, she sees her participation in this program as a way of giving back.
For Kylie, it's all about horses and how they can be effective in helping others. She grew up in the suburbs but has always had a passion for horses. "It was a passion given to me by God," she expounded. "I just love to share that with other people, whether it be the kids with special needs I see every day or the veterans. If you are going to be around horses, you are going to keep learning. It's just like relationships. You're always learning and, hopefully, learning how to communicate more effectively."
Boots of Honor services are free to any current active military personnel or any veteran honorably discharged and their dependents. The comprehensive counseling program includes: equine assisted counseling, play therapy, therapeutic horsemanship, therapeutic riding and music therapy. A menagerie of animals is used for therapy — horses, chinchillas, hedgehogs, rabbits, pygmy goats, miniature horses and potbelly pigs.
The ranch provided these services pro bono until they applied and received a $75,000 grant from the Texas Veterans Commission Fund for Veterans' Assistance. They recently received their second grant for the same amount for another year. "We served veterans for free, because we thought it was the right thing to do," Brooke remarked. "With the grant, we can now help more veterans and their dependents per year. We have services from age 3 to seniors. They can come here privately for free and not have their military career affected. A lot of times, people will not seek treatment out of fear of losing their security clearance. We can be absolutely confidential and only report back to the VA with the client's permission."
As the therapeutic riding director, Kylie works mostly with the dependents in that group. "The therapeutic horsemanship group is for actual veterans," she noted. "They come and learn horse skills from the ground up. First, they choose a horse, and then they learn how to build a relationship with that animal and work toward riding." In the counseling program, the counselors do groundwork but no riding.
The therapeutic horsemanship program is for individuals who are not interested or not ready for counseling but still want to do something that results in a therapeutic benefit. "It helps relieve stress, and they learn coping skills," Brooke noted. "It transfers into life, because anytime you're working with the horse and building a relationship with it, you'll naturally transfer the skills you learned into your relationships outside of the therapeutic environment."
With their clients, the counselors engage in a concept used in horse training called pressure and release. "Horses respond to pressure," Brooke said, "so, when you want to tell your horse they are doing the right thing, you release pressure. This translates into your relationships. We have an exercise where we ask clients to move their horse, but don't touch them. What we observe is what I think they do in their relationships. If they can't move their horse without touching, the first thing they do is bribe their horse with grass. Then they try to force them in some way, and the next thing is giving up. When answers aren't easy to find, their problem-solving skills are minimal, so that's what we build on — giving them more options. Once they learn to do that with their horse, it naturally translates into their home lives."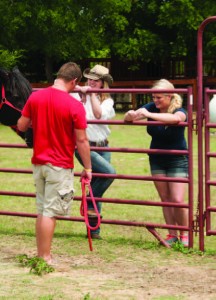 "We have this illusion that we can control horses, just like we may think we can control other people," Kylie reasoned. "That's an illusion. If your horse doesn't want to get near you, then that's 1,000-plus pounds of wanting to get away. You have to be authentic with the horse, because they will always be authentic with you." From their experiences with the horses, clients learn how to communicate more effectively with others in their personal environments. "For those who have PTSD, this is a place where they can turn off that hypervigilance," Brooke said. "They can take a deep breath and relax and feel safe. We're usually the first people they tell about any kind of combat trauma they've experienced."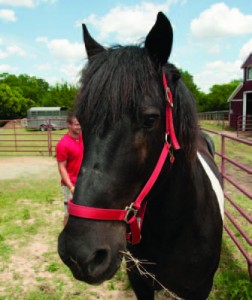 Melode uses the resources of her ranch to help the veterans, because she believes they deserve it. She also has a dual mission to show others how helpful animals can be in their lives. "Animals have so much to give," she offered. "We have horses to hedgehogs, and I think it is good stewardship when people come here and learn to treat animals differently and better. I feel that part of my mission is to educate people about how all animals offer something. Working with the veterans is part of our mission, and it's very rewarding."
Written by Betty Tryon.