A resolution passed by the Continental Congress on October 13, 1775, authorized the U.S. Navy into existence: "Resolved, that a swift sailing vessel, to carry ten carriage guns, and a proportionable number of swivels, with 80 men, be fitted, with all possible despatch, for a cruise of three months, and that the commander be instructed to cruize [sic] eastward, for intercepting such transports as may be laden with warlike stores and other supplies for our enemies, and for such other purposes as the Congress shall direct."
Since that time, the intent of the resolution has not changed, but Congress' directives have broadened the scope of the Navy significantly. "This is a career field. We are looking more for the valedictorian and the top 10 percent of the high school graduating class to join. It's easier to get into college than into the Navy today," MN2 (SW) U.S. Navy Recruiter Joseph Fields said.
As the Navy recruiter for the Corsicana area, Mineman 2nd Class (Enlisted Surface Warfare Specialist) Fields is looking for men and women to fulfill the Navy's new motto: "To get to you, they'd have to get past us." Released in 2014, the motto presents the Navy's worldwide mission and ability to operate on, above and below the sea to recruits and to sailors who are currently serving. "Jobs in today's Navy are techno-advanced. We must pay attention to detail, because we're working with multimillion dollar equipment and lives are important," MN2 (SW) Fields stated. A native of Kentucky, MN2 (SW) Fields had never seen the ocean when he began his Navy career on October 8, 2008, at age 22.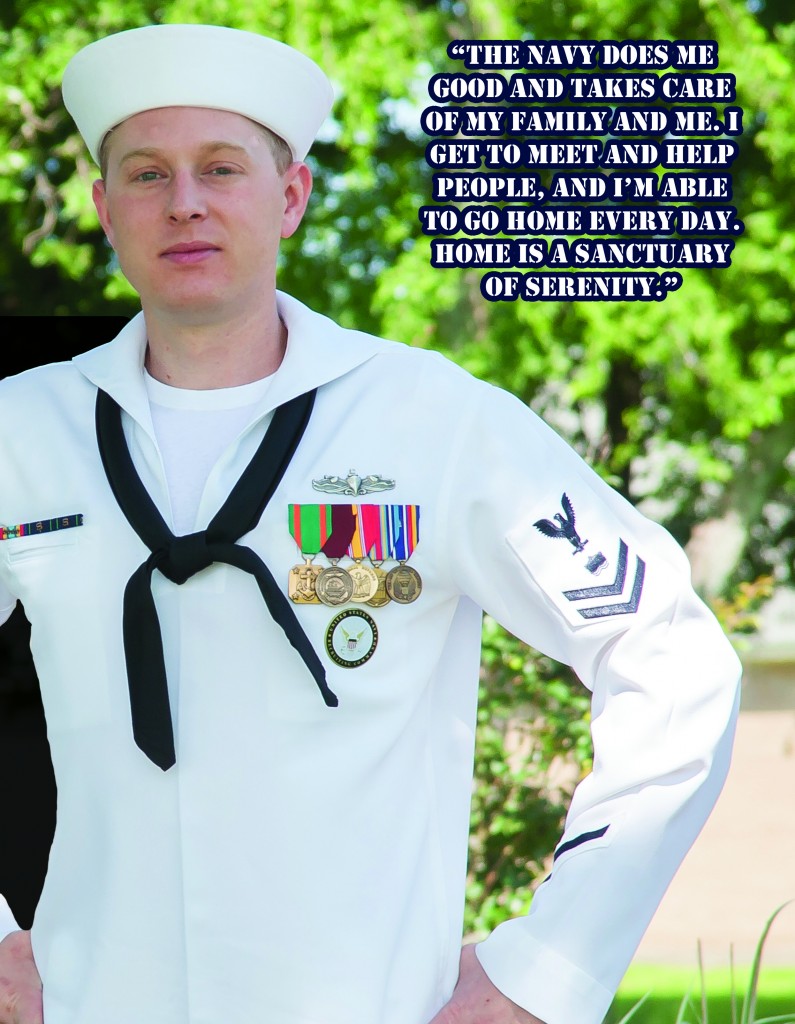 After high school graduation, he attended college and followed that experience by working with a stone mason in Colorado. Upon a trip back home, MN2 (SW) Fields decided to call military recruiters, "And the Navy was the one that showed up," he remembered. Potential sailors must have a minimum of a high school diploma, or GED, with at least 15 credit hours, be able to pass a background check and credit check and have no visible tattoos or felony convictions. No members of gangs or racist groups are allowed.
His boot camp days were served at Naval Station Great Lakes in Illinois. Not only were the requirements demanding, but it was a very cold winter while he was there. There was the expected physical conditioning and classroom instruction to master. "We all learned the Navy's terminology, and everyone was trained as a firefighter," MN2 (SW) Fields said. Lasting eight weeks, sailors were trained to stand watch with a weapon, fold clothes very exactly, basic seamanship, marching, how to man battle stations and were fed three squares a day. "We ate really well, but any wait or down time we had, we were expected to read and study our training manuals," he added.
The final testing of each new sailor occurs aboard a ship built by Universal Studios to simulate real-life situations and problems. "This situation just happened, now can you handle it? That's the test," MN2 (SW) Fields remarked. "We spend boot camp building a team spirit. My rack mate during boot camp is still my best friend." Following boot camp, MN2 (SW) Fields received further training at the Navy's Mine Warfare Training Center, which at that time, was located in Ingleside, Texas. "That was the first time I had seen the ocean, and I loved Port Aransas," he remembered. He also met his wife, Erin, in Texas. MN2 (SW) Fields chose that career path since typically mine sweepers are smaller boats.
The work is important, since mines and underwater IEDs are easy to buy and cheap to build. Since the end of WWII, mines have either sunk or seriously damaged four times more U.S. Navy ships than the number of ships lost from all other types of attacks combined. "I learned electronic circuitry, which I can use outside the Navy. Most jobs in the Navy have a civilian job that is the same," MN2 (SW) Fields said. The next duty call was Naval Base San Diego where MN2 (SW) Fields served for five years. "We loved San Diego," he said. "It's a military town, and we received gift cards/discounts from the local community at Christmastime."
MN2 (SW) Fields has also been stationed at the Sasebo Naval Base in Japan and has been deployed four times with the U.S. Naval Forces Central Command Combined Maritime Forces in Bahrain and the Arabian Sea. Each deployment to Bahrain is six to eight months in duration. "We swap out crews by flying out to the small minesweeping boats. It gets very hot onboard, since sea water is used as air conditioning coolant. In the Arabian Sea, the water temp is about 98 F, so it doesn't cool very well," MN2 (SW) Fields said. Conversely, when he was aboard minesweepers while serving in San Diego, the boats were cold, since the Pacific Ocean's temperature is around 50-60 F.
No matter where minesweepers are located, their mission is to ensure global access and commerce. Being aboard is like being a resident of a floating town or city. "We have four to five people on the bridge at all times. Everyone is cross-trained. Even the cook is a tech," MN2 (SW) Fields said. He has earned the Navy and Marine Corps Achievement Medal, the Good Conduct Medal, the National Defense Service Medal, Global War on Terror Expeditionary Medal, the War on Terrorism-Deployment Ribbon and Rifle-Pistol Medal. Serving as a Navy recruiter has its challenges. "I have to talk to large groups of people, and it's different being in uniform in a civilian world," MN2 (SW) Fields said. However, there are advantages. The Fields family has grown to five, with the addition of one son, one daughter and another daughter on the way. They are enjoying their time in Corsicana. "The Navy does me good and takes care of my family and me. I get to meet and help people, and I'm able to go home every day. Home is a sanctuary of serenity," he said. "Corsicana has a lot of people who are helpful. I like its homey, Southern-comfort feeling."
And now, paying it forward, its MN2 (SW) Fields' turn to be that Navy recruiter who shows up when called by a man or woman seeking to make a career move into the Navy.
Written by Virginia Riddle.