Carol Welch remembers her grandfather fondly working in his garden in Cleburne. He planted roses and flowers that beautifully bloomed in spring and vegetables that were tasty come summer. He instilled in her a love of nature and gardening. In 2011, Carol enrolled in the Parker County Master Gardener Association to foster that love. She learned safe and effective gardening practices, which help conserve the natural environment. Carol also educates the public at local events about gardening topics from azaleas to zinnias. One area where much attention has been placed is the preservation of the Monarch butterfly.
The PCMGA is under the umbrella of Texas A&M AgriLife Extension Service. "Training consists of two classes a week for six weeks taught by A&M professors, AgriLife specialists, extension agents and Master Gardeners," Carol said. "It's mindboggling the amount of information we learn." Topics include: lawn care, landscape design, plant and soil nutrition, weeds, insect and disease management, water conservation and other horticulture topics. After a test, 50 volunteer hours are required at the AgriLife Extension office, Master Gardener projects and other events.
The program is a constant hands-on learning experience, and what is learned is taught to others. "It is a wonderful group of volunteers, and everyone seems to settle into an area that suits them most," Carol said. "Surprisingly, my favorite part is teaching the public." Plant propagation is an area of focus for Carol. She loves the science of making more plants by dividing, grafting and taking cuttings.
Last year, Carol and two other Master Gardeners, Lee Ann Nave and Sunshine Lockley, became aware of the plight of the Monarch butterfly. They are being considered for the endangered species list. In 1996, the population of the Monarch butterfly was over 3 billion. Today, approximately 10 percent of their population remains. Carol, Lee Ann and Sunshine wanted to know why the drastic dip in numbers. "We learned that butterflies were losing their habitat due to an increasing population, use of improved, pesticide-resistant crops and the loss of approximately 6,000 acres a day of native habitat," Carol said. These Master Gardeners, together with Steven Chamblee, horticulturist at Chandor Gardens, developed a plan to help the butterflies.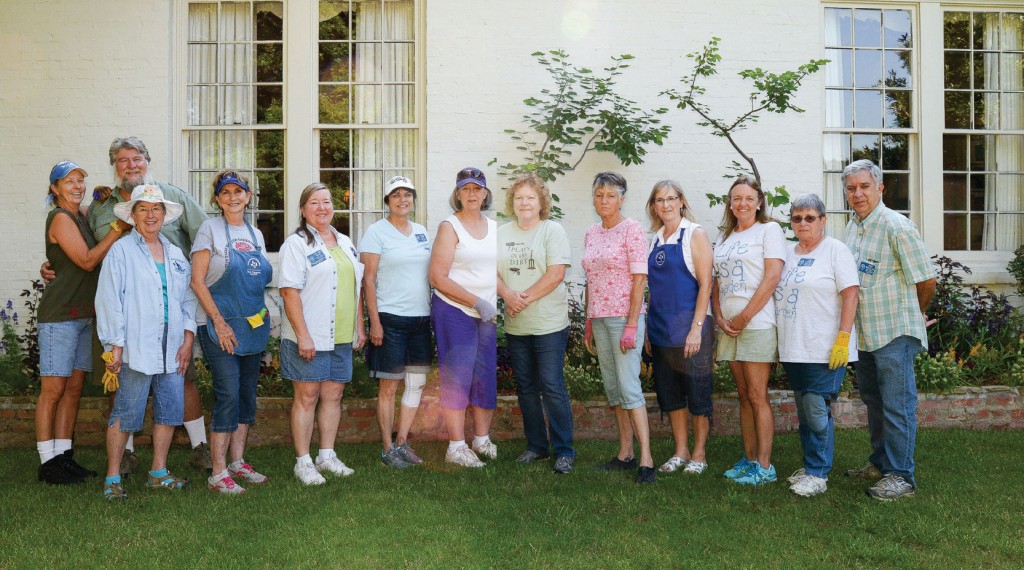 Monarch caterpillars are picky eaters. They only have an appetite for milkweed. "There are more than 100 species of milkweed, but only three are native to this area," Steven said. "They can be found at independent nurseries and at the Master Gardener plant sale every second Saturday in April." Nectar-filled flowers are also important for the Monarch, and Steven's recommendations include: lantana, pentas, Gregg's mistflower, cosmos and zinnias. Planting these and other varieties will give Monarch butterflies a food source for their migration.
Monarch butterflies leave their winter roosting area at the El Rosario Monarch Butterfly Preserve in the Mexican state of Michoacán in late February and March. They begin a long migration northward to Canada. Monarchs may lay over 1,000 eggs during the journey. A yellow and black caterpillar emerges from the egg in three to five days. It can eat a whole milkweed leaf in as little as
five minutes. In two weeks, the caterpillar starts the metamorphosis process, which transforms them into the vibrant orange and black Monarch butterfly.
"The first three-to-five generations will live six-to-eight weeks and migrate north toward Canada. The last generation each year will live six-to-eight months and migrate south more than 2,000 miles back to Mexico. It is also this last generation that migrates back into Texas every spring. It has been documented that a Monarch can fly as high as 11,000 feet and may travel 275 miles in a single day," Carol explained. "It is amazing to me that such a tiny creature can accomplish such a journey. With all we know about the science of the brain, we cannot figure out how they navigate."
With Steven's experience and expertise, Carol, Lee Ann and Sunshine made a plan to create a Monarch Waystation at Chandor Gardens. According to Monarch Watch, a Waystation must meet
certain criteria to be certified. It must be at least 100 square feet in size. Milkweed and nectar flowers must be present so the butterflies can lay their eggs and have a good source of food. There must also be a plan to maintain the area from year-to•year. Steven helped the Master Gardeners certify Chandor Gardens as Waystation No. 9502 in December 2014. As a gesture
of appreciation, the site was named Steven Chamblee Monarch Waystation at Chandor Gardens in April 2015.
Along with the Waystation program, Monarch Watch and key universities are responsible for tagging and tracking Monarchs throughout their migration. The tags lay gently on the underside of the hindwing. This information helps establish migration patterns and the factors that affect migration, such as weather and food sources. Tags also determine survival rates among Monarch butterflies.
Chandor Gardens' new Monarch Waystation is now a training area for the Jr. Master Gardener Program. This busy children's program is responsible for installing a second Waystation at Soldier Spring Park. They found a large area of milkweed that was completely indigenous to the area. Using a wildflower seed ball recipe, the children planted a large area of wildflowers and milkweed in October 2014. The area was certified in December 2014 as Monarch Waystation No. 9638.
Six more locations have been selected by PCMGA to develop into Waystations. These sights encompass areas all over Parker County, including: Azle Central Park, Aledo Community Center, Cross
Timbers Demonstration Garden in Willow Park, National Vietnam War Memorial, Weatherford Public Library
and the Extension Office in Weatherford.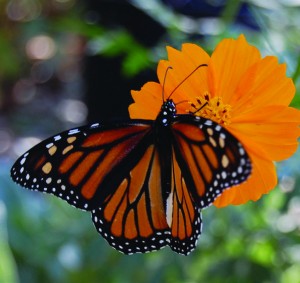 "Waystations are so important for the survival of the Monarchs, and people are encouraged to help by planting Waystations in their own backyards,"
Carol said.
Carol enjoys sharing her knowledge about safe and effective ways to garden. While preparing for programs, she admits she always learns new and different things. In her presentations, she equips people with numerous techniques to preserve the environment, including how to use chemicals responsibly. "We support green products if there is research to back it up," Carol said. "Even
green products have natural chemicals that may be harmful if used improperly.
For example, natural products that kill harmful insects may also kill the good insects that help aerate the soil and pollinate plants." The Master Gardeners, coupled with Steven Chamblee, have inspired community members to use safe and effective ways to preserve the city's beauty, both naturally and responsibly. "Becoming a Master Gardener is the best thing I ever did," Carol said. "It is so rewarding and challenging, and sharing what I have learned is important." Carol has learned skills she will be passionate about for years to come.
Editor's Note: For more information about Monarch butterflies, visit www.monarchwatch.org or pcmg-texas.org.
Written by Erin McEndree.