The horse is a majestic creature that has been used over several millennia for many purposes.
The animal has provided man with a rapid form of transportation, a simpler approach to farm work and years of companionship. Many horses have become athletes, showing their competitive spirit in contests, while others offer comfort to their riders through therapy. At Stars and Strides Stables, the horse gives the disabled rider a chance to shine in competitions and much more. David and Teresa Miller founded the 501(c)(3) nonprofit to offer equine-assisted therapy to disabled children and adults.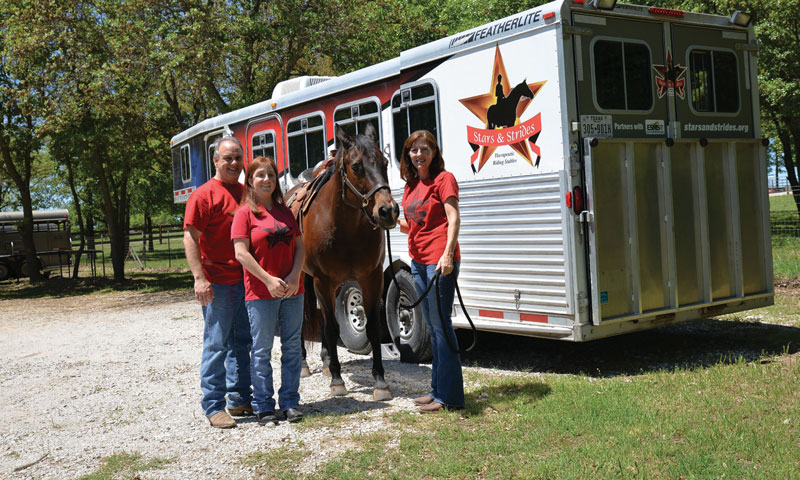 They began their mission to help others in Parker County after seeing how their daughter, Courtney, benefited from therapeutic riding lessons. Courtney, now 23, began taking equine-assisted therapy in Sanger in 2000. It was great for her physical and mental well•being, as well as her self-esteem. Her mother volunteered at the stables and decided to become certified through Professional Association of Therapeutic Horsemanship International.
After moving to Weatherford, the nearly two-hour drive to and from lessons became exhausting for the family, so discussions to open a facility in Parker County began around the dinner table. "We gave it some thought and gave it some prayer," David said, "and we started Stars and Strides about three years ago." Courtney was born with multiple medical conditions, including neurological issues that affect her muscle coordination.
Through equine-assisted therapy, she compensates for those issues. "I think it's made me stronger," Courtney shared. She loves being able to ride the horses, especially her favorite, Lily. Competing in a sport also boosts her self-confidence. "I couldn't do other activities like basketball or soccer," she shared. "Horses were the only thing I could compete with, and it gives me something to work toward." Competing in classes for equestrians with disabilities, Courtney has won three American Quarter Horse Association national championship titles and a Palomino Horse Breeders Association world competition. Courtney's parents love to watch her compete and see the joy it gives her. "How does it make us feel? I don't think words can describe it," David shared, tearing up. And Courtney cherishes the hobby she can share with her parents.
As a PATH-certified equine-assisted therapy instructor, Teresa teaches riders, aged 15 months to 70 years, about horsemanship. Each rider is evaluated based on his or her abilities. They play games, go on trail rides and simply have fun. Stars and Strides Stables offers supported and non-supported classes to a number of people with disabilities, ranging from autism and Down syndrome to emotional disorders. The riders begin therapy lessons with supported walk, where Teresa and volunteers stand alongside the horse as it moves through the arena. The lessons progress to walk independent, walk-trot support, walk-trot independent and, finally, walk-trot-lope.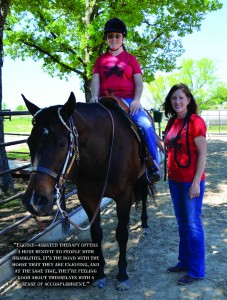 In supported classes, the rider is still in control of the horse, which improves self-esteem and develops core muscles, helping the rider sit up straight in the saddle. The physical activity improves gross and fine motor skills in a fun way. "They're getting so much from it," Teresa said. Group and private lessons are offered. Most of the children prefer group lessons, which are usually kept small with three riders or less. David is not certified in equine-assisted therapy, but he volunteers during some lessons. Stars and Strides Stables averages about 15 strong volunteers. Volunteers are crucial to the success of the nonprofit organization. They don't have to be "horse people" and can be trained to help with lessons. Some supported riders need three people to assist during lessons, while others need only a spotter and a leader. Whitney Jordan is on staff with the nonprofit and works in the stables with the horses. She's always there to lend a helping hand. Courtney's role in therapy has progressed from not only rider but to volunteer.
Eight horses provide therapy through the nonprofit. Some have been donated to the group, and Teresa must evaluate them to see how they will work with riders. Sponsors such as United Way of Parker County and Equine Sports, Medicine and Surgery provide donations to help with various needs. Riders can participate in competitions throughout the year in Fort Worth, Houston and other locations. "I'm more nervous when they're out there competing than they are," Teresa laughed. "I tell them all they're winners as long as they're trying their best." Several types of competitions are offered: English, Western, Showmanship and Trail. Although the disabled riders don't jump the horse in the English riding competitions, they use an English saddle and don traditional attire in the events. Courtney rides independently, and her favorite event is Western.
The competition announcer gives commands for Courtney to control the horse. She then must guide the horse around the arena according to the commands — walk, trot, reverse and stop, for example. She has a very competitive nature and likes to win. At the Houston Top Hands Competition in 2000, Courtney was crowned queen. "She said, 'I think God made this day just for me,'" Teresa gushed. The riders, their families and the horses caravan to shows and competitions.
They've become one big family. The riders often meet outside of therapeutic lessons and competitions. They've attended Texas Rangers games and celebrate birthdays together at the stables. It's given Courtney a friend base. Courtney is also meeting new friends at Weatherford College, where she's enrolled in classes. The Millers have a passion for special needs. "It's a true blessing for us to be able to do this," David shared. "God has things happen in our lives for a reason, for a purpose." In addition to the stables, four years ago they helped launch a program called Revive at North Side Baptist Church, where David also teaches an adult Sunday school class called Journey.
Revive is held the first Saturday of the month during the school year. Parents of special needs children who attend school can take them and their siblings to the church, where a team of volunteers will work one-on-one with the children. The parents can use the time between 5:00-9:00 p.m. to run errands, go on dates or simply relax. "It's all geared so the parents can have a night out," David added. At Stars and Strides Stables, the Millers would one day like to offer free equine-assisted therapy to veterans and a driving program in which the animal pulls a cart with the rider controlling the reins. "Equine-assisted therapy offers a huge benefit to people with disabilities," Teresa explained. "It's the bond with the horse that they are enjoying, and at the same time, they're feeling good about themselves with a sense of accomplishment."
Written by Amber D. Browne.