Jo Timberman Adams purchased her first home five years ago. "My Realtor and I probably looked at 23 houses," she smiled.
The moment they stepped inside a charming, two-bedroom bungalow, they knew the search was over. "The house was move-in ready and the style, floor plan and colors perfectly matched my furniture," she said. Jo's home is truly enchanting. It's located in an older neighborhood populated by houses of character and variety, towering trees and the sounds of ever-present birds. Though it was built in 1951, the nearly 1,300-square-foot home appears to have been designed and cared for by owners who, like Jo, enjoy the sense and beauty of earlier times. "People describe it as cozy," she shared. "That's one of the things I love about it."
The warm, inviting interior is balanced by tall ceilings, beautiful pine wood floors, crisp white crown moldings and deep base boards. Inside the front entry is a relatively large, rectangular living room with soft-brown textured walls. "The treatment is called 'leathering,'" she explained. The unique treatment, provided by a previous owner, is a beautiful background to Jo's furnishings.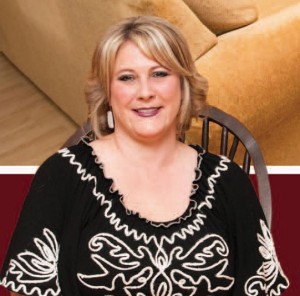 Appearing to have been hand-picked for this house, most of her furniture and accessories either belonged to her as a child, were given to her by family or friends or were found through treasure hunting on Craigslist or at garage sales, consignment stores and antique shops. In the living room, a practically new sectional sofa, given to Jo by a friend of a friend, is the ideal companion to the sofa she already had. "The area rug came from my sister," she said. "The mahogany cabinet was made by my grandfather in the 1920s and the armoire, which I believe to be an Ethan Allen, was found in downtown Waxahachie at Soul's Harbor."
The living room is a stunning combination of warmth, comfort and history. "It's my favorite room," she admitted. An oil painting above the fireplace, passed down from her grandparents, is at least 100 years old. "The painting has been in our family for as long as I remember," she explained. The lush green landscape depicts the order and beauty of nature. The painting alone is beautiful, but Jo's gift for artful design has made it part of the larger picture for, in truth, her home is art. The majority of the living room begins to the left of the front door, and in that space are two light-colored sofas, a coffee table, the TV armoire, Jo's grandfather's cabinet and her childhood chest once used to hold her toys.
The back of a sofa defines the space between the living room and a small foyer, featuring Jo's mother's antique, glass-stacked bookcase, an antique Windsor chair and a wall arrangement of antique painted trays. Beyond the living room is a formal dining room filled with natural light. The walls, again from a previous owner, are a deep burgundy. "I found the dining table through my first experience on Craigslist," Jo remembered. "It has two extensions, and I found the chairs at various garage sales and re-finished them." The table and chairs are elegant, but the room's crowning glory is an antique pie safe. "I'm very sentimental," she said. "The pie safe was mine as a little girl and home to my dolls."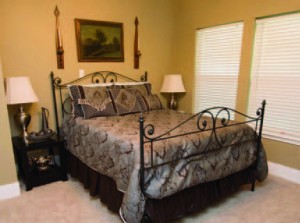 Through the dining room and to the left are two bedrooms separated by a bathroom. The guest room is painted a light olive, and above the antique bed frame is another special art piece. "I was named after my great-great-grandmother Josephine," Jo said. "The painting was done by her with egg yolk and dye." This painting depicts a lovely, small country home surrounded by huge trees. Among Jo's mementoes is a petite framed photo of Josephine as a young woman.
The master bedroom features a magnificent dark-stained, four-poster bed and a unique piece of furniture known as a pants press. "It was in our house as I grew up, and then my mom gave it to me," she explained. "It's actually a chest of drawers and an ironing board. The top lifts to become a pants press."
The kitchen and breakfast nook are at the back of the house, past the dining room. Pine cabinets curving around a corner and a windowed eating nook create a storybook space and the place where Jo enjoys baking and cooking. "Every year for my dad's birthday, I make a coconut cake from scratch," she said. "It takes three hours." While she is a self-taught cook, she believes her love for baking and cooking is also a genetic gift from her grandmother. "She was a home economics teacher and a great cook," she added. If there is anything Jo could change about her home, it would be a better backyard. "Sadly, I've lost every tree in the backyard," she said. "They were all pecan trees. One had to be removed after falling on my storage shed, and the last one had to go, because it was leaning over my neighbor's yard." Jo graduated from DeSoto High School. She became a dental assistant 20 years ago and, for the past three years, has been teaching dental assisting. "It was inevitable," she smiled. "We're a family of teachers."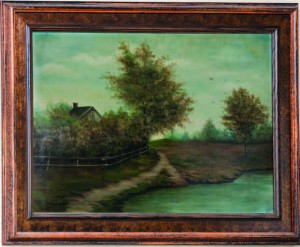 She is the oldest of five children. "My dad and stepmom live not far from me in a big, blue Victorian house. All my sisters, except one, live close, so I enjoy hosting family dinners." Her house is also a favorite destination for her 3-year-old twin nieces. "I have Barbie dolls, complete with cases, from when I was 6 years old, and the twins love to come to Aunt JoJo's to play," she said. Jo's home is also a Halloween destination. "I was so excited to move in that my first Halloween turned into an annual party," she grinned. She provides food, while neighbors, family and friends bring candy. It's safe to say that Jo has found a wonderful home. "Waxahachie is a great place to live, and this is a fantastic neighborhood," she enthused. "The mother of one of my friends lives two doors down, and we've also become good friends.
Recently, Jo opened her front door to discover a pot of spring flowers on the porch, a surprise gift from the neighbors across the street, and her other neighbor had mowed her yard! Among her many art pieces is this prayer: How we spend our days is how we spend our lives. May the warm wind of heaven blow softly on this house. Jo spends her days enjoying home, family and friends.
Written by Carolyn Wills.