In 1994, Tim and Kimberly Harris worked in the betting industry, but the "odds" of them making a love connection weren't favorable.
If they were ever going to have a shot at happily ever after, Lady Luck was going to have to intervene. "Tim first saw me on June 7, while I was working in Harrah's casino as a slot host," Kimberly shared.
Then Tim gently interrupted her. "Actually, my buddy first saw her. We were bartenders, and he told me he was going to introduce himself, but I told him to hold up!" Tim admitted laughing. "I liked what I saw — I loved what I saw."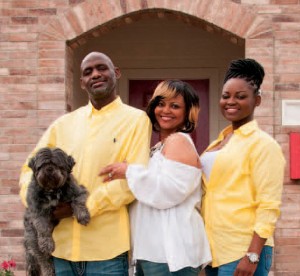 Tim gave Kimberly his number, and two days later she called but couldn't ever reach him. "I felt like I was getting the run around, because he was either at work or asleep," Kimberly explained. "So, I just gave up." Then Lady Luck stepped in. During a chance conversation with her sister's new friend, Kimberly mentioned working at Harrah's. Unbeknownst to Kimberly, she was chatting with Tim's sister! Kimberly shared that she'd been unable to reach Tim and thought she'd been given the brush off.
But Kathy vouched for her brother, sharing that he really was busy or sleeping. Tim worked with his father in their landscaping business during the day and at Harrah's in the evenings. "That evening, I called him again," Kimberly shared, and this time, Tim answered. "It was June 10, my birthday," Kimberly recalled smiling, "and Tim arranged an evening out for us." After an evening of cocktails, Tim announced that she would be his wife. "Of course, I was like, yeah right!" Kimberly laughed. But on June 7, 1996, exactly one year after they first met, Tim and Kimberly were married. In 2006, they decided to move to Red Oak with their young daughter, Kassidy. "I loved the area, because it was really quiet," Tim stated. "It reminded me of our neighborhood in Shreveport." Red Oak appealed to Kimberly for similar reasons. "I liked it, because it reminded me of country living," she said. "In Shreveport, we lived on about an acre of land, so I didn't want to live in a neighborhood where the houses were really close together. Our lot isn't as big, but it still feels like we're in the country. It reminds us of home."
Their beautiful 2,500-square-foot home is primarily decorated in warm earth tones. Guests are greeted by a beautiful, olive-toned hue, which accents the entryway.
The dining room features an unexpected cinnamon color painted above the chair rail. A neutral egg shell color painted on the bottom third of the wall balances the contrasting colors in the area. The china cabinet displays cinnamon and gold place settings, which help tie together the color palette chosen for the room.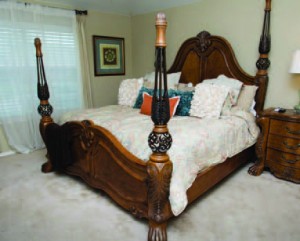 An ultra-modern, multipendant light fixture hanging above the dining room table provides cozy ambient lighting. For the living room, Kimberly chose a chocolate-colored sofa sectional, with a matching coffee table, and the area is decorated with cinnamon throw pillows. The sectional is framed by a large window with cinnamon-colored window treatment panels with brown accents. A round mahogany mirror, enhanced with decorative silver trim, hangs above the fireplace. A four-seat dining table, with a small, ornate floral centerpiece, sits just off the kitchen. The open floor plan lets visitors enjoy television or keep an eye on dinner preparations during large family get-togethers. "Summer is a favorite season," Tim shared, "because we enjoy having barbecues and fish fries." A professional decorator's influence appears throughout the Harrises' home, but Tim is quick to give credit where credit is due. "It's all Kimberly," he stated proudly. "A repairman recently came inside to do some work.
He looked around and asked, 'Man, who does your decorating?' I laughed, because I hear that all the time!" Kimberly decorated their master bedroom with a Villa Sonoma-style queen bedroom set, which features ornate details in the wood of the four-poster bed. The matching dresser and bureau have ball-and-claw feet, and their cozy space features more of Kimberly's favorite brown and green earth tones. Throughout the house, gentle hints of a lush, tropical safari theme may be found. "I have all kinds of elephants, tigers and palm trees," she admitted.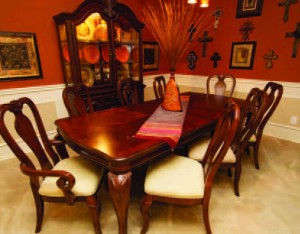 Kassidy's trendy bedroom is painted with a slate color, and dark gray curtains cover the window. The four-poster canopy bed is decorated with plum-colored bedding, and plum and silver decorative pillows provide a nice contrast. By day, Kimberly works as a clinical nursing manager at Hospice Plus in Dallas. "My mother is a nurse, and growing up, it was the only profession I ever really knew," Kimberly explained. "But I've always loved decorating," she shared. "I've always really wanted to be an interior designer." Kimberly may be the inspiration behind the designs, but when it comes to execution, it's a team effort. "I'll usually tell Tim what I want. For example, I told him I wanted texture on some of the walls. At first he was reluctant," she admitted, "but we went to Home Depot, picked out the color and got the supplies we needed."
Arriving back home, Tim was even more skeptical. But he had two women on his hands who wouldn't be deterred. "Kassidy and I started on a really small section of the kitchen bar, because we really didn't know what we were doing," Kim said laughing. "And before we knew it, Tim had taken over, and the room came out beautifully." Tim enjoys making his own decorative contributions to their home. He is a skilled painter and landscaper, and he credits his parents and his grandfather with his handiwork. "Growing up, my mother would take me to my grandfather's on the weekends, and I'd spend time working with him. He was a skilled craftsman, and he taught me a lot of what I know."
Kassidy recently graduated from the University of North Texas, majoring in psychology. And after a long day, the Harrises enjoy spending quiet evenings together at home with Ashton, their adorable Shih Tzu. For Tim and Kimberly, nothing is more important than family. "It's nice to have a comfortably decorated house," Kimberly shared. "But it's even more important to be able to come home to a space where everyone is loved and respected. It's what makes a house a home."
Written by Dianne Reaux.