In some of the more beautiful neighborhoods around Midlothian, it is sometimes hard for an individual house to be notable.
From developments still being built like Shiloh Forest Estates to older neighborhoods like Park Place, appealing facades and massive arched front porches can start to blend into one another. By adding personal touches, some families have found a way to stand out. With a sprawling front patio, little additions throughout the house and an amazing outdoor living upgrade, Kevin and Jenny Reid's home is more than just another pretty space. Kevin grew up in Carrollton before attending Texas Tech University where he earned an advertising degree. "I worked for two different power companies for about five years each, but I really never used my degree for my job until now," he said. After his entire department was laid off, Kevin was not sure what to expect
He soon experienced what he considers to be part of a larger plan. "A friend who coached my son's baseball team offered me a job with DFW Creative Homes & Renovation," he explained. "I have faith that God used me being laid off and my son's baseball connection to lead me where I am now." Jenny grew up in Fort Worth, and also went to Texas Tech. She earned a degree in early childhood education, which she has used in two different ways over the last decade-and-a-half. "I've taught kindergarten for 10 years, sandwiched around a few years working for Early Childhood Intervention," she detailed. Jenny currently works at Nancy Neal Elementary in Mansfield. Kevin and Jenny met one night in a Texas Tech dining hall after a snowball fight.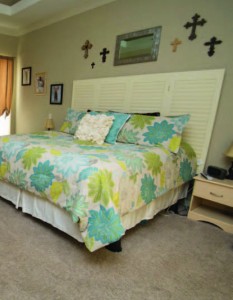 They started hanging out as part of a large group of friends that stayed together for several years. "Jenny finally asked me if I was going to ask her out, and we started dating in the spring of 1999," he shared. They were married in June 2003, and they have two sons. Brady is 9, goes to school with Jenny and plays baseball. Camden is 3 and already loves playing baseball, just like his big brother. "They even play in the house. The door is home plate. The fireplace is first base, etc. They love it," Kevin detailed.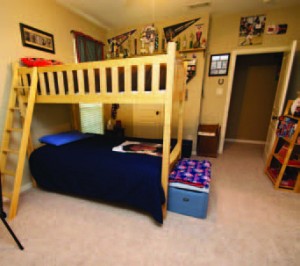 The family also has a rescue dog, Raider, whose name is one of many examples of their devotion to their shared alma mater. Early in their marriage, Kevin and Jenny lived in Fort Worth. "After the first two houses we lived in, we were very particular," Jenny explained. "We were driving the neighborhood and saw one of the neighbors doing yard work. We asked him probably 50 questions, and we knew this was it." Their house is guarded by numerous mature trees. The entrance is bordered by a wide porch with a classic swing on one side and a casual seating area on the other. A simple but beautiful, oversized wooden door is the gateway from the picturesque front yard into the house's warm interior. The front entryway offers the first glimpse of an upgrade Kevin and Jenny added once they moved into the home. "We put in hardwood floors and had them hand-scraped," Kevin detailed.
The hardwood extends into the home office, which he uses when working from home a few days a week. "It's great being home, especially since the other days I am driving to Keller," he remarked. "One of the few family antiques we have is the desk that belonged to Jenny's grandmother. She says it still smells like her grandmother's house." Across from the office, there used to be an open formal dining room, but Kevin and Jenny knew they had a better use for the space. "We decided to close off one wall and turn it into a playroom for the boys," Kevin said.
They have several big toys, and a decorative sign that harkens back to their days at Texas Tech. "We got it as a gift for the back patio, but we were afraid the canvas might get messed up out there. The sign is a great complement to the boys' playroom." Beyond the spacious living room with plush leather seating and a beautiful stonework fireplace, a hallway weaves to the boys' bedrooms. The rooms are covered with sports memorabilia, as well as a few special touches. "Now that Kevin's dad is retired from the fire department, he does woodworking as a hobby," Jenny explained. "He made Brady a baseball display, and of course little brother wants what big brother has, so he made Camden one, too."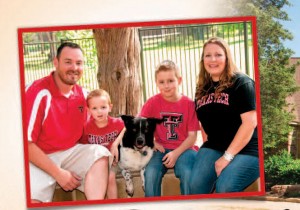 The boys share a "Jack and Jack" restroom, and the hallway includes a collage featuring some of Brady's artwork. "I like finding projects on Pinterest, and Brady loves art, so little things like this make perfect additions to the house," she added. The kitchen is big and open, with an island that is actually a reclaimed wood table. It is both decorative and functional. The stovetop and hood are partially hidden behind dark wood that panels the whole room. While Jenny loves the practicality of the space, Kevin focuses on some of the mementos that adorn the shelves. "We went to Napa for our 10th anniversary, and we have some special wine bottles that we got while we were there," he described. "I guess you would almost say that's the theme in here."
Moving to the other side of the house, the master bedroom is large with big closets and access to the back patio. "This is the room that gets the most neglected," Jenny laughed. "The bathroom is just a bathroom. We spend more of our time working on the rest of the house." But one key feature of the bedroom is the access to the home's best feature, the newly redone back patio. Kevin has an amazing patio built in his backyard. "I drew the design and did some of the work, but it was mainly friends from work who built it," he admitted. "We gave them ideas and then let them go." They added a scripture stone of a prayer Kevin's granddad used to say before each meal, and it is the perfect first impression for the grand outdoor kitchen.
It has multiple grills, a refrigerator, several seating areas and a fire pit, as well as a small decorative fire feature built into the bar. "The stones are of course red, white and black for Texas Tech," he explained. Kevin and Jenny have enjoyed countless memories. With a home perfect for indoor baseball, fireside meals or casual family time, they are adding more each and every day.
Written by Zachary R. Urquhart.