Kenny Fritz has the physics of pitching a baseball all figured out. "The tomahawk starts like a C in your hand, and it moves at an angle when you throw it," he explained. A rising star playing for The Hitmen, an elite team based in Burleson, Kenny throws a changeup, a two-seam fastball, a four-seam fastball and the tomahawk — an off-speed pitch developed by his grandfather. "My best is the two-seam, because it's fast and has a lot of movement. I throw it really well."
His skills developed because his entire family is dedicated to seeing Kenny succeed in life. As soon as he showed interest in playing ball, his mom, dad, uncle and grandfather all began working with him. Once the T-ball stage ended, it was clear that the more they tossed to him and coached him to pitch well, the sooner Kenny would find his niche in baseball. Now his primary position is third base, though he also can be shortstop and pitcher. Every game he plays is attended by his brothers, parents and grandparents.
His head coach, Chad Crump, has asked this 9-year-old to play third base for The Hitmen during most of this season. "Kenny is a great kid, with an excellent glove and the smarts of the game," Coach Chad said. "There's a lot of things to do. He's got the presence of mind to play the position."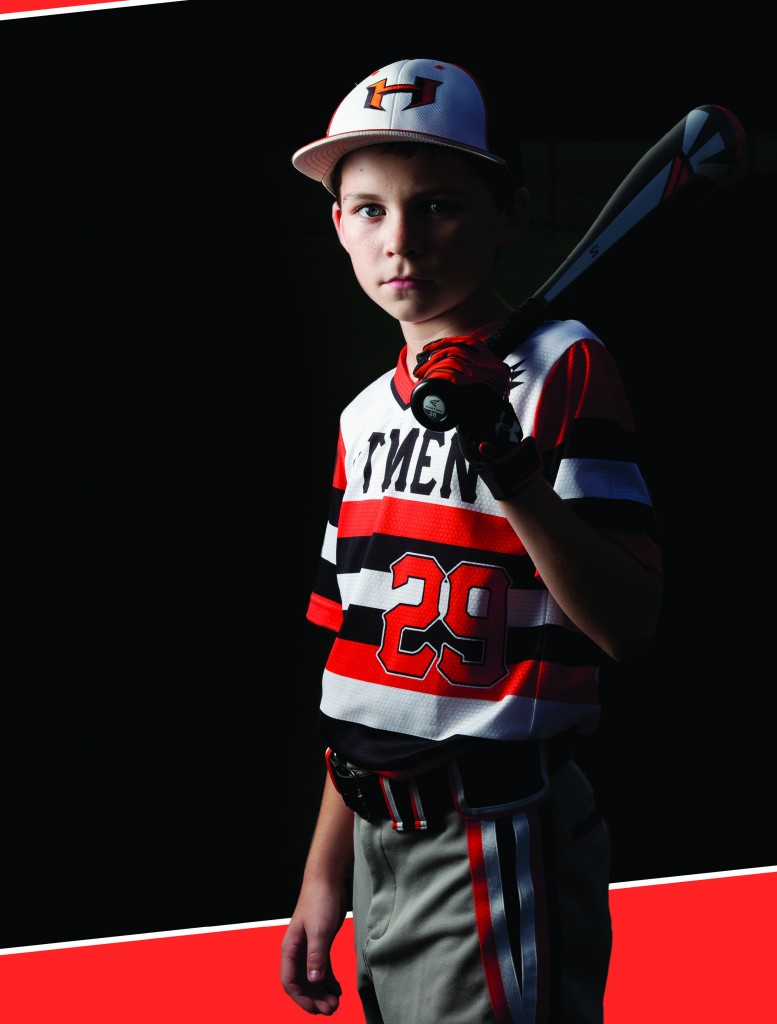 His mind has been in the game almost from day one. His mother, Haley, dreamed Kenny would be an all-around baseball star. He was at his very first baseball game at 2 weeks old, watching Haley's brother, Blake Dunson, playing for Burleson High School as pitcher and second baseman. Kenny understood what the players were doing by the age of 3.
His father, Tony, envisioned Kenny on the baseball field. "I grew up liking football a lot but wanted something Kenny could play that would keep him safe and healthy, while letting him develop hand-eye coordination, learn the values of teamwork and be competitive."
When Kenny was 4, Tony and Haley signed him up with Burleson Youth Association with the intent to play T-ball. Tony was the coach of The Cubs, and since BYA always puts sons with their fathers, if their fathers are coaching, Kenny was assigned to The Cubs with a bunch of other 4-year-olds.
"It was really neat watching him develop," said Tony, who talked to his son about the game all the time. Practicing in the backyard with a bat handed down from his 13-year-old brother, Alex, Kenny listened to his father and did what they had talked about whenever The Cubs played a game. "It made me feel like he was paying attention to me, like it was sinking in. It made me think he really liked the game, to be paying that close attention, that young."
Using a blue and black glove, because he liked the colors, Kenny played many positions, mostly shortstop. "I was quick. I knew what to do," he recalled. "To play shortstop, it's kind of like you're the captain of the field, and you're actually throwing the ball and fielding the ball." It's important to Kenny to always know where his runners are, so he can be integral to defense. "If you throw it to the wrong spot, the other team could score points."
Moving on from T-ball to recreational baseball teams, Kenny took a break two years ago from shortstop and played third and first a lot. Now that he's with The Hitmen, he still plays those positions plus shortstop. A very athletic player with a strong arm, Kenny is able to cover a wide area.
He keeps in shape by playing basketball with BYA, or shooting hoops and playing baseball with his dad and his brothers, Alex and 5-year-old Kellen. "A lot of times, we only play for 30 minutes, if it's too hot. Other times, we'll go out with our friends to play football," Kenny said. Those are longer periods of time that are, admittedly, nice for Haley. "We always make big messes, and Mom and Dad are always the ones having to pick it up." When Kenny plays at home, he often tosses the ball to his youngest brother, 1-year-old Kolt.
Haley is a fan of all kinds of sports for children. "My mom works at the Y, and Kellen tried out for the soccer team there," said Kenny, who wants to play soccer at the Joshua YMCA, too. He sometimes plays soccer with Kellen and Alex in the backyard. "When Kellen wants to play baseball, sometimes, I actually put the ball on the T for him, but he likes me tossing it to him."
When it's time to practice with intent, Kenny heads to the backyard with his dad. Tony gets in the back of a cage he built from an old swing set and a retired gate. It protects the fence and the neighbors' windows while Kenny throws over and over again, to keep his arm loose and prevent injuries during games. "Most of the elite players have dads like Tony, who know what's going on, so the kids know what is going on. They know what they're working toward," Haley said.
She should know. She watched her brother, Blake, follow in the footsteps of their dad, Ken Dunson, who pitched for the baseball team at Texas Wesleyan University. Before all their successes came a lot of backyard pitching with their fathers. Now, Kenny is making memories, developing technique and building stamina, while pitching with his granddad.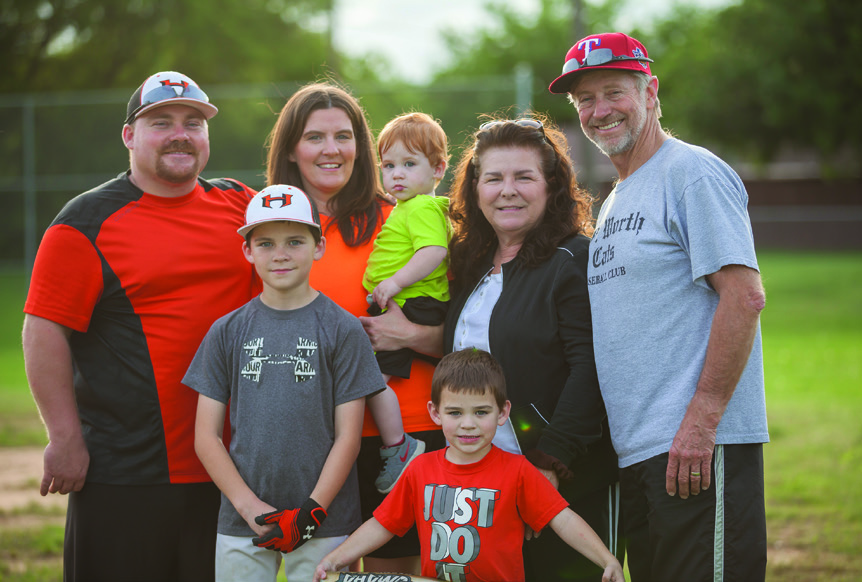 With his family's help, Kenny is preparing to support his team. "I really want to win the state championship this year," Kenny said. "With the team we were on three years ago, The Fury, we came in second, and Aledo won," Kenny said. This year, The Hitmen lost their opening tournament at Big League Dreams in Mansfield. On that cold, wet, misting, sleeting February day, Kenny played the outfield. He caught a really hard pop fly while at short stop. "It palmed me. It was so windy and rainy the ball landed in the hand, not the pocket. It really hurt, but I held onto it, and so we got that out."
Kenny has played hard this entire season. Yet, before each game, there are twice-weekly practice sessions. The other day at Teeter Field in Crowley, his team, his dad and his coach practiceda method of getting two outs — the double play. They've also been practicing hitting at the Burleson Dugout on South Dobson, where Haley used to take Blake to practice during high school.
With role models such as Haley, Tony, Alex, Blake and Granddad, it's no wonder Kenny is known as a team player. Always encouraging his nine other teammates, Kenny's dedication to The Hitmen shows in his every catch, every pitch and every word.
Written by Melissa Rawlins.