On your mark, get set, go! And off go the Rowdy Runners as they heed the call for another marathon. This elementary school-based running group was one of the recipients of a grant funded by the Midlothian Education Foundation. It is just one of the jewels in the crown of this organization.
As MEF enters its 10th year, Chelsi Frazier, director of the organization, hopes to use the anniversary celebration in May as a way to "highlight MEF, the innovative programs funded and celebrate where we've been and where we are going." Chelsi and her husband, Midlothian native Jake Frazier, looked to his hometown for their new home. "He didn't want to look anywhere else but Midlothian," Chelsi said. "It's been great, and I can't imagine working anywhere else."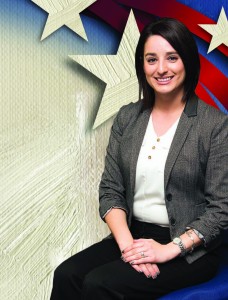 As a 2006 graduate from Tarleton State University, she earned her degree in exercise and sports studies. Her love of kids and desire to do something that made a difference caused her to want to be a PE teacher. "I wanted to feel good about myself at the end of the day and that something was better because of what I was doing," she admitted.
"That's why I was attracted to education." However, instead of going immediately into education, Chelsi began to work at CNB as a teller. After working there for a year, an opportunity arose in the marketing department for a marketing coordinator. It suited her bubbly personality, because she enjoys meeting and talking to people.
"I did that for five years before coming to work for the Midlothian Education Foundation. It felt perfect for me," she shared. "It was good to have that business background, because I was able to see what businesses wanted in return for their investment. They make a tremendous impact just by donating their dollars. It's also really nice knowing that my efforts and the board's efforts are making where my 2-year-old daughter, Clarke, will go to school a better place."
Education remains a great investment for businesses. It is a productive venture in Midlothian because of the conscientiousness of the school district, teachers and leadership. "Not only are you helping people right now," Chelsi remarked, "but, you're helping yourself, your community and your world forever, because what kids learn and what they have the opportunity to do now is what's going to make our world what it's going to be." And the world will look better with healthy children in it. MEF's grant to the Rowdy Runners is an extremely successful project that gets kids up and running. "Rowdy Runners is a good picture of what the board envisioned when they started the teaching grants," Chelsi observed. "It started with a small group on one campus where the foundation was able to help them build the walking track. They have now taken the running club and duplicated it on all six elementary campuses. That is what MEF wants — that spark of an idea. We give them the gasoline to fuel their idea, and they keep it going. The runners are not necessarily in the physical classroom but, physical education is taught in school, and it's important for the student's overall health."
MEF has given grants to fund many in-classroom programs using the creative engine of educators to bring interesting ideas, equipment and technology into the classroom. It isn't necessarily the projects that cost the most that make the largest impact. "Money doesn't drive the amount of innovativeness," Chelsi observed.
Every school year the MEF board awards grants in the fall and in the spring. This past spring they gave grants across the spectrum of students' abilities. One such grant at LaRue Miller Elementary was CBI: Start your senses! In order to encourage the students to enhance their sensory experiences and motor skills, MEF awarded a grant for the purchase of classroom materials that specifically targeted those needs in order to encourage a more productive and positive learning experience.
Another grant was for the campus of J.A. Vitovsky Elementary, We Do LEGOs. In order for students to grow in knowledge about technology and understand its increasing influence, that genre must be brought into the classroom. With this program, the students will have the opportunity to grow in areas of creativity, problem-solving, critical thinking and many more areas necessary for technological advancement. The educators are the ones who study and write the grants presented to the MEF board.
In her role as director, one of Chelsi's goals for MEF is to do a better job of putting forth the expectations of getting more innovative and creative projects from teachers. "Teachers, who have an innovative idea to inspire their students and then take the time to write the grants, should be celebrated and, if at all possible, funded," Chelsi proclaimed. "We have so many amazing teachers in our school district. I'm glad I get to be a part of helping them."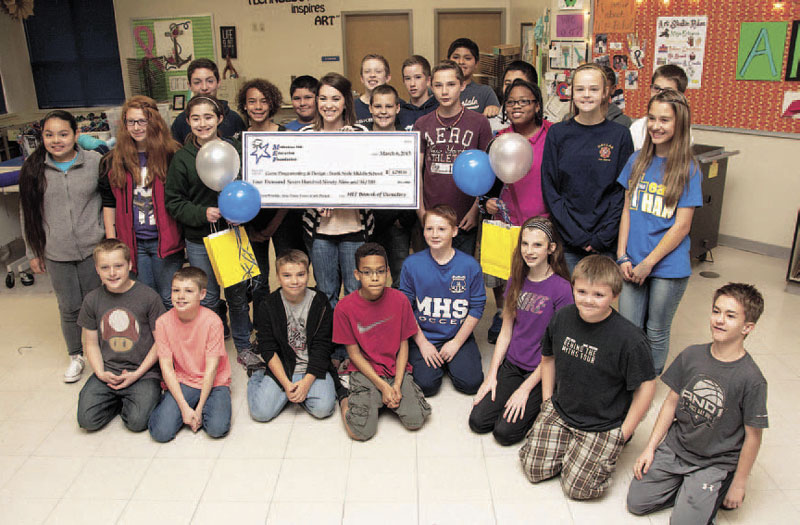 One of the ways Chelsi would like to help would be to bring back the grant workshop and provide training. In doing so, she wants to give them ideas of what has been successful in the past and to take a look at inspiring ideas being implemented in other schools. However, her No. 1 goal is to begin to tell the grant stories. "This is the biggest thing we do as a board. Every grant is a story. We need to get them in video or picture format to show our donors and the community what we are doing. Every semester we have a group of grants we are promoting. I really think we can make that happen." It is important that the school district has an educational foundation board to provide support and encouragement to the schools by awarding grants to programs that inspire and motivate students. "We have a fantastic board," Chelsi declared, "that's the benefit of working with a volunteer board of directors. They are there because they want to be. The foundation is important to the school, because there are a tremendous amount of businesses and individuals in the community of Midlothian who want to support the school district but don't know what to do. They may not have the money to donate but want to give of their time and volunteer. The foundation provides that link between businesses and individuals who want to support education."
The more opportunities students have to learn, to explore, be creative and imaginative the more they will benefit from their education. MEF stands ready to do all it can to help with grants that will inspire and motivate students, and, in a sense, to revolutionize what takes place in the classroom, causing students to experience not just learning but a joy of learning.
Written by Betty Tryon.