Growing up in Japan and around the country, multifaceted artist Suzanne Moncuse has translated her real-life experiences into art.
She is fascinated with history, culture and people. As a watercolor artist, she thrives when given paint and brush to bring real life to the page. Suzanne's background in a multicultural family strongly encouraged her art. "My dad was a Southern Baptist Bible kind of a guy," she shared. "And my mom was from Puerto Rico." Suzanne was born in Alaska, spent her early years in Japan but grew up in the Carolinas after her dad retired from the United States Air Force.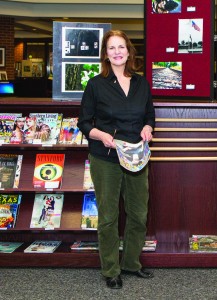 While her dad was stationed in Japan, Suzanne and her brothers soaked in the atmosphere. "My parents taught us to appreciate and respect the Japanese culture. We would celebrate their holidays, too." In later years, Suzanne would credit her love of watercolor and design to experiences in Japan. "As a little girl, I would copy Japanese art and just loved Asian art," she explained. Suzanne also identified with the Japanese integration of nature and spirituality.
Her mother's Puerto Rican culture also taught Suzanne the importance of celebrating. Her family regularly commemorated different holidays and events. Literature was another important aspect of Suzanne's childhood. "My dad would read us Beowulf and parts of The Canterbury Tales, while my mom would read us folk tales," Suzanne recalled. Attending theater events and listening and playing music of various types and styles were also valued in her childhood home.
With this emphasis on literature, storytelling was also highly valued. Because both parents traveled regularly and had unique backgrounds, their stories never ran dry. Her mother came to the U.S. in her early 20s to work as a bilingual stenographer for the Department of State, having worked in a similar position for the British Embassy in the British West Indies. "She had a lot of stories from being in D.C. during the war with ladies from all over the United States," Suzanne shared. "I grew up with stories like that."
When Suzanne left home for college, it made sense that her adulthood would be as varied as her childhood years. She attended a small college nestled in the mountains of Georgia and majored in art, a career choice which pulled together her interests in art, literature, storytelling and music. "I'm glad I went to Young Harris College. I met some interesting people and learned a lot about art," she shared. "Our teachers encouraged us to know how to hold art shows, too."
She held her first art show in 1978 at the main library at Young Harris. Her next show was entitled Metamorphosis. "My work was described as allegorical, and I think that's very beautiful," she shared. She enjoys combining calligraphy with watercolor. Her favorite piece incorporates a quote concerning gunpowder from a 13th century monk named Roger Bacon, written in flourishing letters. After graduating from Queens College (now called Queens University of Charlotte) with a bachelor's degree in art (painting), she worked at the local museum.
She continued painting, but her marginal salary caused her to seek other means of income. She applied to nursing school at Vanderbilt and, after completing a semester, realized nursing wasn't her specialty. In Nashville, she sold her work in several art galleries. "I guess I should have been flattered when one of the gallery curators bought one of my pieces," she laughed. "But I never knew how to market myself at that time."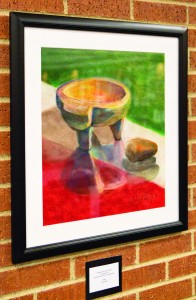 Throughout the years, she worked for a parks and recreation department, taught senior citizens, was a graphic artist and later worked as a paralegal. All the time she explored different careers, Suzanne continued to paint but never pursued gallery connections. While raising her daughter with her husband, Bob, she also earned her teaching certificate and worked with special needs children. Currently, she is a librarian with Mansfield High School. After a personal family tragedy, though, she put the paintbrush in a drawer and stopped painting for a time.
But just recently, after much encouragement from co-workers and friends, she bravely picked up a paintbrush again. "I have a different perspective with my art now," Suzanne shared. "I know what I'm going to focus on, and hopefully, God will make it happen." Careful color combinations are important parts of Suzanne's art. "I like to think of my art as inspiration," she shared. "I want people to feel a certain way when they look at the color." Her subjects are primarily snippets of real life. "I used to think art was not cerebral enough. But, I totally disagree now. The best artists pull from their own experiences and tell stories." Suzanne's early work was largely abstract, focusing on color and design.
She believed in expressing emotion through the blending of pigment. With a renewed focus, her recent work includes realistic images interplayed with reflective light. Art used to tell stories is an exciting aspect to Suzanne. With her love for history, she values the connection between a people group's past and their art. "You want to know about history? Study art history. You can learn about a culture and time period that way," she shared.
As librarian, Suzanne enjoys spurring her students to learn more about cultures through their art. Suzanne has learned a great deal about human nature through art. While teaching a watercolor class to senior citizens, she found a unique connection. "I learned more about the people themselves as they started painting. They opened up. It was kind of like a therapy," she shared. With a friendly and kind personality, Suzanne also believes in highlighting other's work. She rallied several Mansfield High School faculty members to feature their work in an annual faculty show. For three years, the show was hosted in the Mansfield High School library. Because of its success, the district reached out to Suzanne and requested that the show become a permanent districtwide show at the Mansfield Center for the Performing Arts. "I felt very honored that the district would want to have this event to really feature artists in the way they need to be featured," she shared.
Faculty and student artwork are a mainstay of the MHS library. Suzanne looks forward to continuing her artistic exploration, drawing on her past experiences to tell stories. She acknowledges that her faith truly influences her. "Why do people buy work they can create on a laptop?" she asked. "I think it's a soul thing. Art is spiritual, and it enhances people's lives."
Written by Mikaela Matthews.