Jan Bailey is a kind and gentle spirit who's always had a passion for learning new things.
For 17 years, she'd been a stay-at-home mom where cooking, gardening, taking care of her family and homeschooling her children were the focus of her world. "I've always loved to learn new things," Jan stated. "I guess you could call me a jack-of-all-trades." Because Jan didn't work outside the home, she had a strong passion, along with the spare time, for serving in her community. "I've always had a heart for helping people, and it was important to me to serve others," she shared. "So, whenever I could, I would volunteer at my church and teach various children's programs. I also enjoyed serving at the local nursing home."
But when Jan unexpectedly found herself divorced, single and head of her household, she relied on her courage, determination and passion for learning to pave the way for a brand new start in life. "When I found myself in a position where it had become my job to support my family, I was terrified," she shared.
Jan faced the same dilemma as other stay-at-home moms do when they decide to re-enter the workforce. "Stay-at-home mothers are some of the hardest workers there are," Jan declared. "We are actually the CEOs of our households. While we are busy taking care of our homes, we are using transferable skills that many employers value."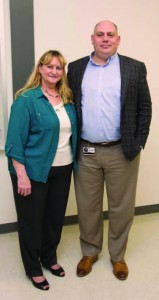 Transferable skills can shift easily between professional opportunities. "In fact," Jan continued, "a well-run, well-organized home can be credited to someone with good communication, organization, management, leadership skills and a solid work ethic!"
Jan knew she had skills employers would value, but she also knew her years out of the paid workforce would most likely work against her. Jan is a devout woman — strong in her Christian faith. "I knew I had to come up with a plan," she shared. "And I started by praying some of my deepest, heartfelt and most earnest prayers. "I had lots of experience working and volunteering with different church ministries, and I also had a few college credits, but I didn't have a college degree. Something inside kept telling me I needed some stability and a sense of accomplishment to build my self-confidence," Jan recalled. "And I also wanted to set an example for my children. I wanted them to see their mom was OK, and we would be OK as a family. So, I decided to lean on my faith and pursue something I'd always wanted — my college education." At the time, the family's finances were Jan's primary concern. There wasn't a lot of money, so she looked for the most affordable classes available to her, and that was Navarro College.
The cost was much less than a four-year university, and it was close to home. So, in the fall of 2006, Jan gathered up her courage, visited with an admissions counselor and enrolled in classes. Jan believes that big step was one of the best decisions she ever made. "I looked for a major that would make the most of my transfer credits," Jan explained, "and I chose a course of study I thought would best help me land a job — business information technology."
Once enrolled in school, Jan found she had embarked on one of the most challenging phases in her life. "I knew it wasn't going to be easy," she shared. "I'd been out of school for a long time. And then I found myself back in the classroom, studying, writing papers and raising four children."
During this time, Jan also received a scholarship from her church to pursue her certificate in ministry. "Even though it wasn't easy, I had so many people supporting and encouraging me. It's important to surround yourself with people who believe in you and who will encourage you when things seem overwhelming. My support system included my parents, my church family and my instructors. And before I knew it, in 2009 I was graduating magna cum laude from Navarro, with all of my children present," Jan shared proudly. "During graduation, I had such a sense of pride and accomplishment. And then it dawned on me that I was the first person in my family to graduate from college."
Encouraged, Jan didn't stop taking classes. "The counselors at Navarro were very supportive, and they encouraged me to continue my studies. I applied to attend Texas A&M University-Commerce, and in May 2012, I received my Bachelor of Science in business administration. After finishing my bachelor's degree, I applied and was accepted into graduate school."
In December 2013, Jan graduated with a master's degree in applied criminology, with an emphasis on policy development. "I've always had a passion for helping and mentoring people, and I plan to continue my work in the ministry," Jan shared. "I see value in everyone and try to share my passion by encouraging and motivating others. I know life can be difficult, and it certainly hasn't been an easy journey for me. But everything I've been through has prepared and led me to where I am today."
Jan's educational pursuits have come full circle, and she now enjoys a new career as an educator. "I work as an adjunct instructor teaching Computer Applications I and Reading and Writing I at Texas State Technical College in Red Oak," Jan shared proudly. "It's such a wonderful opportunity, because a big part of my job is encouraging and supporting students the same way my instructors encouraged and supported me. It can be very intimidating returning to the classroom when you've been out of school for a while, and that's the case for many of my students. But it's definitely something that I can identify with, because it's where my story started."
Written by Dianne Reaux.