The art of movie making can spellbind, educate and entertain, as storytellers weave magic lands of mystery, comedy, adventure, science fiction and more, affecting the hearts and minds of viewers. The art of documentary making takes even more dedication and passion. For students at Waxahachie Global High School, this has become both an educational and artistic experience, as they work to make an impact on a national stage.
As a nationally recognized STEM school, Global High is known for its creative teachers and students in science, engineering, technology and math. That creativity extends to their extracurricular endeavors, as junior Don Rutledge and sophomore Grant Waldeck are going above and beyond with a documentary project first suggested to them by computer science instructor Tanya Snook. From writing and filming, narrating and editing, interviewing and traveling, the two have set themselves on a course for competition they didn't foresee. A few years ago, Global High offered a film class through their partnership with Navarro College. When the instructor left, many students wanted to start a film club to continue pursuing their passion. Then, in January 2014, Tanya asked Don and Grant if they were interested in making a documentary for Remember Me Retired Racehorse Rescue in Burleson.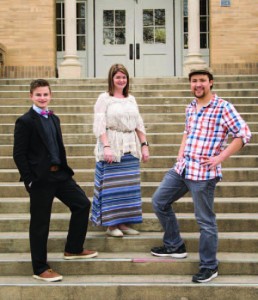 The focus would be on the rehabilitation of racehorses after they are retired from the track and the lives they could still have. "I knew all the students had an interest in film, but I told them, 'It has to be good, because this is for a national campaign,'" Tanya said. "It's an educational tool, and we will also be entering it in competition on the side." Although the students might not have known each other well, they quickly became a team. "We weren't looking for a film course, per se, but I thought it would be awesome to make documentaries," explained Grant, who has watched many through the years. As a photographer since the age of 8, it was a natural fit for him to take over cinematographer duties, even using his personal equipment in the early days of shooting. Don's skill is socializing, and he is
both narrator and script writer. The thought of making a documentary that might have a national impact was a selling point. "I love making change," he said. "If there is a problem no one is addressing, I want to get into it. I'm all about instilling change." The team mapped out an action plan, practicing the project-based learning Global promotes. They listed places they wanted to visit, people they needed to interview, and created a storyboard for the flow of the documentary.
They agreed the deadline for their 60- to 90-minute film was December 2015, so there would be time to send to festivals and competitions and reach a wider audience. "We have really had a crash course in learning how to do filming, fundraising, creating a budget and business plan and then promoting it," Grant explained. "We have a strategy," Don added. The first visit was to the Remember Me Rescue stables, where they met the retired racehorses, many of whom were being rehabilitated.
They interviewed owners Dallas and Donna Keen and filmed video of the operation. In March, they attended the Battle of the X's, The OTTB Trainer Challenge at Will Rogers Coliseum in Fort Worth, and shot footage of the thoroughbreds' versatility in a competitive environment.
They also interviewed Jack Van Berg, who trained horses that won the Kentucky Derby, Preakness Stakes and Breeders' Cup. The footage from the Battle of the X's became their first video, a teaser trailer they premiered at the Remember Me Rescue Gala at Lone Star Park in April. Not only was the trailer a hit with the guests, the students seized the opportunity to interview retired jockey Pat Day, who was inducted into the National Museum of Racing and Hall of Fame in 1991.
In June, the project moved into high gear, when the students began fundraising to purchase professional equipment. They used Twitter, Facebook and YouTube accounts to spread the word and conducted interviews with local media outlets. Additionally, they went to local businesses and individuals to pitch the film, with Don and Grant doing odd jobs and raking leaves. They were able to raise $1,000. In late October, the students filmed a video explaining the goals, risks and challenges of their planned documentary, which they debuted with the opening of their online Kickstarter fundraising campaign.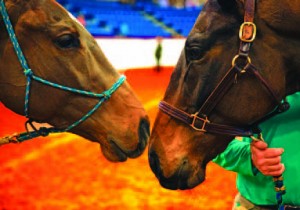 The crew wanted to purchase a Blackmagic Cinema Camera and sound and lighting equipment. By November 25, they had reached their goal of $3,500. The group continued gathering information for the documentary, visiting horse therapy centers Serendipity Equine Haven in Fort Worth and Campfire Creek in Waxahachie. In December, they met Russell Thompson, a film producer who mentored them on live action shooting, final editing and getting into film competitions.
On Russell's suggestion, Don and Grant created a "sizzle reel," a short, fast-paced creative pitch, which debuted in February on their YouTube channel. "He suggested we send it to companies who would help with a film on this topic," Don said. "We still have some camera needs, plus our travel and other support expenses." New equipment arrived earlier this year, with lights, camera rig, microphones, audio setups, lenses, a slate and a gyro for stabilization — just what the students needed to move to the next step. "We'll finish filming at the end of this month, right around the end of the school year," Don said. "We plan on interviewing experts at Texas A&M University, major figures in the industry, jockeys, trainers, veterinarians and equine health experts, anyone who can talk to us about what retired racehorses can do." Most of the filming will be done in the Dallas-Fort Worth area, followed by final editing and post-production work, which means the documentary team still needs donations. All equipment purchased will be donated back to GHS. Because the students formed a nonprofit 501(c)(3), all donations are tax deductible.
With a passion for the process, as well as the content of their documentary, the students have worked hard, moving around jam-packed schedules filled with rigorous classes, homework and projects — all of which has not gone unnoticed. "The community support has been wonderful," Tanya said. "Other Global students gave, because they want to see fellow students do well. Teachers donated, too. Our kids give back a lot in the community, so others give when they ask." Tanya just beamed with pride as she thought about Don and Grant. "Don is the big picture person, and Grant makes it all happen. Together they do everything, and they will make a great thing."
Written by Melissa Swedoski.
Editor's Note: For more information or to make a donation, email [email protected]