His late father, Norm Bowman, signed papers for Dana to join the military. Dana's uncle, Command Sergeant Major Donny Bowman, had served in World War II, Korea and Vietnam and gave Dana guidance.
Dana joined the U.S. Army after graduating North Ridgeville High School in Ohio in 1981. "I had the opportunity to see the world. It changed my whole mindset." Starting out as a heavy equipment operator engineer, Dana worked his way up constructing runways around the world. He took to the sky with the 82nd Airborne Division at Fort Bragg, North Carolina. "I was with the paratroopers, red beret," Dana stated.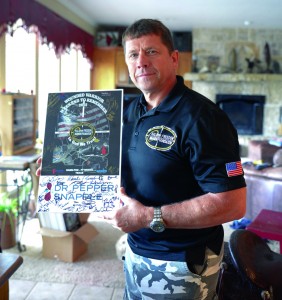 They parachuted Caterpillar bulldozers, graders and other large equipment out of different military aircraft to construct dirt runways around the world. Dana tried to consistently excel at everything he did in the military, often winning soldier of the month. After his first four years in the military, Dana was given the opportunity to move to Panama, South America, Alaska or Hawaii. "Not everyone can go to the jungle. I wanted to go to the jungle."
Dana was assigned to a non-airborne unit in Panama, but his fate would change. He met a Special Forces group that was impressed by his attitude. "They said, 'Bowman, you remind us of a Special Forces soldier. You're our kind of guy.' I liked that," he admitted. Dana was diverted to U.S. Army Special Forces Support while he waited for an invitation to begin SF school. "That was the beginning of my life." Dana was invited to attend one of the military's most difficult schools — Special Forces Combat Diver School, which was intended for Special Forces soldiers, not Support SF soldiers.
Out of 33 people, Dana was one of seven who made it through. He then attended SF school at Fort Bragg, graduated and returned to Panama in 1985. He served in the U.S. invasion of Panama in 1989 and traveled the world stopping drugs from entering the U.S. The sky became Dana's playground again in 1993 when he joined the U.S. Army's parachuting team, the Golden Knights.
Life changed abruptly for him the following year. Dana and his teammate, Sergeant Jose Aguillon, were involved in a training accident at an air show in Yuma, Arizona. Sgt. Aguillon died from his injuries. The midair collision took Dana's legs above the knee, changing his life forever. A lot of things came tumbling down for Dana because of the tragedy, but he never gave up. Five months after the accident, Dana proved his drive and determination to move forward.
He asked the doctors at Walter Reed National Military Medical Center for a weekend pass to parachute at Fort Bragg. According to Dana, they did not take him seriously but handed him the pass. "When I arrived at the drop zone, team members thought they saw a ghost. They did not think I would really show up, and I did," he shared. He asked a friend for a parachute, but his first request was turned down. Dana found a parachute, and with his prosthetic legs on, he made his first jump since the accident from 10,000 feet.
He wasn't nervous, because he had a backup chute. He landed and couldn't wait to go again. He was one of about 20 Golden Knights who parachuted that weekend in a wedding jump. Dana made it into the formation, while several others did not. When he returned to Walter Reed, the doctors didn't believe his story, so he showed them the wedding jump video and photos. "That changed everything right there."
Nine months after the accident, Dana became the first double amputee to re-enlist in the Army. "I wasn't doing it to do a jump. It's to show people — disability is ability." A positive and persistent attitude has opened many doors for Dana. After his accident, Dana began speaking to groups across the U.S. As a member of the National Speakers Association, Dana continues to share stories of his military experiences and of overcoming adversity.
He also speaks to students at area schools. "This is what I do for these kids to give back." Dana's message is one of hope, courage and strength. Dana brings that message to wounded warriors through his nonprofit 501(c)(3), HALO for Freedom Warrior Foundation, which he founded eight years ago.
He raised $7,000 for the foundation's first Weekend to Remember (WTR) event that entertained 12 veterans, including wounded warriors. They hunted hogs from a helicopter and shared stories around a camp fire. The HALO events have grown over the years, and in 2015, the foundation hosted 30 wounded warriors, veterans and soldiers, and 20 distinguished guests including astronauts and prisoners of war.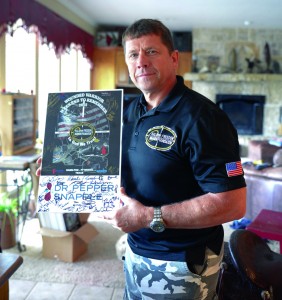 The attendees drove race cars in a NASCAR experience at Texas Motor Speedway, enjoyed evenings at Billy Bob's and Circle R Ranch and hunted hogs from helicopters. "Everybody needs to hear what our heroes have done for our freedom and their experiences. Why not throw in a little fun?" This year, Dana's HALO Foundation was scheduled to bus Weatherford students from Tyson and Hall Middle Schools to the Ninth Grade Center, where more than 4,000 were expected to attend. Dana and Team Fastrax planned to parachute onto the field, but the WTR event was cancelled due to inclement weather.
With support from sponsors such as Able's Sporting of Huntsville, Autobahn Motor Group, Dr Pepper and Patterson Dealership of Bowie, the foundation and the WTR events will continue to grow. "We can handle it. Like what's it say in the Bible? God will give you everything you can handle," he said. With 4,000 jumps under his belt and motivational speaking engagements scheduled across the U.S., Dana will continue to inspire others.
He has other plans, too. With a commercial aviation aeronautics degree from the University of North Dakota John D. Odegard School of Aerospace Sciences, Dana has flown everything from airplanes and helicopters to hot air balloons. As the first double-amputee helicopter instructor in the world, his dream is to own a helicopter. "I mean, who wouldn't want to fly?" he asked. "It's a beautiful feeling. It's freedom."
Written by Amber D. Browne.
Editor's Note: For more information, visit www.haloforfreedom.org.