ENNIS, TX — Craig Meier, a born and reared Ennisite, works as a full-time auctioneer in Dallas and Ellis County. However, these days he might be more recognizable as one of the stars of the hit TV show Heli-Hunter on the Sportsman Channel. "I've been hunting since I was old enough to walk and follow my dad," Craig said. "I've always enjoyed hunting. I like getting out in the woods and being in nature. It's a peaceful time. I also enjoy the challenge of it." Craig has experienced hunting many different species, including quail, dove and deer. "I remember hunting as a food source for us growing up," he said. "We ate a lot of venison." Nowadays, Craig sets his sights on a different target — feral hogs.
There's a good reason Craig didn't hunt feral hogs when he was young. "They actually weren't around when I was a kid," he recalled. Craig left Ennis in 1995 and moved back in 2001. In that time, many areas of Texas became overwhelmed with feral hogs. "That's how fast the hog population grows," Craig said. "Their reproduction rates are astronomical."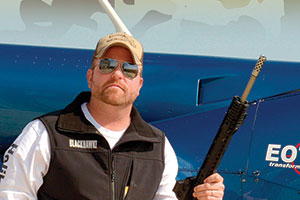 AgriLife Extension Service estimates, in 2006, feral hogs were doing $550 million of damage annually in Texas. Not only that, but feral hogs can cause injuries to livestock, pets and even people. "They can be very dangerous," Craig said, pointing out that people also hit them all the time with cars, causing even more property damage. The hogs are not an indigenous species, so they disrupt the natural environment. They also carry disease and pose a threat to endangered animals. Because they reproduce so quickly (the average sow can produce 150-200 young in her lifetime), it seems impossible to eradicate the population. However, Craig and his team have devised a way to at least make an attempt to control it.
Texas allows hunters to hunt feral hogs year-round. However, hunting hogs on foot or with a ground vehicle can be ineffective. The only other option on the ground is trapping. "Trapping can be good," Craig said. "But hogs become what we call trap savvy. They figure out what traps are, and they won't go in them, no matter what." In 2009, Craig heard that hunting from a helicopter can yield the best results. "A bunch of my neighbors got together that first year," Craig said. "We killed over 1,700 hogs from the helicopter. That was the first year I saw a difference."
He saw results that gave him hope that the land could be returned to its former state. "With regular hunting, in a group of 25 hogs, you're lucky to kill one or two," he said. "With the helicopter, I kill all of them. They can't get away." Soon, a law was passed that allowed Craig to turn heli-hunting into a sport. "The state was spending so much money trying to keep hogs in control," he explained. "This was a way they could take the financial responsibility off the landowners and place it on the shoulders of the willing,
the sportsmen."
Craig joined forces with Terrell Coleman of Longview in 2011. Their methods gained national attention when they took several television hosts hunting in a helicopter. "The ratings actually broke a lot of the records for outdoor television," Craig said. "We did it a second year, and the ratings were even better than the first year." Because the guest episodes were such a hit, the Sportsman Channel approached Craig and his team about doing their own show. Heli-Hunter aired last summer with eight episodes, and a second season is in the works. Filming takes place in the Ennis area. When it was on the air, Heli-Hunter was the No. 1 rated show on the network.
Although the reaction to the show has been outstanding, it has raised some important issues. "There are some hunters who question if it's ethical. We get comments that say it isn't really hunting," Craig said. "The show is a great avenue to educate people on why we do what we do." He wants viewers to understand why the hogs need to be controlled. "The damage they do is extensive, and I think we've been able to control it in this area,"
Craig said. However, he knows there is no hope of wiping out the hog population for good. "We killed 4,000 pigs in three months last year. There were 4,000 pigs born in the state of Texas this morning. We're in no way winning the battle, but we have been able to control the numbers in certain areas where people are trying to make a living off the land." When the hogs are shot, they don't go to waste. Craig and his team collect them and store them for a charity called Hogs for a Cause, which processes the meat into sausage. "
They distribute the meat to needy families," Craig said. "We gave away over 25,000 pounds of processed sausage this year." Since hunting from a helicopter can be dangerous, all participants have to wear safety harnesses and go through training. The team doesn't hunt during deer season to avoid hunters on the ground. They always hunt during the winter, so the foliage is off the trees and visibility is clear. "We take a lot of precautions to be safe. We're accustomed to shooting around roads, houses and cattle. I raise cattle myself, and we are mindful of people's livestock," Craig said. They use shotguns for safety reasons. "Shotgun bullets go 75 or 100 yards and die," he pointed out. "They aren't like rifl e bullets that can fl y off and go half a mile." Craig even developed his own shotgun, the TAC-12 A1, for use on the helicopter.
In the end, the results speak for themselves. "I can tell you fi rsthand as a landowner, this is the fi rst time we've ever found anything that actually made an improvement with the hog population," Craig said. Farmers throughout the area can reap the benefi ts as sportsmen get the once-in-a-lifetime experience of hunting.
Written by Callie Revell.