CEDAR HILL, TX — The parks and recreation building in Waxahachie has a new face — or rather several new faces. A welcome addition to the building, lead painter Aryn Dalton transformed the brick and stucco wall into a larger-than-life depiction of sports figures and symbols. Within the painting, sub-scenes create a unique design sure to capture the attention of visitors. Aryn, a Cedar Hill resident, has always loved painting. His grandmother first influenced him, allowing a 10-year-old boy access to her studio and supplies.
Learning from her expertise, he produced his first oil painting of a seascape. Painting and sculpture came easily to Aryn, but he also loved drafting. In his senior year of high school, he took a two-hour art class, a two-hour drafting class and study hall. At that point, his weekdays consisted of pretty much drawing all day. A Texas resident for 20 years, Aryn grew up in a small Arkansas town. Straight out of high school, he and some friends headed to the closest big city where he knew someone — Dallas. Although he had initially planned to move to Georgia and pursue a fine arts degree, at the last minute, he changed his mind. Also a musician, he wanted to see what might happen in that arena. For about a decade, Aryn toured around and worked odd jobs. Although they don't keep him busy 365 days a year, he has worked on 20-30 murals with them.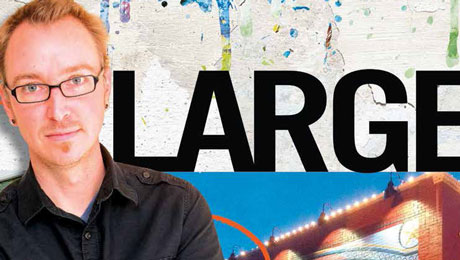 Sometimes his former employer gets busy and hires him for projects. In his spare time, Aryn works on personal pieces. A culmination of his love for painting and sculpting, he fills his art with symbolism in conceptual, abstract expressions capable of speaking to any person looking at it. Often, people with little or no art background see unique things in his work. Aryn's wife, Cheri, is a fashion designer. The couple share studio space in their home. With a 5-year-old daughter, Scarlet, Cheri has less time available for creating her masterpieces. Nevertheless, they are taking steps to fulfill the dream of eventually having a boutique business featuring hand-picked artists. Drafting skills enable Aryn to use dimensional design techniques when needed for a project. The ability to draw a design complete with specs, makes the process easier later. Producing art on a building offers challenges. Going from a smooth canvas to rough and sometimes canvas in a climate-controlled studio. Fortunately, he is meticulous in his work and gets things done, expecting the same from those he leads on projects. "You take issues as they come, jumping in with confidence in your abilities," he said.
All of Aryn's personal artwork has its own ideal attached to it. "Anyone can learn to draw. It's just practice. Art needs to say something," he said. Each piece starts with a concept — a visual idea in mind. Then the piece grows and evolves, sometimes completely changing to a new ideal. The end result may look nothing like he originally planned, but often more wonderful. "That's the fun in it," Aryn said. "Keeps it interesting." Recurring themes run between his work, stringing together his style and branding, yet keeping them one-of-a varying surfaces is only the beginning.
For the sports mural in Waxahachie, the team moved between brick and stucco. But the elements play a big part in the finished product. In Texas, about two months of the year are great for painting outside — and unfortunately, they are usually in the studio during those months. At 105 F, paint dries almost immediately, making gradient colors difficult to achieve. During cold weather, paint colors mix where the painter does not want them to combine. Aryn takes the adversity in stride. Regardless of any obstacle, the mural painting team must achieve a quality equal to that of painting on kind. The themes focus on relationships, life and death, or struggles to find who you are.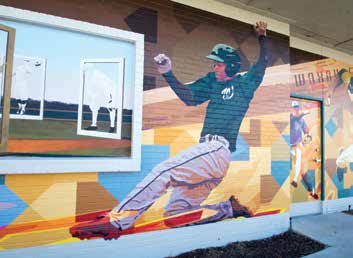 He tries to keep the themes broad, inviting viewers to see what is most meaningful to them. Leaving the interpretation open to some extent makes his work speak at different levels and distinctive for each person. Aryn incorporates the love of sculpturing into personal paintings. His paintings have texture, but also may include bits and pieces of metal objects or something else he found somewhere. An assemblage sculpture in his studio includes parts of three different trees. The trunk came from one tree. Branches from a second tree were painted to resemble bones. Leaves from a third tree, were painted black with the finishing touch of a symbol of eternity on the trunk. In the piece, Aryn captures the concept of rebirth. Although Aryn didn't make it to Georgia and a fine arts degree, he's learned well from working with other artists and honed his skills over time.
His path took a detour but turned out better than he expected. Much like his art, the road of life took turns that led him to paint large and widely share his gift.
Written by Lisa Bell.