CORSICANA, TX — She's never left Corsicana, because she loves it here. However, today's Corsicana is very different from what she remembers from her childhood. "We didn't have a car, so we walked everywhere," Gertrude said. "We'd make our own toys and play hopscotch. Every parent took care of everybody's children. Now, all the children are grown. People don't holler and wave like they used to." Nevertheless, Gertrude believes the character of Corsicana is still strong. "The town has changed, but it's not necessarily a bad change. The important things, family structure and taking care of each other, haven't changed." Gertrude rarely goes anywhere without being recognized or recognizing someone. "I know everybody and everybody seems to know me," she admitted. "Corsicana is a community where everybody seems to be concerned about everyone."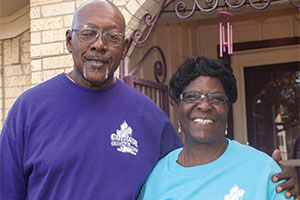 It's that concern that drives Gertrude to take action. Even though she's now retired, she still has a full daily schedule. "From the time I wake up in the morning, I'm on the go," she said. "I stay busy." Gertrude spends her time preaching and leading a Bible study at her church, Taylor's Memorial.
She also serves as a volunteer chaplain at the hospital and visits a nursing home every week to lead a Bible study. "It's all about serving people and showing them that I care, and the Lord cares about them," Gertrude said. "That's the most important thing to me now, making sure people's needs are met." She is a supporter and confidant to many in Corsicana, and she makes herself available at any time. "I never know when I'll get a call to go talk to someone, pray with them or encourage them," Gertrude said. "I'm here. I'm available. If you need me, call me 24/7. I will get there if you need an ear to listen or a shoulder to cry on." One of the main ways Gertrude gives back to the community is through her outreach ministry, which she has run for over 15 years.
Last year, she used family property to construct an outdoor basketball court that doubles as a meeting area. There, she hosts events to help those in need. In September, Gertrude led a drive for school supplies, which she then assembled into gift bags to distribute to children. She has also hosted spiritual revivals and a winter drive where she gave away food, blankets, coats and sweaters. One of Gertrude's favorite forms of community service is food drives, which she coordinates and funds herself.
"I don't allow anyone to pay me for anything," she said. "If I know there's a need, I purchase groceries with the money I can save and put back myself." Gertrude sets up tables on the basketball court and opens an "all you can eat" meal for anyone who needs it. "It's for the needy. It's for the lonely. It's for the ones walking the streets," Gertrude said. "We just talk to them and love on them. I just want them to know I'm available to them."
One of her food drives was called Meals Off Wheels, and she's planning another one called Come to Dinner. "I'm planning on making a big pot of stew and cornbread and letting everyone come eat until they can't eat any more," Gertrude shared. In hot weather, she has umbrellas she can set up to provide shade. She also arranges live music when she can. "I try to keep something going each month," she said. "And when we don't have something going on, kids can use the court to play basketball." Gertrude especially loves blessing others through the gift of music. "Gospel singing is my first love," she said, mentioning that people still ask for her gospel CDs she recorded in the '90s.
She visits a nursing home twice a month just to sing to residents who may be hurting or lonely. "When I first started singing at the nursing home, it was only a few people," Gertrude remembered. "Now, they have to push everyone all the way to the wall. A lot of them never come out of their rooms, but now they're coming out to listen to singing." Music has a healing power, Gertrude believes, and she uses her musical gift to reach out to those in need. "I think singing really comforts and warms the heart of people," she said. "If I'm feeling bad, I'll grab me a song, and before I know it, I'm feeling great."
As with every form of service, Gertrude knows the importance of sincerity. "It just has to be from the heart," she said. "If I put my heart in it, and I feel it, then you'll feel it, too. It's just another way to say, 'I love  you, and I care about the way you feel.'" Her time is dedicated to others because of her compassion and empathy. "When someone else is hurting, I'm hurting," Gertrude said. "There are so many hurting people out there who have no one. There's been a lot of pain I've experienced myself, and that pain gave me a passion to reach out to others and help them." Gertrude knows there are many who have it far worse than she does, but she believes God wants her to use her gifts for a purpose. "I'm blessed," Gertrude said. "I believe He blesses me to bless others, not to hoard it all for myself." Ultimately, she seeks to give what she considers the ultimate gift: love. "Love is an action word, and real love brings on action and compassion," she said. "If I can show love in one little space, I'm grateful for that."
Although Gertrude has won several service awards and has been recognized for her generosity, that's not her goal. "I'm not looking for a big name," she declared. "I just want people to be loved and know I love them. I don't want to just say it. I want to show it." In the end, it's all about her legacy. "When I leave this world, I want them to say, 'She showed me love,'" Gertrude said. "Love is my biggest motivator. Caring is my torch."
Written by Callie Revell.