The journey called life is filled with joys, complications, lessons and experiences. Based on their personal interests, aptitudes, desires and dreams, every person has the power to experience life on their terms and find their footing through trial and error. Essentially, this is the definition of self-discovery, and it's exactly how Angela Madison leads her life. Through the ups and downs of life, Angela has established herself as a positive, influential woman. Her journey has been an eventful one thus far, filled with many hurdles along the way. Angela takes great pride in her journey, as it has led her to a great understanding about human nature, character and perseverance in a fleetingly shifting world. "
The journey to get where I am now took so many detours, but I don't believe in saying I don't have any regrets in life," she stated. "That's cliché. I have many regrets, which have taught me many things, and in this space of my life, I'm grateful for that." Throughout her life, Angela has filled a diverse array of positions in public relations, publishing and broadcast media, some of which were beneficial while others were valuable learning experiences. Over the years, she has worked with famed rappers in Chicago, illustrious entertainers in Las Vegas and influential power players in Dallas. She has also authored books and research about the NFL, NBA and NCAA pertaining to marketing and reputation management. Essentially, Angela's work has been heavily focused on strategy, helping stars and athletes create and maintain positive, constructive images. Within her field, Angela's extreme love for sports only made the job that much more enjoyable. Angela is a die-hard Texas Christian University Horned Frogs football fan and a proud member of Cowboys Nation. She fully supports all of her North Texas teams. "Every fall I paint my nails Cowboys-themed and watch every game I possibly can," she admitted.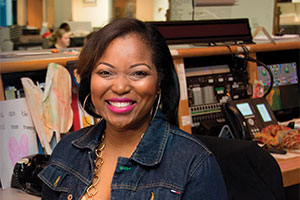 Further feeding her love for sports, she did sports radio in Chicago, before making a career change and relocating to Texas. But before all of this, Angela created IMBUE Symposium about 10 years ago. Imbue is a term meaning to inspire with a feeling of quality, and it embodies Angela's goal in life. Through presentations and workshops, she strives to inspire, educate and motivate individuals to successfully reach both short- and long-term goals in life. She has hosted countless sessions across the country, bringing in guest speakers and teaching strategies to create healthy public relations and imaging. An extension of sharing this positive branding was formed in 2013 when Angela and her best friend, Ardenia Gould, formed A2 Consulting, a small boutique firm specializing in public relations, image consulting and marketing.
This is simply another way for Angela to share her "whole being" beliefs in significant ways. "It isn't enough to be talent-focused in this world. A person has to be a whole being in order to be their best, in order to be truly successful." Therefore, Angela's goal is to help people realize their true potential through honesty and positivity. "I don't lie to myself with clichés," she stated, "and I feel if we were all original, deep thinkers, we would realize how damaging clichés can be." So, creating a character based on integrity and honesty rooted in one's deep desire is Angela's formula for success. However, it demands dedication and diligence because, alas, the most worthwhile things in life are not easy.
Angela knows this firsthand. She has reached her personal success only after enduring the difficulties that came along with it as she practiced her own theories for life religiously. After working for many years on various degrees in fields like kinesiology, strategic marketing and broadcast journalism from institutions including Hampton University, Columbia College-Chicago and Texas Woman's University, she was finally ready to take a major risk. She applied for an internship with WFAA TV, Channel 8, and it paid off in life-changing ways. Currently, she is one of five assignment editors for the news station, working the frontline of the chaotic and often frenzied breaking news coverage. Her job requires receiving news tips and leads, conducting follow-up research and deciding if the story moves forward or not.
While some stories are interesting to the small group of editors, Angela's task is to determine what is newsworthye nough to be aired, and if so, she sends out a crew to cover it. In essence, she is in charge of deciding the news. "I'm a competitor, and the pure nature of the job is about competition. If another station airs a story that I didn't know about or that I chose not to air, then that's my fault," she stated matter-of-factly. "But I love a challenge. That's what drives me." One of Angela's biggest moments was being a part of the news team that broke the story about a house, which was being demolished in Lake Whitney. She received a tip, and after some research, her instinct told her there was more to this story.
Once again, she took a risk, and once again it paid off. "It turns out a lot of fighting had gone on over the building of this house. It was such a trifling situation," she said. Because she followed her instincts, the team was able to uncover more than a simple house story. Ultimately, she uncovered truth and broke a story that ended up becoming a sensation covered not only by local stations, but by stations around the nation. Furthermore, Angela also hosts a weekly broadcast called Angela's A-List, where she shares family-friendly, free and iconic or definitively unique-to- Texas-culture local event information with her viewers. "I'm very specific and consistent with my criteria, because I want to share the best of the best with the people in the community." In every area of her job, she has been impressed by the amount of support she's received from her fellow co-workers.
She believes the powerful women she works with are second to none. "I'm surrounded by the most supportive and uplifting women in the industry," Angela confirmed. For her, this simply perpetuates her desire to promote positivity. At the end of the day, it isn't about meeting famous people or being on television — it's about making a positive, lasting impact in the world and in the lives of others. In all that she does, Angela strives to pour positive energy into the community while raising the bar in every aspect of life. By living life according to her dreams and desires, she is blazing her own trail and reaching her goals. "It feels good to be where I am in life," she stated, "because I know I'm on the right track. I'm exactly where I'm supposed to be."
Written by Sara Edgell.