WEATHERFORD, TEXAS — Romance can be discovered in many ways. Some may find it in simple gestures of love with a quick embrace or a stolen kiss. Others may enjoy an evening out or a romantic weekend getaway. For J.B. and Lori Gross, romance is found in their kitchen nearly ever y day, as they create and share scrumptious dishes together. "It's something we've liked to do as a couple since we first met," J.B. stated. Part of what drew Lori to J.B. was talk of his interests in cooking and entertaining. They were introduced to each other on that premise by a mutual friend. "When we first started dating, we probably went out to eat two or three times, and then we always cooked at home," Lori recalled.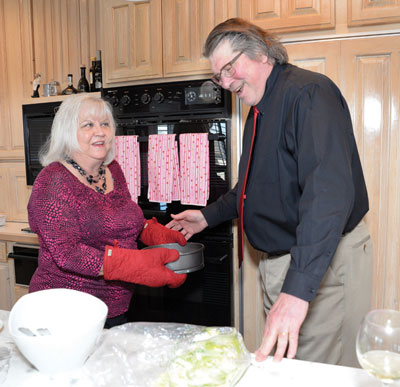 When they go out to eat, they often get ideas for dishes to try at home. J.B. and Lori have a knack for deciphering what ingredients are in a dish simply by tasting it. Their love of food stems from their childhoods. Lori's mother, Gwen Kieley, was a great cook and enjoyed baking. Her father, Don Kieley, enjoyed entertaining guests. "I can remember my dad doing brunches with Bloody Marys and sausage balls," she said. J.B.'s mother, Lois Gross, was a caterer and also enjoyed entertaining guests at home. His father, Birney Gross, always helped out, so J.B. learned early it was OK for a man to be in the kitchen. When J.B. first met Lori's family, he made brunch for them at her Dallas condominium. The spread included dishes ranging from casseroles to blueberry muffins. "My brother said, 'Oh just wait. If you ever get married, he won't do that,'" Lori grinned. However, that hasn't been the case. J.B. continues to excite her with new dishes to experience and old favorites to enjoy.
Lori met J.B.'s parents as they hosted nearly 60 people for their 45th wedding anniversary celebration. "She said, 'Hi honey. Nice to meet you,' handed me a tray and asked me to walk around and serve the guests!" Lori laughed. Over the years, J.B.'s mother passed down beautiful serving dishes, china, silver and, of course, family recipes. They've collected hundreds of recipes over the years. Many are kept in a box, but more are saved on the computer. When his mother became ill, J.B. began to organize her recipes. "I had the whole room covered in stacks of recipes," he said.
She passed away the next day. J.B. and Lori have been married for 20 years. They carry on the tradition of entertaining friends and family. Together, they've hosted large gatherings and intimate dinners. One year, they donated a six-course meal to be auctioned at a local fundraiser, and then hosted the highest bidder at their home. Themed dinners are their specialty. "Lori has the imagination. She comes up with ideas for the menus, and I help." For the past seven years, they've been part of a monthly dinner club. Membership has fluctuated over the years, but the Grosses and Bill and Lisa Wathen have participated consistently. Every other month, the Grosses host the Wathens for a six-course meal, and the Wathens host the other months. The meals include an appetizer, soup, salad, entrée with side dishes, dessert and a cheese platter to end the evening.
The dishes are paired with wine. For each meal, Lori creates a customized menu, which she prints on themed paper. Many of the dishes are made ahead of time. Cooking times are written on their copy of the menu to ensure that each dish is ready to eat as scheduled, although, occasionally, the timing is off. They clean the kitchen as they cook and make time to visit with their guests. Menus include mostly poultry, fish and shellfish, because J.B. and Lori don't eat beef and only occasionally eat pork. That doesn't limit the quality of the menus. "We've never had the same thing twice at either house," she said.
Lori would like to find a sign that reads Friends Make a House a Home. "We'd be just as happy to have a group of people and do a casserole and a salad." They've also hosted parties with a hired caterer or have asked their guests to bring dishes to share. "The whole idea is getting friends together," J.B. said. "We have a good time." Creating and sharing delicious dishes seems to run in the family. "My daughter and her husband are great cooks. J.B.'s son is a great cook. Everyone in the family is a great cook," Lori boasted.
Their 10-year-old twin grandchildren, Gavin and Kieley, also enjoy the art of cooking. "My daughter came back from a run the other day, and Kieley brought her a tray with a flower on it and an egg white omelet with spinach and cheese," she shared. Fresh ingredients seem to make their way into most of the Grosses' dishes, but they have an entire drawer full of dried herbs, too. Vegetables are a staple in their meals. J.B. enjoys making shrimp scampi with garlic and pesto or grilling fish on a cedar plank. Lori recently began incorporating en papillote, or cooking in parchment paper, into their meals. "We'll put wilted spinach on the bottom, then the piece of salmon, topped with caramelized onions.
You fold it all together so when you put it on people's plates, it's a complete meal," Lori explained. "We'll cook just for the two of us. We'll also bring food to the office and share with the people who work with us," she said. J.B. and Lori own J.B. Gross Insurance, where Lori works as an agent. In their free-time, J.B. plays tennis, and Lori is involved in a monthly Keno group. They enjoy their greenhouse when time permits. Every Sunday, they sit down to make a grocery list of items needed for their weekly menu. "We're not gourmet. We look up recipes on the Internet or pull them out of a magazine or our recipe box," J.B. said. "Things can be very simple."
Written by Amber D. Browne.