GRANBURY, TEXAS — Early in 1963, Betty Smallin found herself in California, a young mother and housewife who didn't know anyone in the area. Fortunately, the family next door moved in about the same time. The two young mothers shared a common malady — neither had local friends. The neighbor told Betty about a new game she learned to play. The two women decided Mah Jongg gave them a perfect vehicle to meet other women. Betty headed to the store and purchased her first set, spending $28. They played that evening. "It was so exciting we just couldn't wait for the next Monday," Betty said. As they played hands to make the right combinations with the tiles, Betty didn't want to lose her place on the directional card. She put her index finger on the line and kept it there. Intent on the game, she didn't realize until they finished how hard she had pressed down.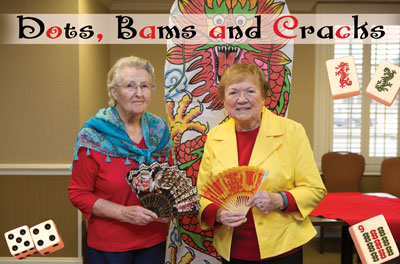 She trudged home happy, but with a numb finger. "It still felt weird late into the evening," she said. She played with the neighbors for years, members changing as some moved away or life forced others to stop playing. Later, Betty became part of a group that included two sisters from New York. Their mother had taught them to play at 7 and 8 years old, so if her group couldn't get together for any reason she could still play.
Far away in Ohio, in the late '60s lived a young housewife named Marion Yeagler. Some of her neighbors invited her to play the exciting game of Mah Jongg, willingly teaching her the rules and moves. She quickly grew to love playing, which she did until moving from Ohio. When she came to Texas, her Mah Jongg tile set took a place on the closet shelf, remaining there for 20 years. After her husband passed away, Marion decided she should get the set out.
In the same way she had learned, Marion invited some friends to come over and she taught them the art of her beloved game. The small group grew, eventually becoming an activity for the Senior Circle. Dots, bams and cracks form the suits of the tiles, much like card suits. With many rules and annually changing hand requirements, avid fans stay interested, often playing for decades, while teaching friends and family members the game as well. Why do these women still play the same game after more than 50 years? "We love it. It's challenging," Betty said. "The more I play, the more I want to play the challenging hands," Marion remarked. ?
The game provides a fun way to socialize, but also keeps minds active. "Most people only play Mah Jongg on days that end in Y," said Doris Moore, chair of The Tiles That Bind Committee. Although she moved to Fort Worth and found groups of players there, she returns to Granbury and maintains friendships forged over small tiles with interesting symbols.
The game includes benefits far greater than a mere social outlet. Because the game requires a great deal of thought, focus and attention, it can increase cognitive abilities. In some cases, people with traumatic brain injuries who have played the game on a regular basis saw improvement. The constant thinking involved in the game also helps stave off Alzheimer's. Because of its complex nature, new players don't learn to play in a single sitting. According to Betty, Marion and Doris, new players should anticipate about a month of playing once or twice each week before fully understanding the game.
The exact beginnings of Mah Jongg aren't known. However, most believe it originated in China — perhaps around the time of Confucius. Joseph P. Babcock, an American resident of Shanghai, brought the game to America in 1920. He coined and copyrighted the term mah-jongg and produced a simplified set of rules. Using English translations for the tiles and adding index letters and numbers familiar to card players, Joseph successfully promoted the game. The popularity grew exponentially while he imported the first sets. Within a decade, demand for new sets dwindled, but the Great Depression prompted a renewed interest. Over the years, players continued to teach others.
In the '50s and '60s, the game became popular with housewives looking for social outlets and ways to make new friends. Today, Mah Jongg is again gaining new fans. Players seek out local groups and clubs, but also participate in tournaments, Mah Jongg Madness days and even special Mah Jongg cruises.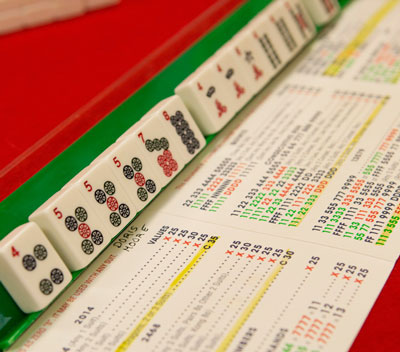 In Granbury, the last Tuesday in February marks the date of a local Mah Jongg Madness event celebrating the Chinese New Year. Doris Moore, Wanda Strain, Carolyn Neill and Donna Thorstenson form The Tiles That Bind Committee. They join forces to plan and implement the one-day event. Starting at 9:00 a.m., Mah Jongg players will descend on the clubhouse at Pecan Plantation. At 10:00 a.m., they will begin the first of two rounds, each lasting one hour. After a break for lunch and the drawing of door prizes, two more rounds of play will ensue, continuing until the day ends around 4:00 p.m.
The Granbury Mah Jongg Madness event provides players a fun day and an opportunity to win some great door prizes. Surprisingly, the players get most excited over winning the return of their $25 entry fee. In addition to many local players, people from Fort Worth, the mid-cities, Weatherford, Tolar and other locales come for the annual event. While the players take the games seriously, they approach it with less solemnity than tournament attendees do.
The event in Granbury launched in 2011. Having 44 people the first year thrilled the organizers. In 2014, the committee allowed 100 spots, which filled and left others on a waiting list, hoping for a spot to open. The committee keeps attendance at 100 maximum.
Although not required, oriental attire dots the tables. From kimonos and silk tops to hats or chopsticks as hair accessories, players get in the mood for a festive day. Each year, the committee tries to match the symbol of the Chinese New Year. This year, the committee will creatively incorporate sheep as part of the decor.
Meanwhile, Betty and Marion continue playing and teaching others. "If you want to play, you have to teach someone to play," Marion said. "That's the situation I found myself in. When you move, you lose contact with fellow players." Groups change as members move or quit playing for different reasons. Both ladies are more than willing to teach anyone interested in learning.
The groups at Pecan Plantation and the Senior Circle are two of many groups playing in Granbury. In some cases, fans of the game carry on the tradition of inviting neighbors to learn. As faithful players teach about dots, bams, cracks and all that goes with them, Mah Jongg lives on.
Written by Lisa Bell.