OVILLA, TX — B.J. Tucker lives in Ovilla with his wife of 27 years, Amy, and their five children: Chris, Amber, Brandon, Alyssa and Kyle. He also enjoys his career in IT sales. He works out six days a week and adheres to a clean diet. B.J. is a runner who has completed many marathons. Looking at him now, it's hard to imagine how far he has come in the past five years.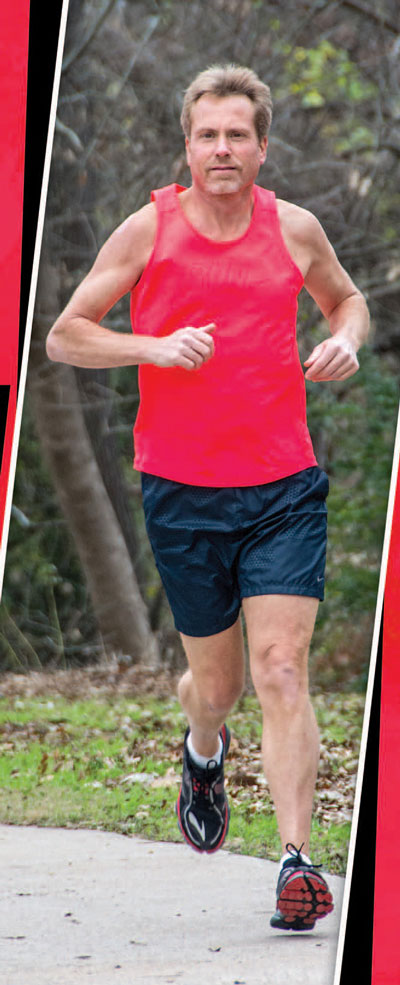 B.J. started training seriously as a runner in the mid-'90s. He had run competitively in high school and decided to start running again. He joined a training program and set his sights high. "I thought, OK, I'll be one of those bucket list types. I'll run a marathon," B.J. said. "And after I ran my first one, I thought, This is great!"

B.J. ran three more marathons, but then he stopped training when life began to get too busy. "I just let life happen," B.J. admitted. "I got caught up in the kids and didn't care. I knew better — it wasn't a knowledge issue — it was a willingness issue." Before he knew it, he reached an all-time low. "I was 75 pounds heavier than I am now," B.J. said. "The only running I did was to the fridge."
Three-and-a-half years ago, B.J. decided to make a change. "There wasn't a health scare or compelling event," he said. "Eventually, I just got tired of being tired. I figured there had to be a better way to live that would, hopefully, make me happier. As the kids got older, I wondered, Will I be around for them? B.J. knew slow, steady progress would be the most manageable. "I decided I wanted to make small, incremental changes," he said.
Surprisingly, the first changes began in the kitchen, not at the gym. "I didn't go back to the gym until after I lost all the weight," B.J. explained. "I didn't use the gym to lose weight. I used diet and nutrition first." Inspired by his daughter, who wanted to race with him, B.J. took nine months to prepare for another marathon. During this time, he chose a path between vegetarianism and veganism, though he dislikes those terms. "
At that point, I decided to give up all meat and most animal products," B.J. said. "I call it plant-powered. This is what fuels me and makes me feel my best. At the end of the day, it's about eating real food. It helps me not have as many injuries and go farther. That's what's made me successful."
However, his success has not come without obstacles. "The hardest part was doing it on my own," B.J. said. "The changes I made were for me. Everyone was supportive, but I was doing it on my own."
To complement his new lifestyle, B.J. slowly worked an exercise routine into his training regimen. He knew exercise would ensure his dieting wasn't in vain. "I went back to the one thing I've always loved, which is running," B.J. said.
He now runs three to four days a week. He goes to the gym four days a week and combines aerobic activity with strength training. He also practices yoga and makes sure to take a day of rest each week. He never lets his routine get too intense or overwhelming. "It's about balance," B.J. said. "I go to the gym bright and early in the morning. I'm up at 4:30, so I can get that out of the way. For long runs, I'm up as early as 4:00 a.m."
B.J. enjoys a variety of sports, but his main focus is long-distance running. After getting healthy and completing his first marathon, he was hooked. "Within the next 14 months, I completed four more marathons, two of which were back-to-back in two days," B.J. said, adding that he considers finishing the double marathon his proudest moment so far. "I had the foundation and the nutrition to get me through. When some people become athletes, they don't focus as much on the nutrition. I'm just the opposite. The nutrition carries me through the workouts."
He has also completed his first "ultra" race, a 50K run. Last year, he participated in the Capital to Coast Relay from Austin to Corpus Christi, where he ran 38 miles in two days. During long races, he plays loud music and tries to stay focused. "Focus on the outcome. The pain is temporary," B.J. advised. "The rewards will certainly be worth it." B.J. doesn't run long races for speed and doesn't consider himself to be a fast runner. "Long-distance running gives me a lot of time to sort through my thoughts and focus on my goals," B.J. said. "For me, it's very relaxing. It's what brings me clarity and allows me to enjoy this journey."
B.J. tries to offer advice to others when he can, especially if they are about to start a similar fitness journey. "It's just been about making the right decisions and staying on the right path," B.J. said. "The best advice for anyone is to focus on real food. Don't make it complicated. People get caught up in getting enough protein, avoiding fatty foods or fad diets. There are no quick fix solutions. Don't try to lose 50 pounds in a month. It took me a year to get the weight down."
To make it easier to offer advice, B.J. has taken his message to the Internet. "I get a lot of questions," B.J. said. "People will see me and say, 'You're not the same guy you used to be. What happened?' So, that inspired me to start putting things in a blog, because people want the information." B.J. uses his blog to answer questions and provide guidance to others. B.J. has also participated in several podcasts and hopes to publish an eBook to help others.
B.J. has come a long way and shows no signs of slowing down. He keeps running, and his goals keep growing. "I want to be a lifestyle coach to help people become healthier, and I'd like to start my own podcast," B.J. said. "I'd also like to run a 50-mile and then a 100-mile race. Those are certainly in my future. I want to run until I'm 100."
Written by Callie Revell.