WAXAHACHIE, TX — Ralph Cooke has long been a hidden treasure in Waxahachie. His friend, Brown Street Church of Christ elder Glenn Perryman, believes it is time for that to change. "Ralph recently celebrated his 90th birthday," Glenn said. "He's a true craftsman and artist whose work has rarely been seen beyond his family and friends. By trade, he was a carpenter yet so much more, and it is truly an honor to know him."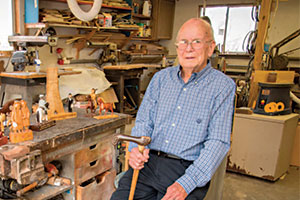 The works Glenn refers to are Ralph's wood carvings. Some, like his musical instruments, are exquisite. Others are whimsical, primitive or intricate. All are simply breathtaking. His subjects range from stringed instruments, bowls and plates, birds, horses, children and historical figures to word-by-word Bible verses and historic speeches. He gets his ideas from things he sees. It may be something he's seen in a magazine or, sometimes, an idea that pops into his head. "Then, sometimes, the wood tells me," Ralph shared.
Ralph's workshop is behind his house. He goes to it every day. On the way, he passes a picturesque boulder-bordered pond with a waterfall and wooden water wheel. "It used to be a ditch filled with cans and stagnant water," he said. "I cleaned it, put a dam across one end and installed a pump to pull water from the creek." The water is now clean, the waterfall soothing and Ralph's handmade water wheel is unquestionably the perfect touch.
Stocked with tools, boards and beams, the large, dark and low-ceilinged workshop speaks of days, months and years of concentrated work. "Most of my wood comes from scraps or old logs," Ralph explained. Except for the ebony head of his walking cane on which he's carved the Waxahachie Indian chief, Ralph uses mostly Texas-abundant walnut, ash and boxed elder.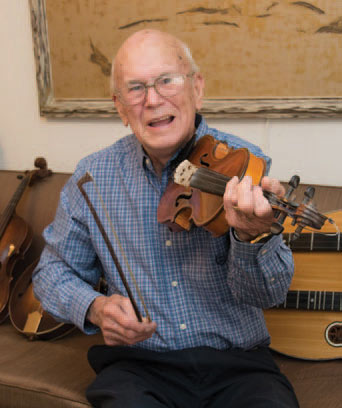 Carvings line a shelf above his main workspace. Two are easily recognized as historic Americans. "I saw an illustration of Abraham Lincoln delivering a speech," Ralph said. He was inspired to carve a depiction of President Lincoln in the same stance as the illustration and, amazingly, to etch the entire Gettysburg Address into the background. After completing Abe, Ralph remembered Robert E. Lee as one of America's smartest military men and proceeded to do a carving of Lee on his famous horse, Traveler. On another day, in answer to a special request from a granddaughter (one of his six grandchildren) to make something for her, Ralph looked at a calendar, saw a picture of children in a garden and replicated a carving just for her.
Apart from figures, Ralph also crafts finely fashioned bowls and plates by combining little right-angled pieces of walnut, mahogany and maple into intricately glued and lathed patterns. He also creates realistic horse and bird carvings that do justice to Mother Nature. One day, the workshop cat abruptly stopped, hopped up on the table, stared at and smelled a recently carved bird to assess it as possible prey.
Ralph's father loved music and, as a teenager, Ralph and his brothers had a bluegrass band. "Two of my brothers still play," he said. "I play some on the fiddle and dulcimer." So far, he has made six dulcimers, five mandolins, three fiddles and a ukulele. "I had a real pretty piece of wood that wasn't big enough to make anything but a ukulele," he smiled. One dulcimer is double-necked and can be played by two musicians at once. Ralph even made a custom case for it.
Seventh of 12 children, Ralph grew up on his family's farm between Ennis and Waxahachie. "I've lived in Ellis County all my life," he said. For him, wood carving started when he was about 10 years old. "Like my daddy, I'm kind of a jack-of-all-trades," he grinned. "That's the way it was back in the Depression. If you needed something, you figured out how to make it."
Making things from wood became his direction and passion. He started building cabinets in high school wood shop and, whenever possible, watched and listened to experienced carpenters. "I learned mostly by seeing," he admitted.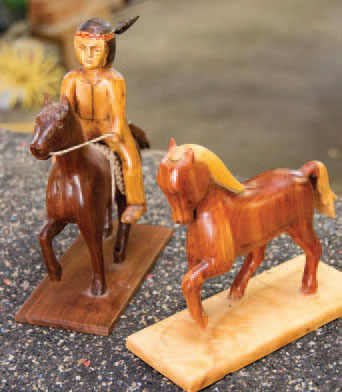 When it was time to earn a living, Ralph became a carpenter. For many years, he built houses all over the county. "Carpenters were very different then," he explained. Before standards, codes and housing developments encouraged tradesmen to diversify and made contractors necessities, a carpenter could largely be a one-man show. "I would cut the weeds, lay out the foundation, put up the walls, make the cabinets and basically build the house," he shared.
In fact, Ralph built the home just outside of Waxahachie where he and his wife, Juanita, lived for 36 years and where their two sons grew up. Seventeen years ago, he and Juanita moved to a home next door to their youngest son and his family and, naturally, Ralph set to work. "I turned the garage into an extra room and added a new garage," he said. He also refinished the kitchen cabinets and added an island.
More than 54 years ago, a mutual friend of Ralph and Juanita's, Wanda Pindely, arranged for the two to meet. His first wife had died three years into their marriage, leaving Ralph with an infant son. "Three years later, my family and Wanda decided I needed help, so they got busy," he grinned. "Juanita had grown up in Maypearl, but she was a telephone operator so I had to go to Dallas to get her."
Today, his and Juanita's home is a picture of comfort and beauty. Most of the furniture was made by Ralph — including a large walnut entertainment center crafted from a tree that had to be removed from his church grounds. There's also a coffee table, cabinet, desk, headboard and a stunning cedar-lined walnut hope chest. "I'm most proud of the chest," Ralph said. "The wood is cut into pieces and inset." He was only 15 when he designed and made the chest for a brother and his wife.
When not in his workshop or at home with Juanita, Ralph can be found at Brown Street Church of Christ managing the Care Center two days a week. "He was a church elder for many years," Glenn shared. "Now, Ralph operates the Care Center dedicated to distributing food and clothing to people in need."
Beginning with a passion for the art of carving, Ralph ultimately became a carpenter to provide for his family. When the time arrived for him to forgo hard carpenter work, he returned to his art. "I can't get it out of my blood, I guess," he smiled. Surely, the treasures of this hidden treasure now stand ready to be shared.
Written by Carolyn Wills.