BURLESON, TX — For those who love the sport of tennis, the pop of a ball against the pavement and the squeak of shoes moving across a court are exhilarating sounds. Nothing compares to the intensity of a fast-paced game, and getting older doesn't quench the thrill of winning a match.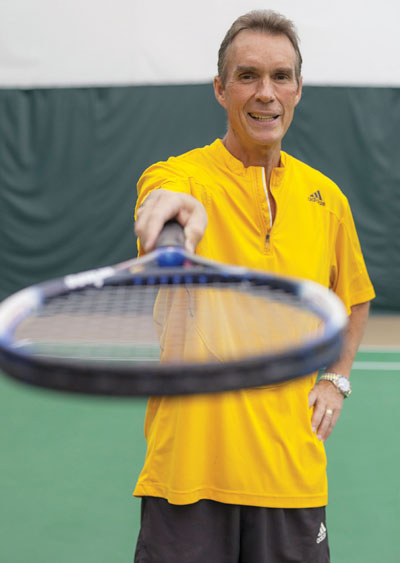 KC Miller learned to play tennis as an 11-year-old boy at Colonial Country Club in Fort Worth. At the time, legendary tennis player Bernard "Tut" Bartzen served as the head tennis pro. KC had the privilege of learning from one of Texas' finest players.
Highly ranked during his middle and high school years, KC was among the first recruited class when Coach Bartzen joined the staff at Texas Christian University. KC continued playing throughout his college years, often teaching at tennis camps for the summer months.
KC realized he wasn't good enough to play professionally, and although he enjoyed coaching students, he didn't see that option as a career choice. Instead, he went to work for a trucking company and, years later, began his second job and a 25-year career with Alcon Laboratories. Work and life limited his time for playing tennis until around 1994 when he picked up the sport again.
Following a corporate merger, KC had a decision to make — early retirement or a different job within the company. He opted for retirement, and at 58 years old, he enjoys every day. Still competitive, KC works out daily. A former TCU teammate invited him to play on a Dallas tennis team in the USTA Super Seniors League for those 55 and over. KC joined the team. After a brutal season of winning matches against six Dallas teams and taking the State Championship over two Houston teams, they represented Texas in the National Championship at Surprise, Arizona. Out of 16 regions, KC's team won the title. "More than 3,000 members in the leagues — we were the last six standing," he said. What seemed like no big deal suddenly became enormous.
While he enjoyed the competition, playing during the 2013-2014 season also gave KC an opportunity to see old tennis buddies. Some of the same people he played against in college participated in the national event. However, he admits playing the game now isn't quite as easy as when he was in his 20s. At the same time, he also finds it more enjoyable. During high school and college days, he spent hours on the courts daily to fulfill requirements. Now, he spends hours on the courts coaching and playing for fun.
"Tennis is truly the sport of a lifetime," he said. "You can play as long as you can walk." KC tries to stay in shape. In an over 55 league, no one plays singles. Even playing doubles can be dangerous for someone who isn't healthy. Physically demanding, the many years of tennis left KC with an arm that pops and sometimes aches. He pointed out the trouble spots and jokingly said, "I just need a new right arm."
KC grew up in Fort Worth, attending Paschal High School. When a mutual friend introduced him to his wife, Joey, 17 years ago, she lived in Burleson. He sold his home and moved. They still live in the same house. A 900-square-foot room addition became a massive blessing for their daughter, Mallorie.
Since retiring about a year ago, KC not only has time for tennis and other sports, but he can also spend more time with his family. His oldest son, Kleber Claude V, lives in Dallas but still spends time with his dad and grandfather at sporting events. Five generations of sharing the same name and as avid TCU fans, the Miller men love all sports. Although the senior Miller, at 90 years old, still practices law, he can always find time for a TCU game.
KC and Joey have two teenage children living at home. Mallorie and Noah are both autistic and provide more challenge than any tennis opponent ever brought to the court. "Joey is the real trooper in the family," KC said. "She has dedicated her life to the kids, trying to find a cure and make their lives better."
From early in Mallorie's life, Joey spent the majority of her days with the kids while KC worked hard to cover expenses. Fortunately, his parents and others have helped with the kids throughout the years. Nevertheless, one of the two parents always stays with the kids. Since retiring, KC has more availability at home, so Joey can get out and enjoy time alone and with friends. She recently began attending dog shows with one of their pets. They have also acquired a horse, not only as a hobby for Joey, but also for their children to enjoy.
In spite of the challenges, KC loves spending time with the kids. "We know very little about the brain," he said. Trying to figure out what Mallorie and Noah need isn't always easy. After 17 years, KC and Joey have a strong marriage. They sometimes sneak away for lunch while the kids are at school. Joey supports KC's sports, and now that he's home more, he's helping her find new interests as well. While searching for another position within his career field, KC keeps it a priority to stay in Burleson, near family and services for his children with special needs.
During the week, KC teaches tennis at TCU. He works with students who want to improve at the high school level or perhaps in preparation for college sports. He enjoys working with kids, getting to know them and learning new techniques for playing the game he loves. Playing a practice match fuels his competitive nature. He likes seeing if he can still hang tough with someone less than half his age.
Early retirement gave KC a chance to pursue what he really loves — coaching tennis. He sees it as a blessing, allowing him to spend time doing what he considers fun, not work.
In the future, he dreams of offering tennis lessons in Burleson. He learned from one of the best, and he wants to share his knowledge and skills with local students. He plans to offer high-quality, yet less-expensive private or perhaps group lessons. For KC, fulfilling his plan represents the ultimate dream job. He sees how much he always loved teaching and now has a chance to make it a new career.
According to KC, tennis has changed over the years. Kids have many more distractions vying for their time. As he shares his passion for the game, he hopes to see more students join in his retirement blessing.
Written by Lisa Bell.