WEATHERFORD, TX — Less than two years ago, Toby and Baily Mize hopped on a plane for Haiti to help children living in poverty. The couple had been supporting the cause financially through Back to Life Ministries for about six months when the opportunity arose for them to make the trip in March 2013. "We have a joke between us that neither one of us really thought about or prepared too much for that trip. All of the sudden we woke up, and we were on the streets of Port Au Prince. We were like, 'We're in Haiti. How did we get here?' More or less, I feel like it was the Lord's leading," Baily shared. Now, Toby and Baily are leading others to Haiti to support a rural mountain community, full of life and joy.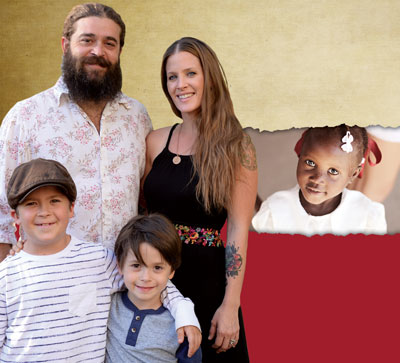 Since their first trip to Haiti, the Mizes have returned about half a dozen times. "We have built relationships with these people," Toby shared. "They don't have anything. They're very loving. They love each other and anyone who comes in."
In 2011, the McKinleys of Weatherford founded the stateside, nonprofit organization, Back to Life Ministries, after adopting two children from Haiti. The ministry partnered with an effort established in the village by Haitian pastor, Bledney "Nahum" Joseph. Toby and Baily met Pastor Nahum during their first trip to the country. "Hearing that man talk, and learning what was in his heart drew us in. It solidified the deal that we were supposed to be a part of this," Bailey stated. Pastor Nahum established a church and school before American support was involved. Pastor Nahum and his wife, Vena, have six children of their own and opened their 1,500-square-foot home to 17 orphans.
In March 2014, Pastor Nahum traveled to the U.S. with the Mizes to speak on behalf of the children in the village. The mood was positive, but things would soon take a turn for the worse. The pastor had a stroke in Weatherford just two days after his arrival. He was hospitalized in the Texas Health Harris Methodist Hospital Fort Worth Intensive Care Unit for two months. He was left paralyzed and unable to speak. Pastor Nahum has made progress since March, but he's still unable to walk by himself and struggles to communicate. "He came here to speak for the orphans, but then he was unable to speak," Baily shared. Because of Pastor Nahum's unfortunate incident, many more people heard about the cause. "Over the last year, people's interest for the nonprofit has exploded. You can see how God used it for good."
"We got involved at such a weird time," Toby said. "I couldn't just walk away knowing there was this huge village of people relying on this man and this ministry. They are like family." Toby now serves as president of Back to Life Ministries and of the new board. Baily is not on the board, but she organizes the finances, sponsorships and trips abroad. Many others play significant roles in keeping the nonprofit functioning via volunteering, sponsoring and praying. "The Haitians trusted us to keep it going," Toby shared.
And, the Mizes have kept their word. "It's not just us. We wouldn't be able to do everything on our own," he said. Many local community members periodically travel to Haiti with ministry representatives or support the organization through donations. "This area has a lot of ties to Haiti."
Because there is no postal system in the Haitian village, each member of the team who travels to Haiti takes two 50-pound suitcases full of food and supplies. During one trip, a bag of baby formula fell out of a suitcase and was snatched up by three local children under the age of 4. They were found on the steps eating the dry formula with their hands. "It's was like Fun Dip to them," Toby shared. Although they bring necessities, the teams also bring sweet treats for the children. "A lot of times, they'll pick the beef jerky over the candy. They still like the candy, though," Toby grinned.
The children attend school in an open-air, pole barn during the week. Weatherford Christian School has partnered with their Haitian counterpart as a sister school. The WCS students hold drives for donations, and each class sponsors a child through the ministry's Take a Hand program. Supporters can sponsor a child through the program or offer help in other areas.
An anonymous donation has allowed crews to begin construction on a new, 5,000-square-foot orphanage in the village. The orphanage, when completed, ??????will house children and include sleeping quarters for Pastor Nahum and his family, teachers, guests and volunteers. "In the past, we tried to take tents to sleep in when we visit, not to burden them more in their cramped living space, but they say no. They can give you something to eat, and they can give you somewhere to stay. They are very hospitable and very giving. You feel terrible about that, but they won't have it any other way," Toby recalled. "They are always full of joy, all the time, with what we would call absolutely nothing," he said.
"That just proves you don't have to have things to be joyful," Baily said. "I've learned we can go and aid the poor, but we are learning so much more from them."
Toby and Baily have been married for nine years, but they've known each other for 15. They became friends and began dating once Baily graduated from Weatherford High School. Toby then went off to college but returned to the area and earned an associate degree from Weatherford College. For the past eight years, he's worked as senior groundskeeper at Chandor Gardens. Baily is a professional photographer and also paints portraits and murals.
Toby and Baily would one day like to travel to the Haitian village with their own children, Tennessee, 8, and Tzion, 5. Through their parents' volunteer efforts and their class' sponsorships at Weatherford Christian School, the boys already have an insight into helping those less fortunate.
Although much of their time is spent working and spreading the word about Back to Life Ministries, Toby and Baily try to find time to enjoy the simple things in life. They enjoy hiking outdoors and camping with their children. The couple is also involved with their church, Church in Peaster. Toby sings and plays guitar in the church band. The church also provides space for Back to Life Ministries to store donations.
The Mizes' families are lifelong Weatherford residents, and their ties to the community have helped get the word out about Back to Life Ministries. "People really care," Baily shared. "It doesn't matter where you're from, they are going to care about you."
Written by Amber D. Browne.