ENNIS, TX — Cathie Morales is a born and reared Ennisite. After graduating from Ennis High in 1975, she and her sweetheart, Trent, married, and he attended Texas A&M University. Soon, they moved back to Ennis, where they brought up their children, Kyle and Calleigh. Cathie currently serves as president of Prosperity Bank in Ennis and knows there is no place she'd rather be. "There's just nothing like this small town and the caring people," Cathie said. "It's great having those relationships. It's a big family."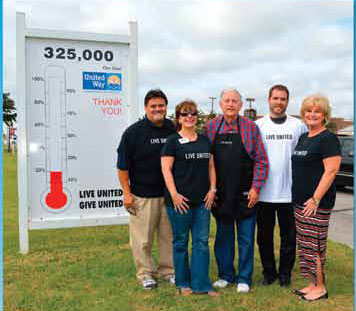 Because Cathie loves Ennis, she enjoys giving back to the community by volunteering her time with a number of organizations. "I've been on quite a few boards for several years," Cathie said, mentioning her current work for A-CROSS and the Golden Circle Activity Center. "And I've worked with the United Way for 13 years." Cathie has devoted her efforts to the Greater Ennis United Way, because she believes in its cause. "The United Way is my passion," Cathie admitted. "I like to serve. I like to help people. I love being on the United Way board, because we can make such a difference." Her duties as president include overseeing meetings, helping organize annual campaigns and networking with volunteers.
The Greater Ennis United Way provides funds to local organizations that have a positive impact on citizens' welfare. "United Way's official mission is to improve the quality of life of all people by responding to priority health and human service needs," Cathie said. "And we do that by gathering and distributing resources in an
efficient and accountable manner."
Ennis didn't always have its own United Way, being originally under the umbrella of the United Way of Dallas. By becoming the Greater Ennis United Way, all efforts are now focused on the local community. "That was really exciting to me," Cathie added. "I think that encourages people to want to give, because their money stays here."
Every year, the United Way raises funds through an annual campaign. "We start every August with the kickoff," she pointed out. "We go to different businesses where we talk about the United Way, what we do, and who we help. We are fortunate to have a lot of industry here, so we have volunteers that present our program to the employees of these companies. The employees have a pledge card, and they make monthly donations from their paychecks. That's how we raise the majority of our money."
Cathie is always touched by the willingness to give, particularly by those who can't give much. "Some people don't make a lot of money, but they still want to contribute," Cathie explained. "A lot of them have personally benefited from the United Way." This year, Cathie and her team have high hopes for the success of the campaign. "Our kick-off was great," Cathie enthused. "We had a good turnout. All our industries are on board to help. It's just unbelievable."
The campaign goal this year is $325,000, and Cathie is confident it can be reached, if not surpassed. "We were really close last year, but this year we need to make our goal, so we can provide funds to the people whose needs exceed our current funds." Several key individuals aid the campaign every year, including Elizabeth Fulton, executive director of the Greater Ennis United Way. "She is the face of the United Way," Cathie shared. "She has done a tremendous job. Elizabeth is very diligent and really good at her job. We could not have success without her." Another important member is campaign manager Tre Bischof. "We're excited about this year's United Way campaign," Tre said. "We had a record number of people attend our annual kick-off luncheon, and the energy was outstanding. This year, we are challenging all of our board members to be involved, and so far, we've had tremendous feedback." In this way, team leaders Sandy Anderson, Jesse DeLeon and board members Frank Bartolic, Dr. Bill Kinzie and Julie Pierce enjoy a friendly competition to help meet the annual goal.
After the campaign wraps up in late December and early January, the United Way distributes the funds raised. "We have an allocation committee that goes through an interviewing process with each agency every year," Cathie expounded. "The agencies have a request and, depending on how much money we raise, the committee reviews the budget and disperses it." Money raised through United Way helps provide temporary housing, after-school programs, counseling, elder citizen care, health services and child welfare throughout the Ennis area. Twelve agencies in all receive funds each year from the United Way. They include: the American Red Cross, the Boys & Girls Club, the Gingerbread House, A-CROSS, Candy Cane Corner, Impact Ennis, Hope Clinic, Friends of the Ennis Public Library, the Girl Scouts, the Golden Circle, Helping Hands and Meals-on-Wheels.
Organizers insist that donating to the United Way is a great way to directly affect the community. "All money stays in Ennis or Ellis County," Cathie confirmed. "Agencies come in and give us a presentation about how much money they need and why. You can hear their stories, and it's really uplifting."
Cathie encourages citizens to donate to the United Way as well as to the individual organizations. "Every agency gets a portion of the campaign funds," she said. "However, they are all responsible for raising money on their own as well."
Another way to help the United Way is through volunteering. "I want to give back to the community I've lived in and that has blessed me, and to help others the way I was helped," Cathie said. "It's our duty as citizens to help others. Once people experience that, it changes them, especially when they see people who have been helped move on to bigger and better things."
For 2014 and years to come, Cathie and Tre have high expectations for the mission of the Greater Ennis United Way. "Our community is second to none," Cathie smiled. "We are the most giving community, by far, because we all stick together, and we take care of our own. I'm very proud of the United Way and what we've accomplished over the years."
Editor's Note: For more information on how you can donate, visit www.ennisunitedway.org.
Written by Callie Revel.