WEATHERFORD, TX — Ever since he could point at an airplane flying overhead, Dennis Akins has been fascinated with anything related to aviation. "I always wanted to be a pilot," Dennis shared.
He grew up in Killeen and began his college career with a major in aerospace engineering at Texas A&M University. Dennis was following his dreams. At the age of 14, Dennis broke his neck in a gymnastics accident on a mini trampoline, leaving him paralyzed and wheelchair bound. That didn't quash his desire to fly high above the ground. He was, however, left questioning his passion after meeting a junior classmate who had a private pilot license. "Would you trust an aerospace engineer who didn't know how to fly?" asked his classmate.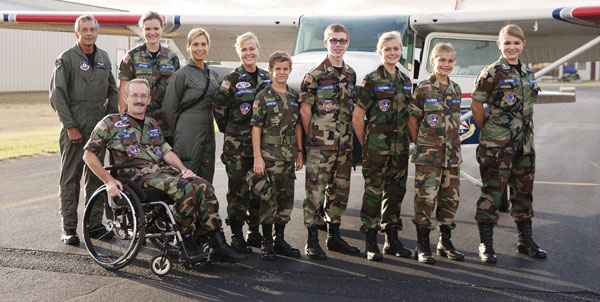 Dennis decided to change his major to agricultural engineering at that moment. He graduated from Texas A&M with a bachelor's and master's in the field and later moved to Mississippi to work in agricultural research for the USDA. "I left aerospace behind me. "Fast forward to 2003, which was the 100th anniversary of powered flight," Dennis explained. Dennis and his family traveled to the Granbury Regional Airport for an event for the Experimental Aircraft Association Young Eagles, which educates youth about general aviation. "We were some of the first ones there. The kids went up to the flight coordinator and got their names on the list." Dennis' two sons, Calvin and Abraham, got strapped into an airplane and took off.
Once back on the ground, they shared their excitement with their father and snuck back in line for another ride. Dennis' wife at the time told the Young Eagles' pilot about his desire to get a pilot license and his concerns that it was unattainable because of his paralysis. The pilot offered Dennis a ride in the airplane. "He had to pick me up and put me in the airplane, but we went flying. He let me fly the airplane," Dennis remembered. The pilot shared with Dennis how airplane controls can be customized for disabled pilots. Dennis' desire to fly was reignited, and he began volunteering with the Civil Air Patrol, which is a federally chartered, nonprofit benevolent corporation assigned by Congress as a permanent auxiliary to the U.S. Air Force. Dennis is employed as an engineer for the U.S. Army Corps of Engineers in Fort Worth.
He initially became a member of the local CAP squadron. He transferred to the Mineral Wells Composite Squadron and has volunteered with the group for the past four years. The Mineral Wells squadron was originally chartered in 1946 but deactivated in 2000 for lack of interest. Reactivated in 2010, it has been growing ever since. The squadron is now based in Weatherford and meets each Tuesday evening at the Texas National Guard Armory. Most of the nearly 30 members are cadets. The cadets in the program learn leadership skills. "They learn how to be clear in their direction and be concise, as well as being what the Christian community would call a 'servant leader,'" Dennis said.
The cadets often volunteer at events, including Peach Pedal and local air shows. Some cadets dream of joining the U.S. Air Force, while others wish to get their pilot license. "Some have absolutely no interest at all in ever flying an airplane. Others are there for the leadership training," he said. The cadets can be promoted in rank, but to do so, they are required to take quizzes over leadership and aerospace education, among other subjects, and participate in physical training. Cadets can join the CAP from the ages of 12-18, and at 18, they can apply to become a senior member or continue in the cadet program until the age of 21.
At that point, the cadet can apply to become a senior member. Individuals age 18 and over can apply to the senior member program if they meet the minimum qualifications. Jessica Bearden was promoted to senior member in August. She and her sister, Victoria Bearden, have been members of the squadron for the past four years. At first, Victoria was reluctant to join the program, but with her sister by her side, she jumped in with both feet. "It turned out to be one of the best decisions I've made," Victoria said.
Now a cadet first lieutenant, she holds the position of cadet deputy commander. "It's an unparalleled environment for young people to be able to experience leadership. It's something you don't get in any other area. Because of the military environment, you learn respect for those above you." The 16-year-old is homeschooled and would like to continue with the Civil Air Patrol until she begins college. "This program has helped to prepare me for where I want to go," Victoria said. She's learned speaking and leadership skills, how to work with others and how to work well under pressure. "CAP is one of the best programs, I think, for young people," Victoria stated. "The program holds you to a lot of moral standards and brings out a different person inside of you." Dennis has known Victoria and her sister since they were children growing up with his sons. "They've been the biggest part of my cadet leadership over the last few years," he explained. "Captain Akins is the glue that holds our squadron together," Victoria shared. "He really wants the squadron to succeed. His heart is for everyone in the program to succeed."
Dennis serves as a unit commander, communications officer and an aerospace education officer with the CAP squadron. "I don't do it all, but I do quite a bit." As a unit commander, Dennis handles a lot of paperwork and ensures everything in the squadron runs according to regulation. As the communications officer, Dennis is responsible for communications and related equipment. Communications is a major part of one of the CAP's main missions — emergency services. CAP operates one of the largest communication networks in the country.
As part of the emergency services mission, first responders from the senior member program perform search-and-rescue missions for downed aircraft and offer assistance during natural disasters. CAP also focuses on aerospace education. One of Dennis' responsibilities is teaching aerospace education to cadets. To gain a new level of insight into how aircraft work and, finally, realize his dream of flying, he took flight training classes at Purdue University in 2013, all thanks to a scholarship from Able Flight.
He received his sport pilot license and plans to upgrade the license through additional training. He now shares his knowledge with the CAP youth, educating cadets about general aviation issues and technology at weekly meetings. "I'm just an airplane geek," Dennis admitted. "We have some really great youth in the organization. I enjoy seeing them grow and improve their leadership skills."
Written by Amber D. Browne.