DESOTO, TX — Slowly walking around the football field before each game, Christopher Alston takes in everything — the crowd, the noise and the energy.
But once the whistle blows, it all slips away except for the players and the game. As an official for the Big 12 football conference, Christopher takes his job very seriously. "We, as officials, are totally focused on the plays. At halftime and game's end, we may have to ask who won, because we aren't keeping up with the score. We're just intent on making the best calls we can throughout the game," Christopher said. A former basketball and football player himself, Christopher grew up in Oak Cliff then North Dallas, graduating from Richardson High School before entering the Marine Corps. After a decade in the military, he landed his first civilian job at the JCPenney warehouse in Cedar Hill. "I moved to DeSoto then and haven't ever wanted to leave," Christopher noted. "Shortly after that, I answered an ad for football officials just to make a little Christmas money on the side."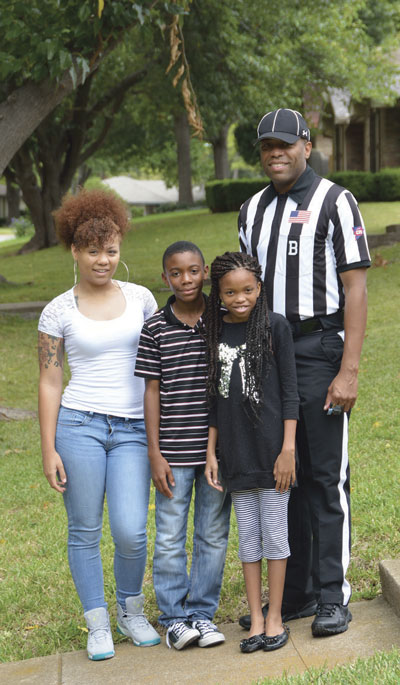 First officiating Pee Wee and junior high teams, Christopher worked his way up to high school junior varsities. After about two years with JVs, he graduated to varsity level, where he experienced one state semifinal and two state championships. "Basketball may have been my favorite when I was in school, but now it's all about football. I spent about seven years officiating at the high school level," Christopher said.
At that point, he advanced to working small college Division II and III games. "As you work more games, you get noticed, and you start getting invited to officiate scrimmages and camps," Christopher explained. "I went to a camp and was awarded one game before being hired the next year with Football Championship Subdivision, the division beneath Big 12. I worked a national semifinal game during my two years with them." Then Christopher joined the Mountain West Conference, and during his two years there, he was selected to officiate his first bowl game. "I worked the Liberty Bowl in Memphis on New Year's Eve in 2012. That is probably my most memorable game, because you can't beat the college environment," Chris recalled. "The first year I was eligible, I got selected for a bowl game, which was a big honor for me." Last year was Christopher's first year in the Division I Big 12 Conference, and officiating became his full-time job. "People think we show up an hour or so before a game, work the game, and then the job is done. There is so much more to officiating these days," Christopher explained.
A typical work week for Christopher includes traveling to game sites on Fridays, officiating and reviewing game video Saturdays, then returning home late Sundays. Weekdays involve conference calls and discussions with fellow officials in preparation for the next game. "It used to be when seasons ended you were off. Now we have 30-40 days off a year, but even during that time, there can be camps and clinics, so it's really a year-round job," Christopher said. In the 14 years Christopher has been officiating, the game of football has changed tremendously and, in turn, so has his job. "We have study groups all season. We have weekly tests. The rule books are updated and changed every two years, so the new mechanics of the game are constantly being ingrained in us," he said. Christopher noted that like police officers, officials don't determine regulations, they simply enforce them. "Some people think referees make up the rules for football, but that's done by a committee of coaches.
Then we learn the rules and make sure the players follow them," he said. How well they know the game determines how officials progress in their career. "We are graded on every single play, and after the game, sometimes before we even leave the stadium, we get video to review. Unfortunately, we don't have the luxury of instant replay during games, so we have to make split-second decisions the very best we can," Christopher said. For that reason, every official makes his share of bad calls. "There is nothing worse than making a call and having the whole stadium booing you. But you can't get upset, you just gotta keep going and make the very best calls you can during the rest of the game," he said.
And, the better your officiating is, the better your chances of moving up in rank. "Today, officials are scouted by teams just like players. High school levels began grading their refs last year, too," Christopher said. "We're also expected to maintain our own physical fitness more than in years past. The players keep getting bigger and faster, plus they're a whole lot younger than us, so we have to be physically able to keep up with them." Invited to work two Big 12 bowl games in three years speaks to Christopher's all-around success. His ultimate career goal would be officiating for the NFL. "I'd love to get a call from New York," he said. "That's my real dream." In the meantime, Christopher is content to continue his role as a back judge within the 64 officials chosen by the Big 12 officiating coordinator. He said the crew is like extended family that travel all season together and even help critique those new to officiating at other levels. "We will go to scrimmages and give those trying to get in tips and suggestions on their calls. We are a supportive group," Christopher said.
Christopher is also part of a close-knit family including his son, Caleb (12); daughters, Brianna (17) and Christie (9); and his mom, Carolyn, who moved to DeSoto years ago to help with the kids. His two youngest children are involved in soccer. Christie is preparing to take karate, and Caleb junior high football. "It will be great, because junior high games are during the week, so I can actually attend!" Christopher said. The family also watches games together on TV, and Christopher is a season ticket holder for the Dallas Cowboys. "I've probably made two games in five years because of my officiating schedule, but I still want to support the Cowboys whenever I can," Christopher said.
A rigorous schedule has meant being away from home on his birthday for the last six years, but Christopher's not complaining. "Officiating has taken me from coast to coast. From Seattle and San Diego to Tampa and Baltimore and everywhere around Texas," Christopher said. "I've had birthdays in Reno, New Orleans and San Diego — watching football. I'd say it's been a pretty fun tradeoff!"
Written by Angel Morris.