WAXAHACHIE, TX — Brad Shotts enjoys spending quality time with his son, Blaine. As they do quite often, the duo went to the movies one Saturday afternoon shortly after Lone Survivor premiered in theaters around the country.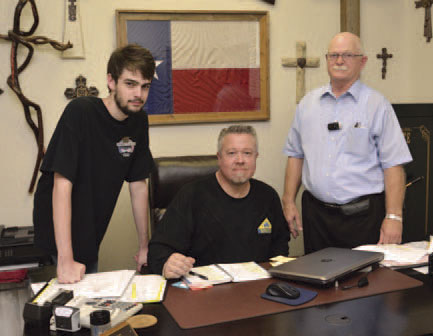 They bought their tickets, purchased their customary concessions and found their seats, but something profound happened during this particular outing, which changed their lives and the lives of so many others forever. "Halfway into the movie, I knew we needed to do something," Blaine said, "but I didn't know what." Unbeknownst to Blaine, Brad was having the same thoughts, but they came to him within the first five minutes of the true life story of Michael Murphy, Danny Dietz, Matthew Axelson and the lone survivor, Marcus Luttrell. Being so affected by the movie, they were unable to leave the theater until after the final credit ran slowly across the screen.
They walked to the car and drove home in utter silence, all the while keeping their thoughts to themselves. Their mutual thoughts rested uncomfortably within them for several days. "Ridiculous or not, I was the one who threw my thoughts out there first," Blaine remembered. "I was stumped as to what to do. I just knew something had to be done. I felt a strong urgency to act.
Brad grew up in a patriotic, military family where reverence for God, country and veterans had been learned by example. "This movie impacted me more than living in a military family ever did," Brad admitted, with emotion heavy in his voice. "This movie was personal. I'm still not quite sure why. It just was."
They could have gone back to things as usual, but the question of what to do continued to burn holes in their souls. As a director at Wayne Boze Funeral Home, the one idea that seemed to take precedence in Brad's mind was Memory Portraits, a service offered at the funeral home in which a loved one's photograph is transferred to canvas. Once Blaine learned more about the portraits, he was sold on the idea, too. "After getting the OK from Wayne Boze, I wanted to pitch the idea to Rick Crabb, a longstanding member of the Patriot Guard Riders," Brad explained. "I knew we had to do something to honor these heroes, and I wanted Rick and the PGR to be a part of whatever we did. We needed to do something to show how much we cared about the fallen heroes and their great sacrifice. We didn't want them to be forgotten."
"Brad called and only asked one question, 'Is there any way you could get in touch with the families from the movie?' I told him I'd try to see what I could do to help," Rick shared.
Before long, Rick started emailing members of the SEAL community. After getting the nod from Rick, Brad then called the owner of Memory Portraits, President David Dunigan. Brad asked David if he was familiar with the PGR, which he answered in the affirmative. "I explained we wanted the portraits delivered to the three killed in the line of duty and possibly, also to the survivor," Brad remembered. David was intrigued with the idea, but he told Brad he would need to think more about it. "He said he'd get back to me," Brad said. "He called back within three minutes. He said he'd supply the portraits to us free of charge."
Now that everything was in place, it was time for Rick to make the necessary phone calls to get the presentations started. Brad, Rick and several of the local PGR flew to Long Island, New York, in March to make the portrait presentation to the family of Michael Murphy, and what a moving presentation it was. "It was so incredible," Rick confessed. "These men signed the papers to go to work for the military, but their moms and loved ones did not. Honoring them by presenting a portrait is the least we can do for their ultimate sacrifice."
After this first presentation, David made the gracious offer to provide a portrait to the families of all active-duty military deaths nationwide. He also requested that each portrait be delivered by a PGR representative. On the flight home from New York, Brad was so humbled by the experience. He thought nothing would compare to that first presentation. He soon found out he was wrong when a group traveled to Denver, Colorado, in April to make the presentation to Danny Dietz's parents. "Cindy Dietz was so gracious," Brad said, with tears in his eyes. "We were taken aback by her open spirit and her humble nature. We spent the entire day with her. This second trip was every bit as meaningful as the first."
Cindy shared her son with the group in a very personal way that day, a way only a mother could do. Brad vividly recalls a photograph on a shelf in a curio cabinet that means the world to Cindy. "It was a photo of several guys," Brad shared. "She told us, 'This picture is very special to me. These are the Navy SEALS who brought Danny home.'" She shared her heart and soul with the group because she also wants Danny and his brothers to be remembered for the heroes they are. Although Blaine had the initial yearning to do something for the three who lost their lives in the failed U.S. Navy SEALS counter-insurgent mission known as Operation Red Wings, he was unable to make the first two trips. "It was a decision my dad and I made together," Blaine said. "I was in my junior year in high school at the time. I didn't want to miss three days of school and then worry about the 'what-ifs' if I should get sick and have to miss additional days."
His goal as a high school senior is to make the next trip. That Saturday started as just another afternoon at the movies — just another father/son outing. Brad and Blaine quickly realized that day would forever change their lives as the depth of the movie rocked their souls to the core. "Little did we know what God had planned for us," Brad said. "God knew this was going to be our new ministry." "Every phase of this venture — from Blaine's desire to the overwhelming response nationwide, has been orchestrated from above," Rick stated. "These portraits are making a huge difference in keeping loved ones' memories alive." Blaine, being the tenderhearted, old soul that he is, feels emotions can be so large at trying times like this that no one wants to talk about their loss, or they're so large they don't ever want to forget. "What we are doing now is changing lives and making a difference," Blaine said. "It's keeping memories alive." Blaine and Brad Shotts, Rick Crabb and Wayne Boze honor those who paid the ultimate sacrifice for our freedom.
Written by Sandra Strong.