RED OAK, TX — Jada Mitchell carefully packs a box of food for delivery to one of several Red Oak shut-ins who look forward to the arrival of Meals on Wheels each week.
She handles the items with care, knowing how important the foods are to their recipients. Arriving at the first drop-off location, Jada anticipates the reaction she is about to receive. "I will knock on the door and call out 'Meals on Wheels!' Then whoever answers the door is always excited to see me, and sometimes they give me great big hugs," Jada said. While Meals on Wheels is her favorite charity, Jada participates in a multitude of other volunteer efforts. From collecting coats for the homeless to creating cards to send to servicemen and women, Jada's free time is far from frivolous. And although she meets a number of people who share her enthusiasm for volunteerism throughout these endeavors, Jada herself is somewhat unique.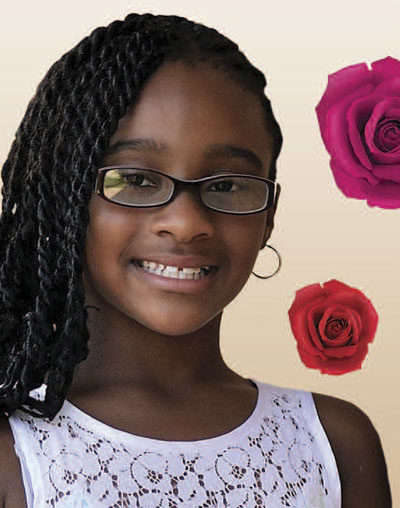 It's not every day the person giving up her free time for charity work is only 9 years old. "I remember doing charity work with my youth group since I was about 4 years old. We were assigned monthly service projects, and my interest just kind of started there," recalled Jada, who is in fourth grade this year. The youth group to which Jada refers is an extension of Zeta Phi Beta Sorority, which sponsors three divisions of volunteers: Pearlettes are girls ages 4 to 8; Amicettes, ages 9 to 13; and Archonettes, ages 14 to 18. Founded January 16, 1920, at Howard University in Washington, D.C., the sorority expanded to include youth groups in an effort to build future leaders. Its youth groups are open to girls willing to service the community. Participants like Jada have monthly meetings and workshops where they "learn the importance of an education and how to improve their study habits, etiquette, social and communication skills, teamwork and many other valuable lessons," according to group bylaws.
This has proven true for Jada, who doesn't know life without volunteerism. "We have collected items for food banks, and socks for nursing homes. I like making posters that explain what I'm collecting and putting the posters in places like where I take dance," Jada said. "My best poster for the canned food drive said, 'CAN you help out?' I drew pictures of what we needed on it."
Her posters give a glimpse of Jada's initiative, which has led her to excel in other areas such as dance and sports. "I like to make up my own dance routines around the house. I play basketball and soccer. Sports are awesome." In 2013, she set her sights on earning enough volunteerism points to be named Zeta Phi Beta's Pearlette of the Year. At the same time, she entered a poetry competition through the sorority, which she went on to win, as well. "My mom picked the poem 'Mother to Son' by Langston Hughes for me, and I practiced it over and over in front of the mirror until I could say it without looking at the words on paper," Jada explained. "Then we went to Houston where I dressed in a wig and a purple sweater and held a cane, so I would look like an older mom. In the end, I was the winner!"
Of course, Jada relies on the adults in her life to help her pursue her interests. As an instructional coach for Dallas Independent School District, Jada's mom, LaShocka, is no stranger to inspiring young people. "If children are able to help people in need, it gives them an appreciation for what they have and for what it means simply to put a smile on someone's face," LaShocka said. "I see that Jada is thankful. She has gratitude. These experiences just make her an even more compassionate person."
A Zeta Phi Beta member herself, LaShocka said her daughter keeps her on her own volunteer toes. "She's my accountability partner. If we haven't done any community service in a while, she will ask, 'What are we going to help with this week?' She reminds me we can't let everyday things get in the way of being there for others." When not volunteering, Jada dreams of being a paleontologist, because she loves imagining the lives of the creatures that created fossils. "You get to dig in the dirt, but you have to be very careful," she explained, armed with knowledge from a lesson received at Fossil Rim Wildlife Center in Glen Rose.
Until the day she can dig in the dirt full time, Jada is content to continue her favorite subject in school, math ("Because my mom is a math genius!"), and strive to earn a little extra cash by demonstrating an improved vocabulary. "My mom encourages me to use 'million-dollar' words. If I use unique words then sometimes she gives me a dollar!" Not surprisingly, Jada often turns around and gives that dollar away. "She will ask to give her money to people on street corners or to spend it on something to give to people she delivers meals to," LaShocka said. "I bought bracelets at Dollar General to give to my Meals on Wheels people on Fourth of July!" Jada added.
Jada likes to make sure those in need are especially remembered at holidays, often recruiting friends, cousins and classmates to design cards to send to military members or those in nursing homes. "We've done Christmas cards and Mother's Day cards, too," she said. "It helps people just to know someone cares even a little." Jada notes many people care enough about her to help with her missions. "My grandparents always donate to whatever group I'm working with. My mom and little brother come with me to the events, and my dad calls me his versatile child, because I'm into so many different things," Jada said. "All of them caring about me and the things I care about makes me feel good. My sister, who is 16, will even still play with me!" Explaining she always plans to volunteer because she's "not the type of person who quits," Jada estimates she has participated in about 50 charitable events, including sorting Christmas toys for Mission Arlington and working a Half Price Books collection for children who do not have books. "Meals on Wheels is still my favorite though," Jada admits. "Bringing food to people who don't have what we have and hearing the thanks in their voice — well, it's just a lot of fun!"
Written by Angel Morris.