MIDLOTHIAN, TX — Monte and Shawn Mechler began their life together living in the heart of Dallas, only to yield to the rural/suburban appeal of Midlothian as their journey unfolded. Monte grew up in San Antonio, and graduated from Texas A&M University with a degree in environmental design. Having served in the U.S. Marine Corps and U.S. Navy on active duty in Kosovo, Hurricane Katrina Recovery Operations and Operation Iraqi Freedom, he is now senior project manager for an architectural firm in Dallas.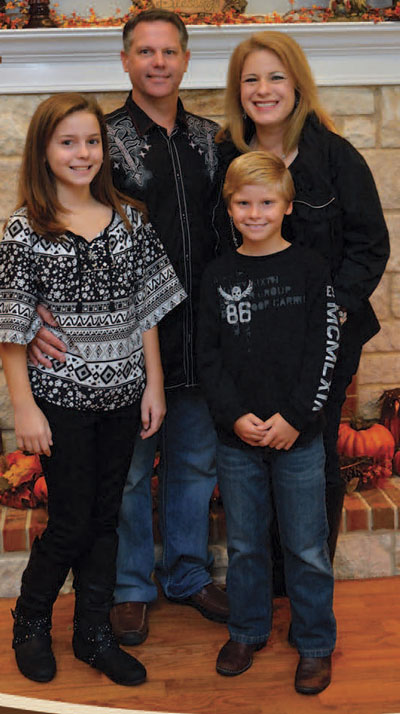 Shawn grew up in Duncanville before attending Texas Christian University, where she earned a degree in finance. She serves as in-house director of financial services for CPA firms in Dallas, Fort Worth, Arlington and Austin. "I have to travel to each office, which is one of the reasons this location made sense," she explained. "It's somewhat in the middle for me."
Monte and Shawn met during the July Fourth holiday in 2000. "We were both at Stan's Blue Note with friends, and we met and chatted a little," Shawn remembered. "But at the end of the night, he hadn't gotten my number, so I didn't know if anything would come of it." Monte picked up the story. "I knew her name, her job and the building where she worked," he recalled. "I started calling each business until I found her." After Monte's romantic pursuit, the two were married in 2001. They have two children — Sabrina is 11 and Zachary is 9. When they first married, Monte and Shawn lived in a small house north of the M Streets in Dallas. "We loved it, but with young kids, we knew we needed to be in a different area," Shawn recounted. "We just had to decide whether to move north or south."
Shawn's mom babysat Sabrina at her house in Duncanville until she turned 2, and the Mechlers had the same plan for Zachary when he was born. "We were actually driving from our house in Dallas to Duncanville, then back to Dallas for work each day," Shawn laughed. "It made so much sense to move down here versus looking on the north side of town." They built a home in Crystal Forest in 2004. "We kept in mind that we would have two young children living here, so we under-built," Monte said. "Everything was sacrificial, because we felt that after the kids grew older, we could start doing improvements."
After 10 years in a minimalist house, Shawn and Monte began making the upgrades and improvements they always knew would come. "We started painting in March, and everything just snowballed from there," he joked. The front lawn sets the tone for the house. Monte takes immaculate care of his grass. "I use a reel mower as it cuts the grass like scissors and makes the grass stronger, although in the summer heat, we just try to keep the grass alive as we are situated right over rock."
With the beauty of the lawn itself, the few accents complete a remarkable first impression for the home. The entryway is classic in its simplicity. Monte and Shawn both use the home office on one side of the entry, and a formal dining room sits opposite, decorated in a timeless style. The living room has evolved the most in the past six months. "It's crazy how much it has changed," Shawn expressed. "Even just with paint and new floors it looks so different. We also added the big entertainment center. I'd say we have an Italian bling theme going."
The living room features a painting they bought while on their Italian honeymoon, and the room's style is clearly influenced by the piece. The painting is not the only noteworthy item, as Monte has two silk Persian rugs hanging on the wall opposite the focal art. "While I was in the Middle East," he reminisced, "I happened upon this little shop and bought these two small rugs. I got home and found out they were very valuable on top of being beautiful." In addition to the items they have purchased, Monte made several accent pieces to enhance the home's style. "I made custom valences for all of the windows," he pointed out. "She purchased the fabric, and I made and covered the boxes."
The kitchen and dining nook reflect the Italian style of the living room, as well as include some items that are largely sentimental. "We had a platter made that looks like painted grapes," Shawn described, "but the grape bunches are actually the kids' footprints. We also have wooden bowls that my dad made as one of his hobbies after he retired." The kids each show off their own style in their bedrooms. Sabrina's door is a collage of her artwork, and the room is pink, purple, black and, yes, "blinged" out. "With both kids, we put in loft beds, so they would have as much usable space as possible," Shawn shared. "Sabrina has a desk under her bed and Zachary has space to relax and watch his light show."
Zach has chosen car posters and memorabilia for his room, along with an odd color choice. "His parents went to TCU and A&M, but he's always loved dark orange, so he, of course, has UT stuff everywhere," Shawn giggled. The master bedroom is furnished with dark wood, and a red color scheme flows into the master bath. The spacious room has a large tub and tile that is notable because this is one of the few areas in the house without wood floors. There is an extra bedroom where one of Monte's hobbies is on display. "Monte loves photography," Shawn said. "So in the guest room, he has a wall covered with photos he's taken. It has everything from our honeymoon to photos of the kids, and he designed a frame, so it brings the hobby together with what he does for a living."
Monte is also a competitive archer, and the kids are active in sports as well. "Sabrina played soccer, but is focusing on art and riding horses for Hunter Jumper now," Shawn continued. "Zachary plays soccer on Storm FC, a club academy team, so he stays busy with that." The Mechlers also love the connection they have at FBC Midlothian, where members were especially helpful when Monte was overseas on active duty. "When we first moved, we didn't interact with many people, but once we got plugged in at FBC Midlothian that really changed," she added. Ten years ago, Monte and Shawn traded in their big city life for the simpler pace in a town with the rural feel they appreciate. Though busy with work, sports activities, church and family time, they're now more at home than ever before.
Written by Zachary R. Urquhart.