WAXAHACHIE, TX — The year 1914 was a very good year. Babe Ruth signed his first contract with the minor league Baltimore Orioles and, later that same year, was traded to the Boston Red Sox. Wrigley Field opened. The first Mother's Day was celebrated. Joe DiMaggio was born. Locally, the Waxahachie Sanitarium opened its doors and has been going strong ever since, thanks in large part to the patrons it has served the past 100 years.
Over the years, the hospital has seen many changes. In 1965, the facility was renamed W.C. Tenery Community Hospital. In 1983, Tenery joined ranks with the Baylor Health Care System but didn't undergo a name change until 1986 when it was changed to Baylor Medical Center at Waxahachie. In 2013, Baylor Health Care System merged with Scott & White Healthcare, based in Temple, Texas, forming the largest nonprofit health care system in Texas. On December 6, the new facility will open at its new location at the intersection of Highway 287 and Interstate 35E under its newest name — Baylor Scott & White Medical Center-Waxahachie.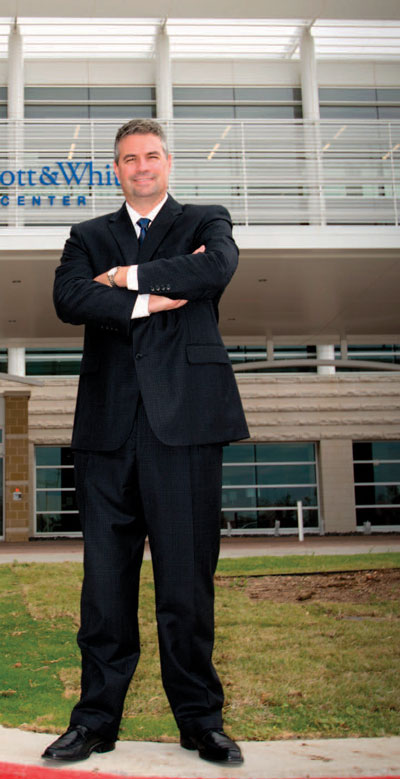 The new 300,000-square-foot facility has been designed to accommodate 129 beds with room for what they expect to be much-needed growth in the future. The new hospital offers the latest in technology for physicians and a large number of amenities for patients and their families, but the history made during the past 100 years has proven priceless for many. "There are so many memories here," said Julie Martin, marketing and public relations manager, as she referred to the old location on West Jefferson, soon to be vacated. "My dad was born at the Sanitarium, and my sisters and I were all born at Tenery. We've welcomed babies into the world here and said goodbyes to our loved ones here, too."
Another member of Baylor's current staff who will soon be venturing to the new hospital is Iris Wilson. Iris began her career in 1971 when she was hired as a nurse's aide at Tenery. "I came to Waxahachie from Germany in 1968," she said, her accent still very much intact. "My English was limited, but it wasn't long before I enrolled in the LVN Program at W.C. Tenery Vocational School of Nursing, graduating in 1973. I graduated from the RN program at Navarro College in Corsicana in 1986."
Iris couldn't help but smile as she reminisced about the many changes she's experienced during her tenure as a nurse. "In 1971, we paired smokers up with other smokers in semi-private rooms," she admitted. "During my time as an aide, I learned quickly that nothing was a trash item. Syringes were sterilized and reused. It was a hard transition when we went to disposable syringes."
Iris recalled another memory as she spoke about how patients arrived at the hospital in the early '70s. "Patients requiring a stretcher were brought in by the local funeral homes that also offered ambulance services. Some of their vehicles were used interchangeably as ambulances and hearses."
Although Iris retired from full-time employment a year ago, she continues to work, as needed, on the night shift in the emergency room. "I love being a nurse. I've cared for more than one generation of patients," she said with a smile. My career has definitely been multigenerational. Nursing is so many faces," Iris stated. "It can be just a job, or it can be a job where you are blessed to bless others." One of the nurse's aides Iris hired during her time as interim manager of the medical surgical floor was Angie Condor, who later became Angie Glass, after marrying Bobby Glass, local developer and custom home builder.
Angie is finding the move exciting, yet bittersweet, because of the memories she's made at the Jefferson Street location. "My family has lots of history at this hospital, too," she said. "My dad, Bruce Condor, was born at the Sanitarium in 1948," Angie said. "I was born here when it was Tenery in 1968. My middle child, Brooke, was born at Baylor."
Angie was 19 when she first came to work as a technician. At the age of 22, she resigned to rear her family, but she came back at the age of 43 as an RN. "Although it's going to be hard to leave," she admitted, "I'm looking forward to what the new facility has to offer. I love the historical aspect of the old building, but the neat little gadgets built into each room at the new facility are going to be exciting for all concerned."
Bruce remembers spending an enormous amount of time in the emergency room as a boy. "I was a typical boy," he admitted, with a laugh. "The new hospital is going to be different for me. It will take a little while to get used to its size."
Brooke has wisdom beyond her years as she looks toward the community's medical future. "The new building matches the experience found in the working at the hospital," Brooke stated, with pride for her mom and all the others who provide outstanding care. "To have such a nice facility built and designed for further growth is wonderful."
The success of the first 100 years is evident in the memories that Julie, Iris, Angie, Bruce and Brooke carry with them into the future. Chris York, the hospital's new president, who came on board in August hit the ground running. "We are opening the new facility with 104 private rooms, each with its own view," Chris said. "Our goal was to grow to meet the continued medical needs of the community while keeping the compassionate, family feel we've always had. The building is just bricks and mortar, but the staff members create the experiences that keep patients coming back time and time again."
Highlights of the new hospital include, but are not limited to: 12 ICU beds, an ER department with 37 treatment spaces, six operating rooms, childbirth services that will include a nursery and six delivery rooms and nine post-partum rooms, a cancer center featuring a linear accelerator and infusion bays and an outdoor walking trail that encircles a 2-acre pond. "The hospital is designed with the privacy and overall comfort of our patients in mind," Chris shared.
"The community has supported the new facility from the beginning," Julie said, as Chris nodded in agreement. "Our employees, auxiliary members, physicians, local businesses and the community have raised more than $2 million, so far."
"Baylor's commitment to the community," Chris noted, "coupled with the commitment the community has shown Baylor, is a powerful combination for the future of health care in Ellis County."
Written by Sandra Strong.