OAK LEAF, TX — Once upon a Christmas, Kimberly Dufour filled a giant stocking with Teddy bears as a gift. The action sparked her own bear collection and a lifelong interest in holiday decorating. Today, the Oak Leaf resident calls on her family to make their home Christmas-ready. "My mom was into decorating with themes, so that was probably where I got it. One Christmas, she bought a white tree with purple ornaments, and it became tradition to see who could find the neatest purple ornament every year," Kimberly explained.
Holiday decor was a Dufour tradition, even before purchasing their current home. Her daughter Morgan, now a freshman at St. Edward's University, had a Noah's ark nursery theme in the family's previous home that translated easily into Christmas. "We spray-painted animal crackers gold to make them two-by-two holiday style," Kimberly recalled. Her son Nick, today an assistant softball coach at The University of Texas at Dallas, was given a nutcracker, and his Christmas theme was set, as well. "He's 26 and has gotten two or more nutcrackers every year since he was 4, so he has quite a collection."     Husband Joey laughs about wearing his Grinch T-shirt and pj's the kids gave him, and tolerates a house bedecked in Christmas sometimes well beyond the holidays. "He watches in amusement as the kids and I choose the themes and decorations and get busy. He really enjoys the finished product and having friends and family here for the holidays," Kimberly said. "He loves the bar area that gets a Harley motorcycle-theme for Christmas, even though he might not admit that's why he likes it!"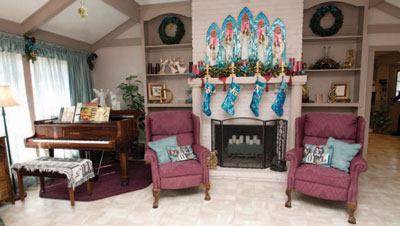 The family loves many things about the 3,950-square-foot home, which they purchased when Morgan transferred to local schools. "It was a blessing that a listing agent, who was a friend of ours, showed us this home before it was even officially on the market back in April 2007," Kimberly said. "Joey and I saw its potential and got right to work with renovations after     purchasing it."
 Kimberly and her dad did much of the work themselves, with the assistance of Joey and the kids. Kimberly's mom joined in with lunches and dinners so everyone could stay on task. "We gave it an all-around facelift. Everything got repainted, flooring was replaced, along with kitchen countertops, appliances and hardware," Joey said. "We liked its ranch style and tried to keep our updates true to its original design." Nick built new shelves on the sides of the fireplace in the den and a wine rack and entertainment center in the bar. Morgan learned first-hand about renovations, while updating her bathroom with paint, a hand-stenciled border and new cabinet doors and fixtures.
The Dufours were not strangers to partnering on big projects. They met as employees of the Superconducting Supercollider then began their own project management consulting firm. This year, they celebrated 20 years of working together and marriage.
"Joey works a lot, but I have been able to refocus some these last few years. With Morgan's senior year and Nick's recovery from a motorcycle accident, it was great to have the flexibility that having our own business allowed," Kimberly said.
The family is very close, especially after spending about a month living together in a full-sized apartment on the property while main home renovations took place. "The apartment is a nice feature. It will be great to have if any of our parents need to live with us at some point," Joey said. "It is a wonderful space, with a full kitchen. But four adults there for four weeks was more than enough!"
Even though they were glad to spread into the big house with its three bedrooms and two-and-one-half bathrooms, the family still comes together for holiday decorating. Each year the kitchen takes on a Cajun theme — a nod to Joey's birthplace — with crawfish, crabs and Tabasco chili decor, while the den has fleur de lis, music and angels. Joey's Harley-themed bar also houses floor-to-ceiling custom shelves where Kimberly's Christmas village of ceramic homes comes to life.
"It started with a large set that a church was selling at a fundraiser. They agreed to take payments in installments, and my Christmas village was born!" Kimberly recalled, noting the collection now showcases family favorites, from Joann's and Home Depot to Chick-fil-A and Coca-Cola.
Every room has a tree corresponding to its theme, including Morgan's turquoise, lime and brown color scheme of butterflies and dragonflies, and the lavender and plum guest bedroom full of angels and nativities. The dining room displays an angel collection and has two trees accented in silver and gold trimmings of stars and fleur de lis. The two den trees compliment the fireplace, which is adorned with five large musical angels surrounded by teal and maroon poinsettias and roses.
Each space, from bathrooms down to the utility room, showcases Christmas favorites, including candy canes, poinsettias and gingerbread men. Perhaps most unique is the snowflaked-themed master bedroom where more than 100 stuffed bears and 350-plus bear ornaments adorn the space. "I guess that's my most impressive collection, since that's really where it all started," Kimberly noted.
The home's exterior is not forgotten, with wreaths on every window, garland across the wraparound porch and about two dozen lighted trees accented by red lights on the roofline. Typically, decorating starts in early November, but Kimberly admits to listening to Christmas music earlier. "Even when times are rough, listening to carols and decorating gets me out of my doldrums every time," Kimberly admitted. "If they come in and hear Christmas music, the family knows I've been decorating."
 Fortunately, the kids have adopted their own decorating duties. Nick primarily handles outside decor, while Morgan takes on whatever needs to be done inside. "Sometimes, she'll just hand me a box of decorations and say, 'Here. Yell at me when you're done,'" Morgan joked. While only two miniature trees went with her to her college dorm, Morgan admits she will likely continue her mom's tradition when she's on her own. "Probably not to this extent, but since I'm sure I'll inherit it all, why not?"
The kids are used to their mom's fervor. In fact, they aren't opposed to holiday decor all year. "It is a lot of work to do all of this, and I appreciate that the kids enjoy it as much as I do," Kimberly said. "But thank goodness this house has a lot of storage, because Joey's not willing to let us leave it up year-round!"
Written by Angel Morris.