MIDLOTHIAN, TX — Some people singing at Carnegie Hall may find themselves nervous and trembling at the enormity of it all. But for one little girl, she saw her future. "I remember standing on the stage at Carnegie Hall," remembered Nyadia Thorpe, teacher and choir coach at Frank Seale Middle School. "Watching the women conducting, I thought, That's what I want to do."
Even before that memorable moment, Nyadia had herself all figured out. "I'm an artist, and I knew that early on," she reflected. "I've always been fascinated with architecture, math and science, but I loved music. Some kids did sports. I did music. It was always piano and voice and church choir for me."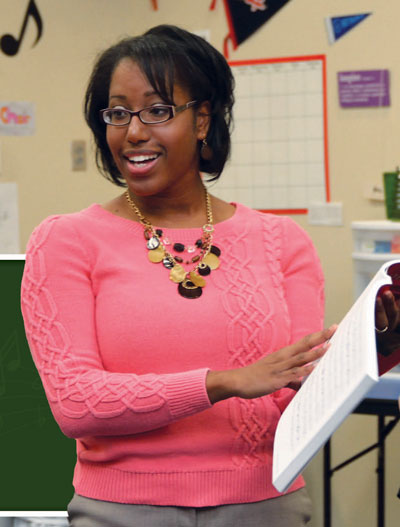 Nyadia grew up in a family steeped in musical tradition. Her mother performed in a traveling gospel choir, and her sister studied music and dance in college. Her grandmother was a minister of music. When Nyadia was about 6 years old, she and her siblings began taking private piano lessons with the encouragement of her grandmother. "It was wonderful," she enthused. "It helped give me some foundation when I started singing and to take music more seriously."
It was in middle school that Nyadia really became inspired by music. Not only was she active in all the choirs in church, with her mother's assistance she was accepted into W.E. Greiner Exploratory Arts Academy in Dallas. "I had to decide whether to focus on piano or voice, but I love using my voice," she recounted. "I just love singing." It was also in middle school that Nyadia was able to experience Carnegie Hall. "My choir teacher was Ruth Melnor, and she was wonderful," Nyadia explained. "She took us everywhere and gave me the opportunity to sing solos. She inspired me, and that experience in middle school helped shaped how I see musical education today."
Nyadia graduated from The University of Texas at Arlington with her bachelor's degree in music education, having focused her studies on conducting. In 2012, she earned her master's degree in the same field. Afterwards, she continued her music ministry at church and has taught for seven years at schools in the Dallas and Duncanville ISDs. This is Nyadia's eighth year of teaching, but her first year to teach in Midlothian ISD at Frank Seale Middle School. Supporting her in this move is her husband, Jeff, and their 2-year-old son, Caden. Their nuclear family has grown to five with the addition of Brian, a relative who lives with them, and another relative, Vincent, who stays with them every other weekend.
Nyadia was excited to come to Midlothian and join the choir program, the reputation of which she knew well. "I've been in music education for a while and we all went to the same contests and competitions," she said. "When I heard those Midlothian choirs I thought, Wow, they sound good! I knew they had a wonderful legacy behind them. We are going to continue this excellence, go even higher, set new goals and make           new traditions."
Like any good teacher, Nyadia intends to pull the best out of each student in her classes. "For many teachers, modeling is the No. 1 thing," she stated. "You have to come in enthusiastic about what you have to share with them. That draws them in, and they get excited about it and want to try it. Students will rise to the occasion, and as a teacher, you realize they have what it takes to do some really great things."
At Frank Seale, Nyadia is responsible for The Men's Chorus (The King's Cubs), Varsity Women (Lady Cubs), Junior Varsity Women's Choir (The Pretty Paws) and the Sixth grade Boys' and Girls' Choir (Starter Cubs). There is a semester long introduction to music called the MusiCubs. The special teams include Pop and Chamber Singers. Pop is a show choir with singing and dancing. Chamber Singers is a select ensemble of about     20 students.
"The Chamber Singers have harmonies that are a little more challenging," Nyadia elaborated. "This is our go-to group of kids who might go caroling. They don't dance but may do other theatrical things. It's all about the voice." During the school year, students explore different experiences and participate in competitions. "Hopefully, by the time the kids leave my program they will feel as if they have had good opportunities,"      she added.
On December 9 at Midlothian High School, the community will get the chance to hear the choirs in the annual Christmas concert. Nyadia likes to plan her concerts so they aren't just an affair featuring song after song. "When people come to hear the kids sing, I don't want them to expect just another concert," she shared. "We want to entertain the audience. We will have a production type of performance with our special groups Pop and Chamber Singers." Many times she uses screens and projections of images to go along with the students' voices to make the presentation more interesting. "I also want the concert to be multifaceted but not too long. There will be some traditional songs and some with jazzy and pop style arrangements. I love teaching languages, so expect some songs using different dictions."
Wanting to do more in her life to help others beyond the classroom and church, Nyadia has launched a new project. "Some people make New Year's resolutions, but one year I thought, Lord what do You want me to do for my kids and my community? And the word inspire sat on my heart, and I ran with it. So I was able to take my music ministry outside of church and focus my free time on       community music."
She founded a children's chorus and arts organization called Inspire Dallas Chorus and Arts. Among other ideas, Nyadia plans a summer camp for kids to come together to sing. During the four-day program students perform in two concerts. "We have various ways of learning and memorizing during the camp," she said. "It's amazing how much the kids can learn when they focus, focus, focus on the task at hand. It's a wonderful challenge."
On the wall in her classroom, Nyadia has the word Inspire displayed prominently. "Just as someone once inspired me, if I can inspire someone else, that would be so wonderful."
Written by Betty Tryon.